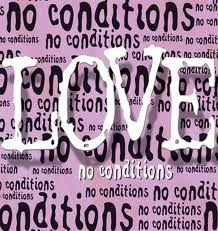 I'd like to have a discussion here on the topic of "Unconditional Love" ~ its meaning and implications with respect to controlling, unhealthy, abusive relationships.
I am hoping to gather input from all perspectives:
Believers ~ what is unconditional love? Please explain the concept and its specific application in cases in which someone is getting hurt ~ whether physically, emotionally or spiritually.
Unbelievers ~ is "unconditional love" strictly a religious ideal?  Is there a secular version of unconditional love?  How does unconditional love play out in practicality?
What about situations where the abuser is a close family member ~ say, a grandparent, parent, spouse, sibling or child?  How does one show unconditional love for a person who hurts their own relatives?
I'd like to get the discussion started on this note: I used to believe wholeheartedly in unconditional "Agape" love ~ but now I'm not so sure.  To quote one of my favorite skeptics (Uncle Ron ~ who once wrote to me at length on this topic):  
"Unconditional love is good for babies perhaps, but not for adults who aspire to reason and responsibility."
Whatever "Unconditional Love" is, I am now convinced it does not mean indiscriminate trust or naked vulnerability.
What are your thoughts?