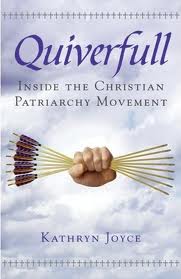 No Longer Quivering is updating the Recommended Reading List. If you have a book you'd like to see included, please add the title in the comments below.
Thanks for your help!
Top picks:
Quiverfull: Inside the Christian Patriarchy… by Kathryn Joyce
Quivering Daughters by Hillary McFarland
Breaking Their Will: Shedding Light on Reli… by Janet Heimlich
Woman Submit! Christians & Domestic Vio… by Jocelyn E Andersen
No Will Of My Own: How Patriarchy Smothers … by Jon H. Zens
Trusting Doubt: A Former Evangelical Looks … by Valerie Tarico
Not Under Bondage: Biblical Divorce for Abu… by Barbara Roberts
Why Does He Do That?: Inside the Minds of A… by Lundy Bancroft
Subtle Power of Spiritual Abuse, The: Recog… by David Johnson
Families Where Grace Is in Place by Jeff VanVonderen
Sex & God: How Religion Distorts Sexual… by Darrel Ray ED.D.
View the full list of NLQ recommended reading …
NLQ Recommended Reading …
'Breaking Their Will: Shedding Light on Religious Child Maltreatment' by Janet Heimlich
'Quivering Daughters' by Hillary McFarland
'Quiverfull: Inside the Christian Patriarchy Movement' by Kathryn Joyce