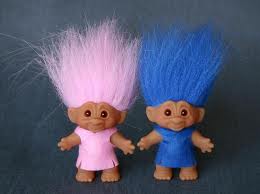 Please join me in welcoming Lana Hope to our Spiritual Abuse Survivor Blogs Network!
by Lana Hope. She blogs at Wide Open Ground
I grew up in the Deep South. In our rural homeschool community homeschoolers were a scarcity, with miles between families, so homeschool came somewhat isolating, by default.
Our first year of homeschooling was the best of my homeschool memories – at least in my foggy memory. Our math textbook included counting ducks. We went on loads of fieldtrips and had hands on learning. There was no legalism or spiritual abuse in our house. I even had a troll party for my 7th birthday. Trolls.
Then we met Bill Gothard, or rather his program.
II.
When I was 6, we attended the Institute of Basic Life Principles – a conference popular in conservative circles – and my sister and I went to the Children's Institute, the kid's program. We showed up in pants, and in embarrassment, we went out the next day and bought dresses, just to fit in. Afterwards, we brought their materials home, the next month drove to the Advance Institute, later signed the papers that we would not watch TV, and joined the Advanced Training Institute of America (ATIA, now just ATI), a program for homeschool families like us.
I never heard a mention of going to public school again. (Well, until I got older and was threatened to be sent to school where I'd be "bullied and persecuted.") That promise to re-evaluate me for 2nd grade public school never came.

III.

Legalism immediately began to filtrate our house, but the rules came in so slow. In fact, at first we did not even wear dresses. But my dad did throw away all of our trolls and cabbage patch dolls, something about how trolls were from the devil, and cabbage patch dolls were demon possessed, Gothard said.
For my 8th birthday we took several friends swimming, including a public school friend. My friend list was now considerably smaller because of my limit with mainstream culture, but we still had a party. It was the last year we wore regular swimsuits, and the last year we were allowed regular birthday parties on a yearly basis.
It was not long before we became *that* stereotypical homeschool family. But it came one conference, one friend, and one book at a time.
IV.
At one particular ATIA conference in Knoxville, Tennessee, my friends decided to pack blue jeans in our bag and ask our small group leader if we could go rock climbing with the boys. Not only was the answer no, but also they told us we were ungrateful, and that if we ever mentioned or even looked at the boys, that they would call our fathers. As punishment when we walked out of our building, we had to put our eyes to the ground so we couldn't see what the boys were doing. I was nine or ten, and the messages I received about being a woman literally killed my spirit because I was a dreamer and lived to be outdoor. The message they sent was not only that women should stay inside and sew, but also that women who desired to rock climb were either indwelling on wrong desires, or just had a flaw personality.
I needed a personality makeup. Clearly then I could be a good homeschool daughter.
V.
When I was 11, we went and helped clean the new ALERT campus, another off branch of IBLP. The campus was mold-infested in many ways. At this point I knew to work hard indoors and sing only hymns while I worked, to sound more spiritual. I was trying, too hard.
Shortly after, we had a girl's camp at the ALERT campus. It was one of those awkward moments where we were given odd instructions. 1) No talking after bed time. 2) Put your heads down while you walk by the ALERT men outdoors. Yet inconsistent to this, when it came to lunch, all the men would stand up at the table until we sat down, and then we would sing a hymn together.
The problem was that Christian homeschooling had created a bunch of fakes. At the ATI camps, the girls did not back talk to their authority figures. They would smile and say yes ma'am, but would stay up half the night talking about boys, or during the day, take photos of the ALERT guys from outside the window of our dorm. I felt so awkward, that I crumbled and came home and told my mom about it.
The result was that my mother tattled to our ATI family advisor, who drove to meet us, and made me confess everything that they had gone, every name, and every word. I was forced to gossip, I was forced to take on spiritual pride, and it never felt more like hell.
VI.
The pressure to be the perfect Christian homeschool daughter never let up. Academically, I was set up to fail because I was never smart enough. I was a girl, thankfully, so it did not matter if I was not smart enough, I was told. I tried to be spiritual to make up for where I was academically insufficient. I cried on my Bible at night, just like Elsie Dinsmore. I embraced my own forms of legalism, so I could be loved and accepted. I read the Bible, and I tried and I tried.
I still have not recovered from this.
Comments open below
Lana Hope was homeschooled 1st-12th grade in a small town and rural culture. Involved in ATI, her life growing up was gendered, sheltered, and with a lot of shame and rules indisguise of Biblical principles and character qualities. After college Lana moved to SE Asia and began working with the abused, and upon discovering that the large world is not at all like she had been taught, she finally questioned it all, from Calvinism to the homeschool movement to the foundation of her Christian faith. Today Lana is a Christian Universalist, holds a B.A. in English, and is currently working on a M.A. in philosophy. She blogs about the struggles she has faced leaving fundamentalism and homeschooling behind and how travel and missions has wrecked her life for good and bad at her blog www.wideopenground.com.
NLQ Recommended Reading …
'Breaking Their Will: Shedding Light on Religious Child Maltreatment' by Janet Heimlich
'Quivering Daughters' by Hillary McFarland
'Quiverfull: Inside the Christian Patriarchy Movement' by Kathryn Joyce