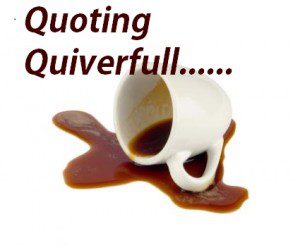 by Nancy Campbell of Above Rubes – How to be Perfectly Miserable
(Editor's note: This is a continued theme from yesterday's Quoting Quiverfull)
Further thoughts on my post below:

HOW TO BE PERFECTLY MISERABLE
(This recipe is guaranteed infallible).

Think about yourself,
Talk about yourself,
Use "I" as often as possible,
Mirror yourself continually in the opinion of others,
Listen greedily to what people say about you,
Expect to be appreciated,
Be suspicious,
Be jealous and envious,
Be sensitive to slights,
Never forgive a criticism,
Trust nobody but yourself,
Insist on consideration and respect,
Demand agreement with your own views on everything,
Sulk If people are not grateful to you for favors shown,
Never forget a service you may have rendered,
Be on the outlook for a good time for yourself,
Shirk your duties if you can,
Do as little as possible for others,
Love yourself supremely,
Be selfish!
~ Source unknown.
Comments open below
QUOTING QUIVERFULL is a regular feature of NLQ – we present the actual words of noted Quiverfull leaders and ask our readers: What do you think? Agree? Disagree? This is the place to state your opinion. Please, let's keep it respectful – but at the same time, we encourage readers to examine the ideas of Quiverfull honestly and thoughtfully.
NLQ Recommended Reading …
'Breaking Their Will: Shedding Light on Religious Child Maltreatment' by Janet Heimlich
'Quivering Daughters' by Hillary McFarland
'Quiverfull: Inside the Christian Patriarchy Movement' by Kathryn Joyce