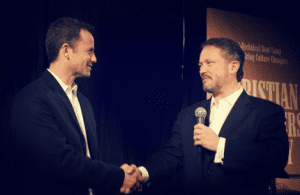 by Lana Hope cross posted from the blog Homeschoolers Anonymous and her blog Wide Open Ground
Doug Philips, president of Vision Forum, and popular advocate of Christian Reconstructionism, Christian Patriarchy, and the Stay-at-Home-Daughter Movement, who has influenced 1000s of homeschool families to not use birth control or send their daughters to college and keep daughters at stay home until they marry, cites some kind of emotional affair as reason he is stepping down from Vision Forum.
by Douglas Phillips, Esq., October 30, 2013

With thanksgiving to God for His mercy and love, I have stepped down from the office of president at Vision Forum Ministries and have discontinued my speaking responsibilities.

There has been serious sin in my life for which God has graciously brought me to repentance. I have confessed my sin to my wife and family, my local church, and the board of Vision Forum Ministries. I engaged in a lengthy, inappropriate relationship with a woman. While we did not "know" each other in a Biblical sense, it was nevertheless inappropriately romantic and affectionate.

There are no words to describe the magnitude of shame I feel, or grief from the injury I caused my beloved bride and children, both of whom have responded to my repentance with what seems a supernatural love and forgiveness. I thought too highly of myself and behaved without proper accountability. I have acted grievously before the Lord, in a destructive manner hypocritical of life messages I hold dear, inappropriate for a leader, abusive of the trust that I was given, and hurtful to family and friends. My church leadership came alongside me with love and admonition, providing counsel, strong direction and accountability. Where I have directly wronged others, I confessed and repented. I am still in the process of trying to seek reconciliation privately with people I have injured, and to be aware of ways in which my own selfishness has hurt family and friends. I am most sensitive to the fact that my actions have dishonored the living God and been shameful to the name of Jesus Christ, my only hope and Savior.

This is a time when my repentance needs to be proven, and I need to lead a quiet life focusing on my family and serving as a foot soldier, not a ministry leader. Though I am broken over my failures, I am grateful to be able to spend more time with my family, nurturing my wife and children and preparing my older sons and daughters for life. So, for these reasons I want to let my friends know that I have stepped down as a board member and as president of Vision Forum Ministries. The Board will be making provision for the management of the ministry during this time. To the friends of this ministry, I ask for your forgiveness, and hope that you will pray for the Phillips family at this time, and for the men who will be responsible for shepherding the work of Vision Forum Ministries in the future.

Doug Phillips
When I read this letter, I was hurt.
It has triggered so much. I'm the weak sex. I need a man to protect me. Eve at the fruit first, you know.
I couldn't date in high school. I was not supposed to go to college because I would lose my virginity. I couldn't be trusted anywhere. I needed accountability.
I couldn't speak in church. God couldn't entrust me like he did men. I remember laying my head up against the "men's meeting" at church (not his church) as a young adult, hurt because I couldn't hear from God like them.
I remember so much of Vision Forum, all the catalogues and books and dolls. My sister as a kid entered their film festival, but was told she couldn't receive the award alone (if she had won), not without our dad by her side.
Yet at the end of the day, what the heck? Mr. Philips has an affair.
It's not the affair that irks me. Whatever there. We all get messy. It's that he said I couldn't be entrusted to go to college. And he said I couldn't be entrusted to be pure before marriage if went on dates or to college or whatever. And he said I was underneath the man. And Eve ate the dang apple.
This is what Mr. Philips needs to do.
He needs say look folks, I get it now. I'm messed up human like the rest of us, men aren't better than women, and assuredly men in Christian leadership aren't better than a lay woman. In fact, most of you are probably doing better than me.
And then he needs to send daughters on their way.
Yea, that right there. He needs to say it.
Comments open below
Lana Hope was homeschooled 1st-12th grade in a small town and rural culture. Involved in ATI, her life growing up was gendered, sheltered, and with a lot of shame and rules in disguise of Biblical principles and character qualities. After college Lana moved to SE Asia and began working with the abused, and upon discovering that the large world is not at all like she had been taught, she finally questioned it all, from Calvinism to the homeschool movement to the foundation of her Christian faith. Today Lana is a Christian Universalist, holds a B.A. in English, and is currently working on a M.A. in philosophy. She blogs about the struggles she has faced leaving fundamentalism and homeschooling behind and how travel and missions has wrecked her life for good and bad at her blog www.wideopenground.com.
The Spiritual Abuse Survivor Blogs Network
NLQ Recommended Reading …
'Breaking Their Will: Shedding Light on Religious Child Maltreatment' by Janet Heimlich
'Quivering Daughters' by Hillary McFarland
'Quiverfull: Inside the Christian Patriarchy Movement' by Kathryn Joyce