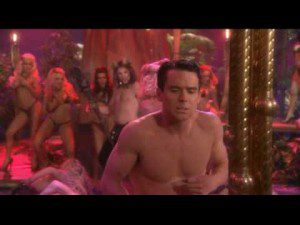 by Tim Price of Chalcedon Presbyterian Church posted at Ladies Against Feminism – The Door of Darkness
When boys enter into puberty, they discover a door within themselves that has a sign saying, "DO NOT ENTER!" It is the door of sexual exploration and it has been presented to them by their new-found hormones. It is his responsibility to keep that door closed and to even guard it against any outside attempt — , i.e. seduction and temptation, — at prying it open. This is his first "rite of passage" into manhood, the first battle which begins with his own flesh.

Proverbs 5:7-8; 20-21: Now then, my sons, listen to me and do not depart from the words of my mouth. Keep your way far from her and do not go near the door of her house,… For why should you, my son, be exhilarated with an adulteress and embrace the bosom of a foreigner? For the ways of a man are before the eyes of the LORD, And He watches all his paths.

Unfortunately, some boys are quiet bombs ready to explode with sensuousness. All boys entering puberty lack the grace-given self control of the mature man, but some boys have no desire for it and would rather unleash their lust and have it satisfied. They want to force that forbidden door open rather than to fight and guard to keep it closed. There are a number of reasons for this which comes down to really two, i.e. poor parental practice and/or a rebellious disposition in the boy, but by the time the boy has forced open the door the old causes cannot be fixed.
Comments open below
QUOTING QUIVERFULL is a regular feature of NLQ – we present the actual words of noted Quiverfull leaders and ask our readers: What do you think? Agree? Disagree? This is the place to state your opinion. Please, let's keep it respectful – but at the same time, we encourage readers to examine the ideas of Quiverfull honestly and thoughtfully.
NLQ Recommended Reading …
'Breaking Their Will: Shedding Light on Religious Child Maltreatment' by Janet Heimlich
'Quivering Daughters' by Hillary McFarland
'Quiverfull: Inside the Christian Patriarchy Movement' by Kathryn Joyce