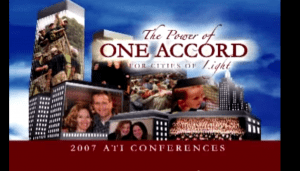 From the long dead blog X-ATI Girl's Blog
Too fascinating not to post here.
~~~~~~~~~~~~~~~~~~~~~~~~
Dear X-ATI Girl,
Please advise.  Recently someone asked me the question: what is ATI?
It's hard for me to ponder the question 'what is ATI' because I guess I really don't know myself.  (Why, it's the Advanced Training Institute.  Training in what?  Well I'm not sure actually…)
Whether it's because I grew up so closely associated with this organization and way of life, or because the majority of my friends grew up in it as well thus rarely requiring me to explain it to another, but I always find it difficult to successfully place words in any order that could describe such a 'way of life.'
After fumbling for words and getting them all mixed up for a few minutes, this individual asked the shocking question: is ATI a cult?
I gasped.  I stopped.  All the wind was knocked out of me.  What?  Was ATI a cult?  Was he serious?  Why yes, unfortunately he was.
I didn't know how to respond.  I still don't know how to respond.  Here is a loose narrative of my mixed up and jumbled response:
Well, ATI was started by Bill Gothard, a guy who worked with intercity youth and then his car broke down on the interstate one day and he ran leaping for joy because he was so happy.
Can I pause here and ask a question?  My family always had vehicles that broke down.  As in they broke down all the time – all the time with all of us 12 siblings and my expectant mother.  No one was leaping for joy in those moments, hours, eternities of being stuck on the side of the road.  I digress.
Mr. Gothard lived with his parents until his father died and then he just lived with his mother.  He began courting a nice widow when he was in his 50's, but his mother told him that she didn't feel it was God's will for him to court this nice lady so he never saw her again.
Mr. Gothard still lives in his parent's house – as far as I know – and has a cabin in the woods on some land that ATI owns.
Mr. Gothard started the Institute in Basic Life Principles in the 1970s.  It was a basic seminar, an advanced seminar, a men's seminar, a bunch of seminars.  In the 1980s he started ATI – which was at that time ATIA.  This was his Homeschooling limb that wrote Wisdom Booklets, Character Sketches, journals of all types, etc.  (The Wisdom Booklet is my most prevailing and perhaps painful memory.  Oh, and the monthly newsletter they sent out – those were prevailing and painful as well.)
He built a Headquarters (proper noun) for the organization and most of my siblings went there for trainings and to work for free.  Kids went there when they did rebellious things like told their parents they didn't want to read the Wisdom Booklets or that they couldn't memorize the Sermon on the Mount.
He started an auctioneering school, a chalk talk school, a law school, and even the Medical Training Institute of America (MTIA).  The irony is that none of us went to school…
Later I got to thinking about some of the things that I learned while in the program:
How to conquer the addiction of rock music
How to sew and wear skirts that glorified the Lord
How to honor my parent's authority
How formal schooling would kill me
How sugar was the drug that Satan could use to control us
How some people believe in head coverings and some don't, but lets not fight about it
How if you have an impure thought at lunch, you should confess it just before a Knoxville session
How you should wear light makeup and your hair in flowing curls
How sheep go to heaven and goats go to hell (wait…wait, now I'm getting confused.  I think that was a song, not Gothard.)
That beards are bad, bad, bad
You should always use CharacterLink to protect yourself from the evil influences of the internet (did this make anyone else suspicious?)
The only approved college was Verity College
That I was to be a keeper at home
How ATI was "Giving the world a new approach to life!"
Try to stay away from the flaming darts of Lucifer, ie. get back under that umbrella
How to tear down the strong holds in your life ie. my desire to wear pants (gasp)
Letters we were supposed to write that started out like this: "Dear Dad, I love you.  I want to give you my heart."
Something about rhemas
Al Smith approved music
Do you have similar experiences?
I've given this a lot of thought.  I'm going to go ahead and make this bold statement:
ATI was and is a cult.
Here's just a part of my reasoning:
Dictionary: Cult n.
A religion or religious sect generally considered to be extremist or false, with its followers often living in an unconventional manner under the guidance of an authoritarian, charismatic leader.
The followers of such a religion or sect.
A system or community of religious worship and ritual.
The formal means of expressing religious reverence; religious ceremony and ritual.
A usually nonscientific method or regimen claimed by its originator to have exclusive or exceptional power in curing a particular disease.

Obsessive, especially faddish, devotion to or veneration for a person, principle, or thing.
The object of such devotion.
An exclusive group of persons sharing an esoteric, usually artistic or intellectual interest.
Wasn't that umbrella a little extreme and false?
Come on, those blue and white outfits were unconventional.
So was learning medicine from a Wisdom Booklet written by a man who lived with his parents.
Nonscientific guide to medicine – check.
Obsessive, faddish devotion to a person, principle, and thing
Being told to write a letter to your dad giving him your heart.
I'm stopping here with my argument because this letter is long.  Please advise.  What in the world am I going to do with the bomb-shell realization that…that…I was raised in a cult?
Comments open below
NLQ Recommended Reading …
'Breaking Their Will: Shedding Light on Religious Child Maltreatment' by Janet Heimlich
'Quivering Daughters' by Hillary McFarland
'Quiverfull: Inside the Christian Patriarchy Movement' by Kathryn Joyce