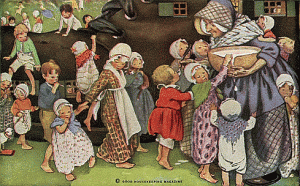 by Kelly Crawford of Ladies Against Feminism and Generation Cedar – You Have Too Many Children to Give Them What They Need
Somewhere along the line, we created an imaginary set of rules about what kids need  for healthy development and if you'll listen closely, you'll hear it: "To love my children is to buy them things." Suffice it to say, if love equals providing material comforts,  American children are the most well-loved children in the world. Ironically, they also suffer the most from narcissism, ingratitude, and a grandiose sense of entitlement.

Those are the children we created attempting to "give them what they need."  We said, essentially, though no parent would admit it, "Let me make you the center of the universe. Let my love translate into money, my affection into recreation, and let me, above all else, make sure you have everything and every experience you want so you'll know how much I care about you."

The disaster is that children want things, but it's not what they need, and many parents aren't smart enough to know the difference.
QUOTING QUIVERFULL is a regular feature of NLQ – we present the actual words of noted Quiverfull leaders or their followers/enforcers and ask our readers: What do you think? Agree? Disagree? This is the place to state your opinion. Please, let's keep it respectful – but at the same time, we encourage readers to examine the ideas of Quiverfull honestly and thoughtfully.
Comments open below
NLQ Recommended Reading …