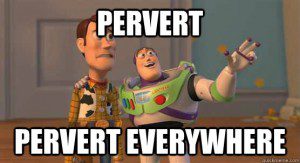 by Steve L. Anderson of Faithful Word Baptist Church on the blog Ramblings of Sheldon and his own church website
I have to wonder if he has revised his view of male doctors and male gynecologists after his and his wife Zsuzsanna's recent experiences with male doctors during their medical crisis with Twin To Twin Transfusion Syndrome? His wife was treated by male doctors who also practice gynecology. Does that make his wife's doctors perverts? Do they know he considers them perverts but treated his wife anyway? Very confusing.
Jeremiah 17:9 reads, "The heart is deceitful above all things, and desperately wicked: who can know it?"  What kind of a man would go into a profession of examining women's private parts?  Don't tell me that he is not made of the same sinful flesh that every other man is made of.  No man can look at pornographic images and not be affected.  This is why God commands us repeatedly to set no wicked thing before our eyes.

Because of years and years of looking at and touching scores of women inappropriately, the male gynecologist no doubt has a seared conscience and a perverted mind (I will not go into detail of what goes on in the doctor's office for decency's sake, but any woman who has been there knows what I am referring to.).  His view of women and the marital bed has certainly been warped by his indecent involvement with countless women.
QUOTING QUIVERFULL is a regular feature of NLQ – we present the actual words of noted Quiverfull leaders or their followers/enforcers and ask our readers: What do you think? Agree? Disagree? This is the place to state your opinion. Please, let's keep it respectful – but at the same time, we encourage readers to examine the ideas of Quiverfull honestly and thoughtfully.
Comments open below
NLQ Recommended Reading …