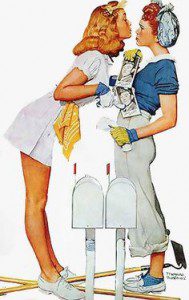 by Jasmine Baucham (daughter of Voddie Baucham) at Ladies Against Feminism – The Boundaries of a Wise Heart
Please be sure to read the entirety of this fascinating look at the thought processes that segregate men and women in the Fundamentalist / Evangelical / Quiverfull movement at Ladies Against Feminism.
All right, but, really: Annie could have discussed her standards frankly and openly with her parents: was she truly guarding her heart? Was she setting herself up for disappointment? Was she allowing this young man too much freedom with her?

The kind of young man we want won't be trying to get in through the back door: he will be willing to go through the proper channels to claim a heart, and his primary focus will not be his selfish desire to be near us, but a selfless desire to protect us, even at the risk of his own whims. How do I know? Because if I want a husband who is willing to lay down his life for me (Ephesians 5:22ff), then I need to look for a beau who is willing to lay aside his own immediate desires.

Waiting for this kind of guy can be hard, and we might be tempted to make allowances for lesser men… but we have to trust God to write our story in his time.

Annie was sweet to let me use her story as a catalyst for this article, but I would be grossly dishonest if I said that I hadn't made the same mistakes. It was all too easy to empathize with my friend's confusion: even though neither of us "date around,"we can still leave ourselves open for heartache when we allow the lines in our relationships to become blurred and try to rush things. We wouldn't trade the peace and simplicity that comes from having well-defined standards in relationships… but we sometimes forget how hard we have to work for that peace.

Neither Annie nor I are going to start avoiding friendships with young men altogether -we simply need to learn to keep boundaries in our friendships. We need to love our brothers in Christ enough not to take advantage of them… or to allow them to take advantage of us.

Biblical femininity elevates the importance of protecting a young woman's heart, and the importance of behaving around young men in a way that demands respect… as well as a way that respects him and his future spouse.
QUOTING QUIVERFULL is a regular feature of NLQ – we present the actual words of noted Quiverfull leaders or their followers/enforcers and ask our readers: What do you think? Agree? Disagree? This is the place to state your opinion. Please, let's keep it respectful – but at the same time, we encourage readers to examine the ideas of Quiverfull honestly and thoughtfully.
Comments open below
NLQ Recommended Reading …