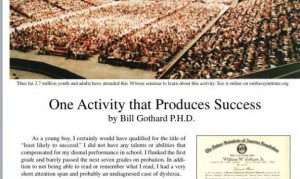 Recently Bill Gothard announced his new project "Total Success Power Teams" Sounds like because he was forced to step down from ATI/IBLP over allegations of sexual harassment that Bill has tried to morph into another scheme/plan/ministry.
Here's a little about it from Spiritual Sounding Board website.
Bill Gothard's New Objective

The new program is called Total Success Power Teams.  I don't know about you, but that sure sounds like a multi-level marketing promo gimmick to me.  The information I received seemed credible. The design was familiar and similar to other literature I've seen from IBLP/Gothard.  It contained two pages giving historical background on Gothard and the last page went into more detail about the program without answering any obvious questions about the program itself. The whole thing felt like a teaser to me. Before I begin, I plugged the excerpt of Gothard's historical background into my word counter.  The word:

"I" was used 33 times
"me" was used 8 times
"my" was used 11 times
"grace" was used 1 time
"God" was used 7 times

On the first page, see the picture of the large crowd, the boasting of numbers (2.7 million youth/adults have attended the seminar), the PhD credentials behind Gothard's name, two pictures of awards or certificates, awarded to Gothard, of course. Humility?  I'm not seeing it.

The second page shows four pictures down the left side:

I'm guessing it's a picture of the Chicago Art Institute with a caption: "The La Grange Art League gave me an unexpected scholarship to take a course at the Chicago Art Institute."
The next picture shows Gothard doing chalk art, apparently in front of an audience.
A photo of a packed out Basic conference in Detroit.
Another shot of a Basic seminar with a packed-out crowd at the Dallas Convention Center.

If you were counting along with me, that makes a total of THREE pictures in two pages showing packed-out audiences. This seems to be a theme that he wants you to see:  Gothard gets packed-out crowds wherever he speaks. Ho hum, humility.  ::::yawn::::

The first part of Gothard's history opens up with a woe-is-me, humble beginnings (get your tissues):
Read the rest of this over at Spiritual Sounding Board website including descriptions of Julie Smith's conversations with Bill Gothard himself over his new doings.
What do you think? Is it too soon for Gothard to have any leadership role? Is this evangelical Christianity business as usual?
If this is your first time visiting NLQ please read our Welcome page and our Comment Policy!
Comments open below
NLQ Recommended Reading …