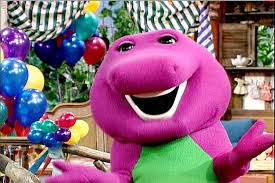 by Matt Walsh from The Matt Walsh Blog – Jesus didn't care about being nice or tolerant and neither should you
I found this old Matt Walsh piece on the Facebook page of a former member of my old church that was using it to justify his hateful behavior towards ex members of that church.
This all makes Jesus sound like the abusive jerkish boyfriend that eventually goes psycho on you..
Be nice to me, I'll be nice to you, and we'll all be happy. This is the 'whole message' of Christianity?

Really?

Jesus Christ preached a Truth no deeper or more complex than a slogan on a poster in a Kindergarten classroom?

Really?

A provocative claim, to say the least. I decided to investigate the matter, and sure enough, I found this excerpt from the Sermon on the Mount:

"We're best friends like friends should be. With a great big hug, and a kiss from me to you, won't you say you love me too?"

Actually, wait, sorry, that's from the original Barney theme song.

God help us. We've turned the Son of God into a purple dinosaur puppet.

There's no way to be certain, but most theologians believe that, despite popular perception, Christ looked nothing like this.

I don't recognize this Jesus.

This moderate. This pacifist. This nice guy.

He's not the Jesus I read about in the Bible. I read of a strong, manly, stern, and bold Savior. Compassionate, yes. Forgiving, of course. Loving, always loving. But not particularly nice.

He condemned. He denounced. He caused trouble. He disrupted the established order.

On one occasion — or at least one recorded occasion — He used violence. This Jesus saw the money changers in the temple and how did He respond? He wasn't polite about it. I'd even say He was downright intolerant. He fashioned a whip (this is what the lawyers would call 'premeditation') and physically drove the merchants away. He turned over tables and shouted. He caused a scene. [John 2:15]

Assault with a deadly weapon. Vandalism. Disturbing the peace. Worse still, intolerance.

In two words: not nice.

Not nice at all.

Can you imagine how some moderate, pious, 'nice' Christians of today would react to that spectacle in the Temple? Can you envision the proponents of the Nice Doctrine, with their wagging fingers and their passive aggressive sighs? I'm sure they'd send Jesus a patronizing email, perhaps leave a disapproving comment under the news article about the incident, reminding Jesus that Jesus would never do what Jesus just did.

Personally, I've studied the New Testament and found not a single instance of Christ calling for a 'dialogue' with evil or seeking the middle ground on an issue. I see an absolutist, unafraid of confrontation. I see a man who did not waver or give credence to the other side. I see someone who never once avoided a dispute by saying that He'll just 'agree to disagree.'

I see a Christ who calls the Scribes and Pharisees snakes and vipers. He labels them murderers and blind guides, and ridicules them publicly [Matthew 23:33]. He undermines their authority. He insults them. He castigates them. He's not very nice to them.

Jesus rebukes and condemns. In Matthew 18, He utilizes morbid and violent imagery, saying that it would be better to drown in the sea with a stone around your neck than to harm a child. Had our modern politicians been around two thousand years ago, I'm sure they'd go on the cable news shows and shake their heads and insist that there's 'no place for that kind of language.'

No place for the language of God.

Jesus deliberately did and said things that He knew would upset people. He stirred up division and controversy. He provoked. He didn't have to break from established customs, but He did. He didn't have to heal that man's hand on the Sabbath, knowing how it would disturb others and cause them immense irritation, but He did, and He did so with 'anger' [Mark 3:5]. He could have gone with the flow a little bit. He could have chilled out and let bygones be bygones, but He didn't. He could have been diplomatic, but He wasn't.

He could have told everyone to relax, but instead He made them uncomfortable. He could have put them at ease, but He chose to put them on edge.

He convinced the mob not to stone the adulterer [John 8], and you'll notice that He then turned to her and told her to stop sinning. Indeed, never once did He encounter sin and corruption and say: "Hey, do your thang, homies. Just have fun. YOLO!"

The followers of Nice Jesus love to quote the 'throw the first stone' verse — and for good reason, it's a beautiful and compelling story — but you rarely hear mention of the exchange that occurs just a few sentences later, in that very same chapter. In John 8:44, Jesus rebukes unbelieving Jews and calls them 'sons of the Devil.'

Wow.

That wasn't nice, Jesus.

Didn't anyone ever tell you that you can catch more flies with honey, Jesus?

Of course, you'd catch even more flies with a mound of garbage, so maybe 'catching flies' isn't the point.
QUOTING QUIVERFULL is a regular feature of NLQ – we present the actual words of noted Quiverfull leaders and ask our readers: What do you think? Agree? Disagree? This is the place to state your opinion. Please, let's keep it respectful – but at the same time, we encourage readers to examine the ideas of Quiverfull and Spiritual Abuse honestly and thoughtfully.
If this is your first time visiting NLQ please read our Welcome page and our Comment Policy!
Comments open below
NLQ Recommended Reading …