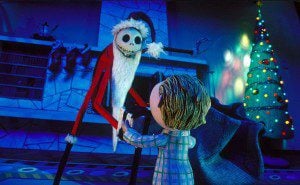 by Michael Pearl taken from a transcript of his video 'Bible Questions with Michael Pearl' – Episode 077: What does the Bible say about celebrating Christmas or other Holidays?
Saw the first Christmas commercial on television last night and figured we should examine what Michael Pearl thinks of Christmas.
So Christmas Day is the day when the devil has his due? I thought Halloween was the day that fundamentalists thought that the devil rules?
My motto is this: "Keep Christ out of Christmas and it's OK." As long as you don't put Christ in to it, then when my family invites me to a Christ Mass dinner, I go and I eat dinner, and if they want to give me a new shirt or something, then I receive it.

We don't give or exchange gifts, never have. We don't have trees or decorations, celebrations in the church. We don't have Christmas cantatas. We don't … it's just another day. I mean, it's just like July the 4th. You take the day off, but most people don't even remember what July 4th is about.

Most people don't really know or care what Christmas is about. It's just more booze is sold then, more suicide takes place then, more marriages break up then, more kids are neglected and abused then, more drugs are consumed then. It's the day when the devil has his due.

We as Christians ought to try to maintain our holiness and purity every day. But leave Christ out of Christmas, and then exchange your gifts, and do whatever you want to do that suits you. Me — none of it suits me. But that's just my personal view.

As long as you are not worshipping the tree, or worshipping statues or images, as long as you don't think it's a means to get to God or something that you feel like you've got to do in order to express your faith, as long it's just a tree, like a pumpkin sitting on your front porch.

If you see the tree is no different from a pumpkin carved out in to a jack‑o'‑lantern, then you're probably OK. But the moment you put that jack‑o'‑lantern out there and start dancing around it, and start having some kind of spiritual contact, then you're in trouble.

Same thing with the tree. The moment you start seeing Christ in it, you're in trouble. So, that's about the best I can answer you on that.
Not surprised there is no giving in the Pearl household. It takes a measure of selflessness to want to give to others without any expectation of possible return. Seems to be in short supply in the Pearl world if these videos and articles are to be believed.
QUOTING QUIVERFULL is a regular feature of NLQ – we present the actual words of noted Quiverfull leaders and ask our readers: What do you think? Agree? Disagree? This is the place to state your opinion. Please, let's keep it respectful – but at the same time, we encourage readers to examine the ideas of Quiverfull and Spiritual Abuse honestly and thoughtfully
If this is your first time visiting NLQ please read our Welcome page and our Comment Policy!
Comments open below
NLQ Recommended Reading …