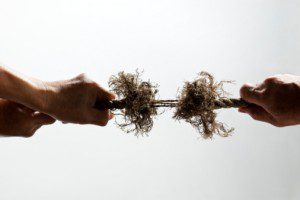 Yesterday evening as I did my daily spin through the piles of articles generated about TLC's the Duggar family of '19 Kids and Counting' and various homophobic actions it dawned on me that it genuinely looks as though Duggar married daughters Jill Duggar Dillard and Jessa Duggar Seewald are actually waging a war over who gets the most publicity and public interest. This shit just got all too real looking.
Why they are doing this could be interpreted at least a couple of different ways.Both girls are old enough to remember how the family lived from the television shows started, the tiny cramped three bedroom rental house with only one bathroom for all the kids to share, the lack of vacations except to homeschooling conferences, the scrimping and pinching.
The cameras have been around so long now that both are used to living their lives in the glare of the cameras, being married and not being constantly followed by TLC's camera crew must bring a jarring sense of dislocation to both ladies.
They've seen Daddy Jim Bob Duggar shilling their family to the media as a way to support the family and are trying to continue on the family tradition since it's all they know. They have to be worried about their own financial futures considering both husbands gave up jobs and educations to move onto the Duggar compound and wed Jill and Jessa.
It's also possible that Jill and Jessa have always been this competitive with each other like this and it's never been shown on their 'reality' show. Where there is but one mother and a pile of children it stands to reason you might have to compete for her full attention. Jana wasn't old enough when these two were little to have been a mother substitute like she is now for the younger ones.
Even as it was posted that the two couples had a 'double date' for the Duggar family Christmas recital it looks like this rivalry of Jill and Jessa might be the realest thing to emerge from the show. You can almost track the different media stories on each couple and keep count as to who is shilling what to the media. This week in the Duggar Daughters competition here are the rough estimates complied by counting up the Google search engine hits for articles mentioning each lady:
Jessa Seewald: Just in 2 days over 21 stories in the media about Jessa's possible pregnancy, Jessa and Ben's weekend jaunt to another Arkansas town and many clips of Ben crooning Christmas music. Adding all the Jessa mentions brings her total to over 200.
Jill Dillard: Over 87 stories with mentions of Jill, some of which are when she shared a tribute to her late sister Jubilee Shalom Duggar.
This situation bears watching as it looks like both couples are competing for the most attention. This week the hands down winner is Jessa. Sibling rivalry gone nuclear.
If this is your first time visiting NLQ please read our Welcome page and our Comment Policy!
Comments open below
NLQ Recommended Reading …