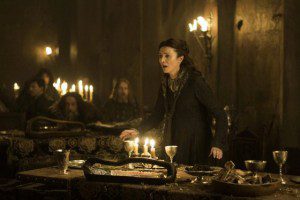 by Nancy Campbell from Above Rubies – A Mother's Courage
Obviously in Nancy's world this might apply when you adopt a pile of children from Africa and they disappear. It blows my mind for all the mothering guilt trips Nancy has posted through the years that now she comes up with this story to prove that good mothers should urge their child to death in such a situation. There are more bizarre twists and turns in Nancy Campbell's mothering advice than any soap opera or 'Game of Thrones' episode.
A brave mother watched her son being killed. No, not just killed but cruelly tortured. They cut out his tongue, scalped him, cut off his hands and feet, and then maimed and helpless, fried him alive! But, in the same manner they tortured and killed her second and third sons. The third son cried out, "I have received these limbs from heaven, and I give them up for the sake of God's laws." Another cried out, "We are prepared to die rather than sin against our ancestral laws" (2 Maccabees 7:2, 11).

Because they would not bend and turn from God's laws this dear mother watched as Antiochus tortured her fourth, fifth, and sixth sons the same way. The mother had only one son left, her beloved youngest. Antiochus tried to influence the mother to save his life. He promised he would make him rich and prosperous and even a political advisor. She obliged by turning to her youngest son saying, "Son, pity me who carried you in the womb nine months, nursed you for three years, nurtured you, and brought you into this stage of life with care. I beg you, child . . . Don't fear this killer but prove worthy of your brothers. Accept death so that in God's mercy I should recover you with your brothers" (2 Maccabees 7:27-29). She watched her last son die before she was put to death herself.

This mother was a nurturing and caring mother. But, she had a vision for her children beyond this earth. She raised her sons to fear God rather than man. She raised them to stand for truth, no matter what the consequences. She raised them to see beyond this earth to the endless life of the heavenly.

May God help us to be courageous mothers. May He save us from raising wimpy, mediocre children who are seduced by the humanist trend of an ungodly society. May He anoint us with the mighty power of God to raise children who will have the courage to stand for God and for truth, no matter what persecution they face.

(You can read the whole of this amazing story in 2 Maccabees chapter seven).
QUOTING QUIVERFULL is a regular feature of NLQ – we present the actual words of noted Quiverfull leaders, influential bloggers and cultural enforcers and ask our readers: What do you think? Agree? Disagree? This is the place to state your opinion. Please, let's keep it respectful – but at the same time, we encourage readers to examine the ideas of Quiverfull and Spiritual Abuse honestly and thoughtfully.
If this is your first time visiting NLQ please read our Welcome page and our Comment Policy!
Comments open below
NLQ Recommended Reading …