by Francis a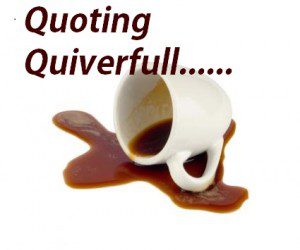 nd Lisa Chan from The Gospel Coalition as quoted by Ladies Against Feminism – Marriage and Eternity
Editor's note: LAF seems to be laboring under the idea that marriage is mostly about serving God. Did I miss that part of the Bible because I don't remember anything said about the primary function of marriage was serving God. What about those people that say that the primary function of marriage is to keep you from sexual sin, or to increase the kingdom by birthing a quiverful of righteous arrows? Seems to me that different groups put different spins on marriage instead of recognizing it for what it is, a union of two people who love each other and want to spend every day for the rest of their lives together.
Forgetting the whole point of their existence. We've witnessed many singles fervently serve God until their marriage day, at which point one of two things happens: (1) they enjoy each other so much that they spend almost all their free time entertaining each other rather than serving God; or (2) they struggle in their relationship and spend their days arguing, going to counseling, and feeling disqualified from serving God. In either case, the couple no longer spend their time furthering the kingdom, but instead fixate on one another.

We must remember we weren't created to merely enjoy ourselves. Colossians 1:16 declares that we were created by Christ and for Christ. Paul also warned that if we are not careful, marriage will keep us from securing "undivided devotion to the Lord" (1 Cor. 7:35). Too many couples make decisions based on the pursuit of pleasure rather than the pursuit of the kingdom. We too often don't surrender and ask God what would be most effective. Instead, we live where we want, drive what we want, have as many kids as we want. And we somehow convince ourselves this isn't selfishness because there are two of us involved now.
QUOTING QUIVERFULL is a regular feature of NLQ – we present the actual words of noted Quiverfull leaders, influential bloggers and cultural enforcers and ask our readers: What do you think? Agree? Disagree? This is the place to state your opinion. Please, let's keep it respectful – but at the same time, we encourage readers to examine the ideas of Quiverfull and Spiritual Abuse honestly and thoughtfully.
If this is your first time visiting NLQ please read our Welcome page and our Comment Policy!
Comments open below
NLQ Recommended Reading …