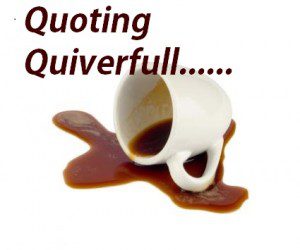 by Andrea Mrozek and Rebecca Walberg as quoted by Ladies Against Feminism – A Higher Standard For Sexual Relations. Original article at MercatorNet; Why not hold sexual relations to a higher standard?
Editor's note: Another case of Ladies Against Feminism taking an article that contains some actual ideas that aren't too bad and immediately using it to push an idea well beyond that of the original author. LAF wants to make sex outside of marriage a crime, a crime that could be prosecuted by law enforcement and the justice system! No where in the original article does it bring up this dangerous and extremist idea. Instead of discussion of how a higher standard might help ease the problem or how it might achieved they went straight for the idea of Christian Marriage Only being the only solution along with making sex outside of marriage a crime.
Also, the main topic of the original article is the allegations of sexual abuse by Canadian radio host Jian Ghomeshi, which is something you cannot glean from the LAF quote.
What LAF had to say and what they quoted;
LAF Editor's note: A few things need to be corrected in this article. One is that extramarital sexual encounters should be illegal. And it would follow that marriage is the perfect high standard within which sexual encounters happen. Unless of course you are talking about the world's standard for marriage. Ungodly marriages will yield ungodly fruit.   But Christian marriages are a protection for and a provision of godly and edifying sexual encounters.
Amid all the discussion of the whole mess, a question remains: Why should consent as the standard for sexual behaviour succeed in minimizing harm when so many other standards, far more clear, have often failed?

Put differently, why are conservative sexual mores held in such disdain? In some places, CBC headquarters among them, the only thing less popular than non-consensual sex is the idea that sexual activity be reserved for marriage.

Pre-sexual revolution, consent came when you were prepared to commit for the long term, for life. In an era our grandparents knew (a.k.a. not so long ago) premarital and extramarital sex were viewed by common consensus as inappropriate, if not outright wrong.

Post-sexual revolution, consent is far easier to get. Yet today, arguably, we have more people hurting than ever before.
From the original article on MercatorNet:
Yet, even if there was "only" confusion, if consent meant one thing to the men and another to the women, then there is something wrong with a culture that allows for such confusion over something so intimate, so often. Consent will fail where commitment to the whole person is absent.

Let's be clear: consensual adultery, promiscuity and BDSM are not illegal, nor should they be. But in the race to replace higher sexual standards with consensual hedonism, we have lost sight of the guidelines that define not what makes a criminal, but what makes a decent person.

Marriage as the sole appropriate context for sex is a high standard, and an imperfect one. Yet in theory, it demands commitment, not for a single encounter, but for a lifetime. It encourages respect and care not only for your partner's body, but also for their heart, mind and soul.

We may think it an impossible ideal, and nobody has ever argued that it is easily achieved. The question remains why those who aspire to it are consistently laughed out of town.
What do you think is the answer to making sure that sexual assaults or abuse ends?
QUOTING QUIVERFULL is a regular feature of NLQ – we present the actual words of noted Quiverfull leaders, influential bloggers and cultural enforcers and ask our readers: What do you think? Agree? Disagree? This is the place to state your opinion. Please, let's keep it respectful – but at the same time, we encourage readers to examine the ideas of Quiverfull and Spiritual Abuse honestly and thoughtfully.
If this is your first time visiting NLQ please read our Welcome page and our Comment Policy!
Comments open below
NLQ Recommended Reading …