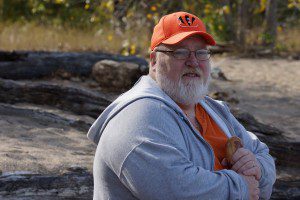 by Bruce Gerencser cross posted from his blog The Life and Times of Bruce Gerencser
Over the past 8 years, various people have taken it upon themselves in an email, blog comment, Facebook comment, tweet, letter to the editor, sermon, or blog post to emphatically tell me '"Bruce, You Are Wrong!!" Be it my liberal politics, the teams I root for, or my humanistic, atheistic beliefs, these beacons of absolute truth are infallibly certain that I am wrong.
Let me confess right away that I have been wrong many, many, many times. I bet you didn't know that did you? In fact, there is not a day that goes by that I am not wrong in some moment, circumstance, or detail.
Usually, when someone writes me to tell me I am wrong they have a deeper, more sinister meaning for the word wrong. For the most part, I write about religion. Occasionally, I write about politics, education, sports, photography, and other sundry subjects, but religion and all its trappings is my main focus. I spend a great deal of time telling my story, detailing my journey, as only a good, humble, narcissistic ex-pastor can. This blog, whatever else it may or may not be, is "Bruce's Story, Told by Bruce, According to Bruce, the best he can remember it".
When I am telling my story, my understanding of the journey I am on, I have little patience for those who tell me I am wrong. They dissect my life with the razor knife of their own experiences and beliefs and determine that I am/was not what I say I am/was. They tell me I was never saved, never a Christian, never a real pastor, and I suspect someday someone will even challenge my circumcision.
These kinds of people want to control my storyline. They want to set the standard by which my life, the one I lived, the one I am living now, is judged and it infuriates them when I won't let them do so. I refuse to allow my story to be co-opted, controlled, or judged by any other standard than my own experiences. It is my life and I know what I believed, how I lived, and I am certain I know my life better than anyone who only had this blog to judge me by. My dear wife of 36 years is my best friend and she knows me pretty well, but she doesn't know every part me.
Foolish is a person, armed with only printed words on a computer screen, who judges a person's life in any meaningful way. I certainly want people to enter into my story, in fact I invite them in. But, my readers are just visitors. They only know what I am willing to let them know. If my wife or my counselor can not pierce the inner sanctum don't think for a moment any visitor can.
Sometimes, charges of being wrong are hurled my way because of something I have written about Christianity, the ministry, the Bible, or some other facet of Western, organized Christianity. They vehemently disagree with my interpretation of a particular verse in the Bible or they object to particular word usages, words like Christian, evangelical, or fundamentalist.
What is the foundation of their charges against me? Why their own beliefs and interpretations or the beliefs and interpretations of their particular sect. Ultimately, the Bible becomes the focus of these kind of accusations.
I am wrong because I have misread, misunderstood, misapplied, or distorted what the Bible teaches. How do they know this? Because the accuser reads, understands, and applies the Bible differently and we all know that the autonomous Christian is infallible in his or her understanding of a book written by many, unknown people thousands of years ago.
I could be wrong. In fact, I am quite certain that some of my interpretations are wrong. I have no way of proving whether they are. All I have is my mind and my ability to read, and using these skills, I try, to the best of my ability, to discern what a particular text in the Bible says. People are free to differ with me, but why should it be assumed that I am wrong and my critic is right? How do we make such a determination?
The Bible has the unique ability to be whatever a person wants it to be. Most people have a bit of Thomas Jefferson in them, scissors in hand, cutting out the things they disagree with or the things that weaken their positions or beliefs. The short of it is this…if you need to prove something, go to the Bible. You will likely find the answer you are looking for.
I am quite aware of the fact that I read the Bible differently than the Christians who think I am wrong. The one-up I have on them is that I used to read the Bible like they do. I understand their hermeneutics and theology and I am well aware of their interpretations. That said, I have no compulsion to read the Bible like an Evangelical or a progressive/liberal Christian would read the Bible. I have no great need to make the Bible fit in a systematic theology grid. Instead, I try to read the Bible like the average, unenlightened Bruce would read the Bible. I try to transport myself back in time in hopes of getting a historical and cultural perspective on the passage I am reading.
In the book of Genesis God says "let us make man in our image." When I read this passage I say to myself this says there is a plurality of Gods. Let US. As I read the Old Testament it is very clear to me that the Israelites were polytheistic and over time became monotheistic. (or as oneness-Pentecostals would assert about Trinitarian Christians, they still ARE polytheistic)
Of course those who think I am wrong say, but the New Testament says______ and they import their Trinitarian theology into the Genesis text. That's all well and good if you are Christian, but I am not. I am quite free to read the Bible as it is written without forcing myself to put all the pegs in the right holes. The Christian has the burden to make it all fit not me.
I may be wrong, but it is a leap of logic to assume that because I am wrong you are right. There is no way to "prove" who is right or who is wrong when it comes to the Bible. Baptists and Campbellites (Church of Christ) spar often over one Greek word, eis, in Acts 2:38. Who is right? Yeah, yeah, yeah, I know all the arguments from both sides of the fence. Who is right? Every person has to determine for themselves what they believe about God, the Bible, truth, and religion. This blog is simply my take on these things.
Seriously, the amount of skin I have in this game gets less and less every day. Talking about the Bible and what it purportedly teaches is all fun and games. Since the Bible no longer has a mystical hold on me, I am quite free to ignore it at will. I am free to be wrong because being wrong about the Bible is like being wrong about picking the wrong players for a fantasy football league. (not the end of the world)
My bigger focus is on those who are considering leaving Christianity or who have already left Christianity. I try to be a good example of a person who successfully broke free and left Christianity. I do not call on people to follow me or to do what I did. All I am is one guy with a story. If my story helps someone, if it gives them the strength to take the big step they need to take,then I am grateful and humbled by being a small measure of help. However, if all I do is piss you off and make you think you have scabies perhaps your short life would be better served reading other things besides this blog. Telling me I am wrong will not bring the effect you desire. I will gladly admit to being wrong. Next?
Perhaps you are really hanging out here because, deep down, uncertainty is pulling at you, and you are trying to suppress it by lashing out at the poor, deluded, deceived, ignorant Evangelical preacher turned atheist named Bruce. Beware of uncertainty, for uncertainty is the path to my world.
~~~~~~~~~~~~~
Spiritual Abuse Survivor Blogs Network member, Bruce Gerencser blogs at The Life and Times of Bruce Gerencser
Bruce Gerencser spent 25 years pastoring Independent Fundamental Baptist, Southern Baptist, and Christian Union churches in Ohio, Michigan, and Texas. Bruce attended Midwestern Baptist College in Pontiac, Michigan. He is a writer and operates The Life and Times of Bruce Gerencser blog. Bruce lives in NW Ohio with his wife of 35 years. They have six children, and ten grandchildren.
~~~~~~~~~~~~~
If this is your first time visiting NLQ please read our Welcome page and our Comment Policy!
Comments open below
NLQ Recommended Reading …