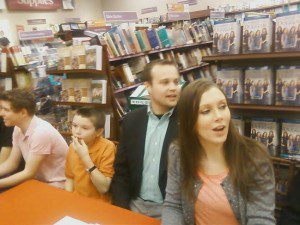 Cannot believe we are on day ten after the news of the Duggar scandal and the media is still going strong writing about this. At this point survivors of quiverfull are starting to come out of the woodworks and tell of their lives in the movement.
From Huffington Post – Duggar Spinoff Featuring Jill, Jessa and Their Husbands Reportedly In The Works After Molestation Scandal
This story is coming out in so many different media sources it sounds like the cynical money-grubbers over at The Learning Channel are releasing this information to gauge if they can get away with relaunching a Duggar-centric show. Considering almost every major advertiser you can think of has withdrawn from the show not sure how they plan on doing this. A Jill themed episode is still shown as being shown on Monday, June 1st at 7:30 am. So much for saying they would pull the show for now.
From Salon – I could've been a Duggar wife: I grew up in the same church, and the abuse scandal doesn't shock me
Another ATI Quiverfull survivor tells her story of what the media is missing in their coverage of the Duggars.
from Cosmopolitan – Why Did We Ever Make The Duggars Famous In The First Place?
Good question. Because reality television loves to show off the freakishly outlier in American society.
From Christianity Today – Why Reality TV Can't Handle The Josh Duggar Scandal
Finally a Christian coming out to not defend the Duggars and calling for the cancellation of TLCs "19 Kids & Counting" She's right, the show is achingly dull.
From Defamer – Police Report Reveals the Duggar Discipline Method: "They Have A Rod"
Defamer links the Duggar family to the abusive child training method pushed by Michael Pearl in his controversial book To Train Up A Child
From In Touch Weekly – Two Lawyers Refused to Represent Josh Duggar During Molestation Investigation
More info on the original investigation. Have a feeling that In Touch is holding back a great deal of information and will be teasing out bits and pieces every Wednesday until they run out.
From Katie Botkin – It's Still (Not That) Complicated
From a cousin of the Botkin Sisters. Some pretty horrific things believed by the Botkins.
That's all folks and I kind of hope the Duggars leave the limelight and we aren't bombarded with constant news on them. I'm starting to have disturbing Duggar dreams now.
If this is your first time visiting NLQ please read our Welcome page and our Comment Policy!
Comments open below
NLQ Recommended Reading …