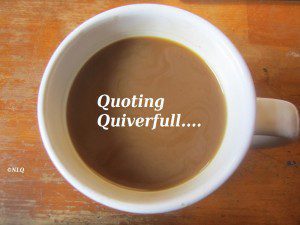 by John Piper of The Counsel on Biblical Manhood and Womanhood as quoted by Newslo – Pastor John Piper: "Women Who Wax Their Private Parts Are Hurting God's Work"
ETA: Apparently Newslo is another one of those 'satire' sites that aren't clearly marked as satire. Snopes says this quote is not from Piper, but they also says Newslo has a disclaimer but there isn't a clear one anywhere on the page I found this information. Who knows. Take this quote with a boulder of salt.

Editor's note: Are  you kidding me? Piper is seeking to control what his followers do with their own personal private parts? These guys just love creating new rules and delving into minutia, don't they? In the rest of the article Piper also seems not to understand that not everyone getting plastic surgery is inflating their breasts or lips, there are legitimate reasons to go under the knife, like scar revision or correcting a problem for reconstruction after an accident. There are just some things that the church has no business having a say in, personal grooming and plastic surgery are two of those things.
"What most women don't understand is the complexity of God's work when he created man. He made us the way we are for a reason. Like I said, some people are hairy, others aren't, there are millions of different members of our species on the planet," Piper stated. "But, grooming private parts, and especially waxing the hair from there completely is equally wrong as getting your nose thinned or augmenting your breasts. It just wasn't meant to be done."

The pastor also added: "If God felt it was wise, he would have made women without hairy private parts. But, obviously, that wasn't the case. We need to stop trying to fix things that aren't broken. What surprises me even more is that this is one of the few issues on which evolutionary theories and religion concur. God's work is just God's work."
QUOTING QUIVERFULL is a regular feature of NLQ – we present the actual words of noted Quiverfull leaders, cultural enforcers and those that seek to keep women submitted to men and ask our readers: What do you think? Agree? Disagree? This is the place to state your opinion. Please, let's keep it respectful – but at the same time, we encourage readers to examine the ideas of Quiverfull and Spiritual Abuse honestly and thoughtfully.
If this is your first time visiting NLQ please read our Welcome page and our Comment Policy!
Comments open below
NLQ Recommended Reading …