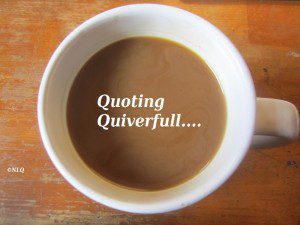 by Biblical Gender Roles from Biblical Gender Roles.Com – Can A Christian Wife Withhold Sex As A Way To Change Her Husband's Bad Behavior?
Editor's note: So now you not only have to allow your husband any sort of sex upon demand and not consider it rape, now you have to control your thoughts, emotions and attitudes about being raped lest it make you 'bitter'. Bitter seems to be an evangelical fundamentalist buzz word for 'Shut the hell up and SMILE!" How is it healthy to deny your own feelings about being abused? It's not.
But won't allowing sex to continue cause bitterness in the wife?

Jenn said this about bitterness:

"Continuing to engage in intercourse for the wife leaves the door open for bitterness and resentment to fester."

I think we could safely say, and Jenn would probably concede that bitterness toward her husband has definitely "festered" in her heart. God says this about bitterness:

"Let all bitterness, and wrath, and anger, and clamour, and evil speaking, be put away from you, with all malice" – Ephesians 4:31

Someone once said of bitterness, "Bitterness is like talking poison when you are mad at someone for wronging you, and then hoping they will die from it". I have many men write me with bitterness in their hearts towards their wives over their wife's sexual denial – some say some very hateful things toward them and I have to remind them that they need to let go of that bitterness, that it is a sin against God, their spouse and really their own bodies (because it hurts you when you are bitter).

This same truth would apply to Jenn and other Christian women that are dealing with husbands who are sinning against them by neglecting their duties.

A wife needs to understand the source of her bitterness towards her husband about sex

"Follow peace with all men, and holiness, without which no man shall see the Lord: Looking diligently lest any man fail of the grace of God; lest any root of bitterness springing up trouble you, and thereby many be defiled; " – Hebrews 12:14-15(KJV)

If you don't understand the root of your bitterness as a Christian wife, then you will never be able to remove it. The reason you grow bitter and resentful toward your husband when he initiates sex is this – you believe he did not earn it.

Let me put this another way. It is very easy for us as men to shut our wives out, to stop talking to our wives when they deny us sexually. It is easy for us to grow bitter and think – "She wants me to sit down and talk with her when every time I go to touch her she tells me "not tonight honey". But our wives do not have to earn the right to talk to us by having sex with us. Talking to our wives, whether we feel like it or not is a duty of every husband.

In the same way as a Christian wife you must realize the truth that your husband does not have to earn sex with you by talking to you(as he should), honoring you(as he should) and doing other nice things for you. He has a right to sex with you because of the vows you made to him and before God.

When you as a Christian wife let this truth really settle in your heart, then you will find that you are no longer bitter at your husband when he goes to have sex with you – even when he is not doing right in other areas.
QUOTING QUIVERFULL is a regular feature of NLQ – we present the actual words of noted Quiverfull leaders, cultural enforcers and those that seek to keep women submitted to men and ask our readers: What do you think? Agree? Disagree? This is the place to state your opinion. Please, let's keep it respectful – but at the same time, we encourage readers to examine the ideas of Quiverfull and Spiritual Abuse honestly and thoughtfully.
Read our hate mail at Jerks 4 Jesus
If this is your first time visiting NLQ please read our Welcome page and our Comment Policy!
Comments open below
NLQ Recommended Reading …