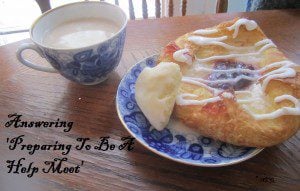 Another installment of giving better answers to the questions asked at Debi Pearl's site message board for the book 'Preparing To Be A Help Meet'. Many young ladies ask questions on all sorts of different subjects brought up by the book. There was just one big problem, many of the answers stray into either the outright bad and emotionally unhealthy to dangerous. Yes, typical Debi Pearl borderline abusive. Here's what we're going to be doing here at NLQ. Every week, once or twice a week, I'll be posting up one of the questions from the message board and ask you, our readers, to answer that poor soul's question in a way that is logical, rational and the best possible solution, in other words 180 degree turn from Debi and friends answers. As always  all spelling and grammar in the posting is unchanged from the original author.
Okay, on to today's question:
Well I was in a relationship with a guy, well sorta. We Met at a camp we were both working at, and sorta hungout and that turned into a date, and we continued talking. we have all the same wants and dreams for the future. And for my crazy wants and wishes, thats somethin special! We have been talking and hanging out for about three months nmow, but he recently joined the military and will be going to bootcamp in May. He has told me that he still wants to remain friends and stay in contact, and pick things up after bootcamp. He knows a relationship is a lot of responsibility and with the stress of his life changing decision It will be too much for him to handle. I totally respect his decision in this, even though I struggled with it at first. But I realize I care about him too much to let this discourage me into moving on. But I want to be there for him, even as a friend, problem is though I have never had friends that are guys. So I'm not sure how exactly to be a friend to him, as dumb as that sounds. I want to get to know him better, but I don't want to sound like an interragative, clingy girl that can't let go. So I just want to know how can I show him I'm there for him and find out more about him without sounding like a a controlling, clingy girl? Any ideas?
The only answer given this young lady was to a) get the guy to define what their relationship would be post-military and b) if it's only friendship it might be wrong. Surely there's a better answer to this question.
If this is your first time visiting NLQ please read our Welcome page and our Comment Policy!
Comments open below
NLQ Recommended Reading …