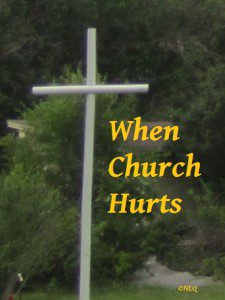 by Ellen cross posted from her blog When Church Hurts
I receive many messages thanking me for sharing my story of spiritual abuse via this blog.  People ask if they may use what I have written in their book project, as part of a spiritual abuse presentation or seminar.  People applaud my "courage" and often express their personal fear that, were they to tell their own story, they would suffer serious consequences.
The desire to tell their story is framed in several ways.  Some know that telling will help them to heal.  Some want to warn others, or, at the very least, open the eyes of those who cannot see.  They hope that by telling, their friends, family members, church comrades, even acquaintances, will finally come to a place of acknowledgement that what happened was wrong and abusive.  Some long for vindication – for someone to hear them and champion their cause; that someone will seek justice on their behalf since no amount of their own effort has resulted in even the most meager of resolutions.
Yet, they have already concluded that in telling, they will not find any of that for which they are longing.  They are aware that telling will most certainly bring additional condemnation, deeper suffering, fewer friends, less support, ostracism, shunning, loneliness, exile.
I've been there.
For years, I didn't tell a soul what was being perpetrated upon me.  Not only because I was ordered to keep silent, but because I feared that all of the things that I longed for depended upon my silence:  I would lose my friends.  I would be condemned.  I would be ostracized and shunned.  I would be lonely and be forced into exile.
I wanted to keep my friends. And not only keep to them, but I wanted a deeper friendship to grow and blossom in the years ahead.  I myself did not want to acknowledge that I was the victim of abuse.  Admitting or claiming that I was a victim was akin to telling the world that I was not strong enough, not faithful enough, not wise enough, not good enough, not mature enough.  Mature, good, strong Christians don't get themselves into situations in which they are abused.  Mature, good, strong Christians have a perfect, happy, prosperous, generous, fruitful life.  Not that they are without struggles, but their struggles are simply opportunities to impress the world with their deep and abiding, unwavering faith.
Some might say that telling my story was an exercise in stupidity.  What good did it do, anyway?  I lost all that I had hoped to gain: my church, my church friends, my status as a mature, good, strong Christian, my  identity as an up-and-coming leader in a prestigious church community.
And yet, from this side of telling my story, I can say with certainty that telling was what led to the most transformational season of my life.  I discovered that the truth truly does set us free.  I was freed from relationships that were a farce – based only upon what I was willing to do or give to people who had no desire to reciprocate.  I was freed from spending inordinate amounts of time trying to earn the favor and status of people who had not one whit of care or concern for me – or pretty much anyone else, for that matter.  I was freed to spend time, energy and money on people who truly do value me – family and friends who want to be with me whether I have anything to offer them or not – besides my self.
I thought my life was full when I was toiling at the mercy of the church leadership, spending many hours and many dollars trying to win their favor and having little to no time for my family or friends outside of the church.  Now I know the inexplicable joy of spending hours loving and being loved with virtually no agenda except to love and be loved.
I wish I could tell all of those people who send me messages and emails about how much they want to tell their story but can't find the courage because of their fear of all that they might lose that it's okay to lose those things.  It's okay.  Because on the other side of your story you are going to discover that all that you feared losing – it's okay to lose those things.  Because you are going to find so much more.
I know.  I lost them too.  And I've never been happier.
~~~~~~~~~~~
Several years ago I was the victim of a most heinous form of abuse unlike anything I had ever thought possible. Not having been raised in a Christian home, my first experience with Christians and pastors had been one of joy, grace, fellowship, love, and delight. When faced with the horrors of having the very essence of who I was as a woman of faith stripped from me in what I can only describe as spiritual rape, I couldn't comprehend what was happening. This was church, after all, and I believed that everything works together for good for those who love God. Somehow, it didn't make sense that everything was not working together for good. When I was finally able to resign myself to the fact that God was not going to "work this out," I made my escape and sought a safe haven. 
Little did I realize that I was going from the proverbial frying pan into the fire. Oh, how I tried to beat back the flames! Oh, how I prayed and pleaded for mercy, for grace, for a chance. "But hate is strong and mocks the song of peace on earth, good will toward" Ellen. 
He who began a good work . . . had forsaken me . . . and the silence was more than deafening . . . it was defeating. So intertwined were we, that as God went missing, so did Ellen. But I am nothing, if not tenacious.
~~~~~~~~~~~
If this is your first time visiting NLQ please read our Welcome page and our Comment Policy!
Copyright notice: If you use any content from NLQ, including any of our research or Quoting Quiverfull quotes, please give us credit and a link back to this site. All original content is owned by No Longer Quivering and Patheos.com
Comments open below
NLQ Recommended Reading …