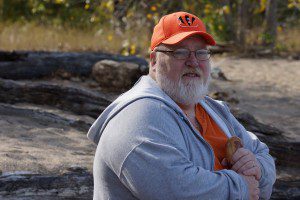 by Bruce Gerencser cross posted from his blog The Life and Times of Bruce Gerencser
Editor's note: This is a problem in the world of Quiverfull as well, this lack of curiosity. Dear readers why do you think this is?
Why is it that so many Evangelicals have no desire to be curious? Yes, I know many are, so don't get your panties in a bunch if you are a curiouser- than-a-cat Evangelical. I frequently get an email or a blog comment from an Evangelical Christian wanting to "help" me find my way to Jesus. Such people are certain that they possess the requisite knowledge and skill to win me to Jesus. They are sure that if they just befriend me, quote the right verses, soothe my hurts, or understand my pain, I will fall on my knees and call on the name of Jesus.
I was in the Christian church for fifty years. I was a pastor for twenty-five of those years. I have a Bible college education. Surely they understand that I am not an atheist out of ignorance? Of course not, and here is where their lack of curiosity gets them in trouble. They often don't know anything about me or this blog. Why? Because they did a Google/Bing/Yahoo search for _________________ and their search brought them to a single blog post of mine. They read that one post and immediately decide that I am a poor wayfaring waif in need of Jesus.
When I get comments such as these, I go to the logs and see what pages they read. Usually, they have read only the page the search brought them to. Their lack of curiosity (or laziness) is astounding and leads them to make wild judgments about me and come to rash, ill-informed conclusions. If they would just read the About page they would be better informed about me and this blog.
I suspect part of the reason Evangelicals are not, in general, known for their curiosity, is because they are 100% certain that they are absolutely right. They worship the one, true God and this God lives inside of them. This God walks with them, talks with them, and tell them that they are his own. They have a supernatural book given to them by this supernatural God. This book contains all the answers about life they will ever need.
When you are certain…there is no need to think, reason, investigate, or doubt. When the man upstairs is on your team, no need to consider any other team. When your church has declared that strawberry ice cream is the one true ice cream, no need to try any other ice cream.
Simply put, no need to know anything else, when you already know all you need to know. God said it and that settled it. One true God, one true religious text, one way of salvation. The earth is 6,000 years old, created in six days. The Bible gives the blueprint for Christ-honoring family, a happy marriage, obedient kids, and great sex. When the answer to every question is God, it's not surprising to find that Evangelicals are not curious.
The good news is that more and more Evangelicals are discovering the curiosity that lies dormant beneath the surface of their lives. Once they make this discovery, they are on their way out of the closed-mindedness and senses-dulling prison of Evangelicalism. They will find out that science can and does explain the world they live in. Science doesn't have all the answers, but it is asking the right questions.
Still want/need to believe in a transcendent deity or some sort of spirituality? Once free of the heaven/hell, saved/lost, in/out, good/bad paradigm of Evangelicalism, people are free to wander at will. When the fear of hell and judgment is gone, they are free to experience those things that are meaningful to them. Once the question is no longer will you go to heaven when you die, the journey rather than the destination becomes what matters.
Curiosity may kill the cat, but trust me Evangelicals, it won't kill you.
~~~~~~~~~~
Spiritual Abuse Survivor Blogs Network member, Bruce Gerencser blogs at The Life and Times of Bruce Gerencser He writes from the unique perspective of having been a pastor for many years and having seen it all in churches. His journey out of being a true believer and pastor has been an interesting and informative one. He is also a kind and compassionate man who seeks to help others understand how best to leave and recover from toxic belief.
Bruce Gerencser spent 25 years pastoring Independent Fundamental Baptist, Southern Baptist, and Christian Union churches in Ohio, Michigan, and Texas. Bruce attended Midwestern Baptist College in Pontiac, Michigan. He is a writer and operates The Life and Times of Bruce Gerencser blog. Bruce lives in NW Ohio with his wife of 35 years. They have six children, and eleven grandchildren.
---
Stay in touch! Like No Longer Quivering on Facebook:
If this is your first time visiting NLQ please read our Welcome page and our Comment Policy!
Copyright notice: If you use any content from NLQ, including any of our research or Quoting Quiverfull quotes, please give us credit and a link back to this site. All original content is owned by No Longer Quivering and Patheos.com
Read our hate mail at Jerks 4 Jesus
Comments open below
NLQ Recommended Reading …