by Mel cross posted from her blog When Cows and Kids Collide
All images by Mel from When Cows and Kids Collide used with permission. This post is  7 pages long.
Today's ATI crazy medical bit takes us on a tour of how a partially paralyzed eyelid can explain humility.  Don't worry; this will make no more sense at the end than it does now.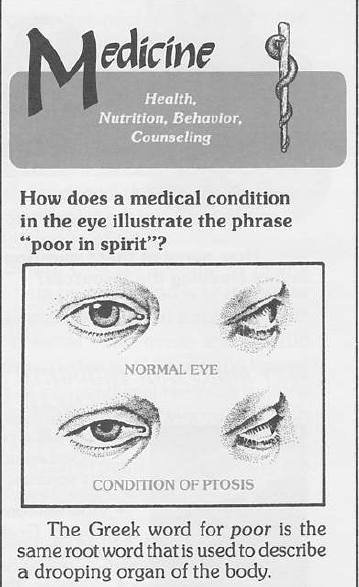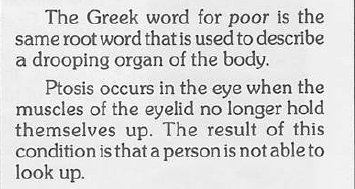 I've got NO idea why ptosis would illustrate being "poor in spirit".  Drooping eyelids have been around forever so I'm going to hazard a guess that if Jesus thought people would understand the concept of being poor ins spirit better he would have used ptosis as an example.
Based on my web-based research, ptosis has some more severe side effects than difficulty looking up.  First, people with ptosis have a reduced field of vision when their eyelids obscure the pupil.  Second, if it is left untreated, the cornea can develop an unusual shape (astigmatism) or the pupil in the affected eye becomes unaligned with the strong eye (amblyopia or "lazy eye) that can lead to blindness in the affected eye.