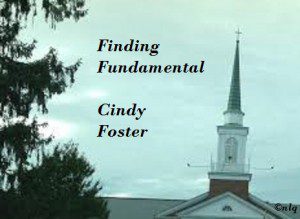 by Cindy Foster cross posted from her blog Finding Fundamental
It was the end of the 1900's.  There was much uncertainty in the air everywhere, about what the next millennium would bring.  Would our computer-dependent world come to a screeching halt?  Would there be a shortage of food, water and electricity?  Should we be stockpiling goods in preparation?
If  the 'air' everywhere else was unsettling, it was much more so in the church.  If tension was butter, you could cut it with a knife.  The young people were troubled, parents were hyper-alert, Paul and I felt like we were walking a perpetual tight-rope and The Preacher was venting rage through every sermon at our expense.  With that kind of a pressure-cooker climate, something was bound to blow.
As it happened, it came in from the younger group of teens.  The event actually took place on New Year's Eve, but wasn't discovered until the end of January.  I don't want to detail all that happened, since my purpose is to show the progression of events that led to our leaving and eventual division between our family and The Preacher's, but here's the gist… 
The Preacher's middle son and his soon-to-be girlfriend and now wife, along with several other 13-15 year olds snuck out on New Year's Eve and went to a party at the apartment of an older teen who had visited the church on a few occasions.  There was beer, rock music, and the one girl who went had put on pants (God forbid) and that same girl actually snuck and drove the family car to meet up with the rest of the group to get to the party.  
Someone tipped us off, and over about a two week period of time we tried to get to the bottom of it all, since the parties accused were denying everything.  Finally, one of the younger boys who had participated came forward and told all.  There were meetings to get the offenders to 'fess up' and after some long and lengthy interrogations, they finally cracked.  
The perpetrators were broken and subdued, so while they were in this compliant state, The Preacher, my husband and the girl's dad convinced the main three instigators to spill anything they knew about any evil-doings of the others.  Of course, they had some embellished things to say about the one who blew the whistle on them. After questioning that 'one' most of what was said was found to be untrue.  At the end of it all, severe punishments were administered to the offenders by their own parents, and they were told that they would have to apologize to the rest of the youth group, since everyone knew about it.  That never happened.
Maybe a month or so later, The Preacher called Paul into his office just before Sunday school.  Paul went there and found The Preacher so upset and distraught, he feared that he was going to tell him something terrible like he or someone close had committed adultery or something.  That was the first impression he got.  
Fact was,  the cause for The Preacher's disturbance was that he had been told by his oldest son that a number of teens and young adults from the church had danced at a shower he and his girlfriend had attended.  The Preacher's initial statement to Paul was, "They've done it again, they danced at the shower!"  Paul's unstated reaction considering his fears from The Preacher's troubled state was, "So.. What's the big deal".    There was more discussion and then The Preacher made some reference to considering church discipline.  
Once  word got out to all the guilty 'dancers', a good deal of squabbling and finger-pointing was provoked.  Then, some of these 'dancers' came forward and told Paul (who was youth director) that if there was going to be church discipline for this, then there was more stuff going on that needed to be considered, so they told all they knew about other young people's deeds.  Some of these deeds involved The Preacher's sons.  
After hearing all they had to say, Paul urged these young people to go to The Preacher and tell him what they knew.  They were reluctant, but gave in at his urging.  They met with him on the Sunday night of the same day Paul was told about the events of the previous Friday night's shower dancing.  During this meeting, The Preacher dedicated a good deal of time to questioning and validating if what was told on his son was really true (he was accused of holding hands and practically sitting on top of his girlfriend at the party, which is expressly forbidden).  This was the son who had reported the dancing, but somehow didn't seem to think his violations were significant enough to report, though, these things have always been treated as steps toward 'fornication' in this church.  It is laughable to even think, now that any of this was dealt with so seriously, but the point needs to be made that The Preacher's son deemed it so important to report what the other's were doing, but did not bother to report anything he did wrong.  The Preacher had addressed this very thing in a sermon only days prior to this.
As told by those in the meeting, the group was hesitant to verify the son's acts being that several were in some way related to his girlfriend, and no one wanted to back up accusations of him to his father, understandably.   So, to The Preacher's thinking, those accused of dancing were simply trying to point fingers at their accuser's actions instead of grieving over their own guilt.  It is not surprising given he was the father, and this particular son was considered of impeccable character and the one most likely to follow in his father's footsteps.  Not much chance of impartial judgment here.  
After this, The Preacher informed them that they would be given the opportunity to apologize for dancing at the wedding shower in the service following the meeting.  At the end of the sermon that night, each young person involved in the dancing and even some who weren't but felt the need to, stood up and apologized from their seats, to the church for their sin.  Then, some of the others involved in the sneaking out and partying incident, stood for the first time and apologized.  
Once this was over, The Preacher announced that all involved would be required to step down from any position of leadership including singing specials, playing instruments to accompany specials, working in the bus ministry and such for a period of time until he determined they were ready to resume those roles.  Then, at some point, he told them not to talk about it.
He ended the service by announcing that one of the other young adults had run away with her long-distance boyfriend.  She was well above age to legally be leaving home, but her life choices and even day to day activities had been severely limited by her parents.  She was gone, but you'd think she had died by the way he announced it.  When all was done, it seemed that most of the young people were genuinely sorry for their actions and there was a good spirit in the church, for a very short time. 
If there was really any wrong done by the dancing, it could only be that those who did, were leaders in the church and did this knowing what the church's position was.  However, given the fact that only a short time before,  when these young leaders were doing and behaving in all the 'right' ways and expressing all the 'right' spiritual disciplines, The Preacher's response, if any, was skepticism and apathy.   Given the fact that they knew they'd be ostracized for expressing different beliefs on standards and/or stepping down or going to another church, they should have been given that opportunity to do so before being forced to. I doubt The Preacher ever even considered whether his deficient judgement and understanding might have provoked those 'undesirable' effects.
Well, the very next day, before anyone had time to 'talk about it', The Preacher began calling the dancers in to his office one at a time.  Word got out very quickly that he was doing this, so naturally there was some bewilderment at why.  What I was hearing from some of the young people and wondering myself was, "Wasn't this supposed to all be over once they apologized?"  This 'questioning' activity stirred up the 'talk' that he had warned them not to engage in.  Everyone involved was nervous, perplexed and a little angry.  They had already been dealt with, and were tired of the whole thing.
As it turned out, one person had made the statement, "If he is going to discipline us, he'll have to discipline the others," referring to the kids who snuck out.  A true statement, since he said he would have them apologize, but never did.  This statement was made just before the meeting with him to expose the others who had committed wrongs.
This infuriated him, and as he stated from the pulpit, "hurt him" very much.  After questioning all involved, he was sufficiently satisfied that he had the goods on that culprit.  Then he found out that everyone was talking against his command not to, so with all of that, somehow at some point–I'm not sure just how it all transpired–made the decision that he was going to 'church discipline' them.  
He called parents in individually and told them what he was going to do, and on the very next Sunday night, held the first ever, actual 'church discipline' meeting with only members present.  
As far as I know, none of the parents with young people involved was given sufficient notice (not that it would have made a difference with any of them, since they would have been in agreement with anything The Preacher demanded) to think anything through, or study up on the practice.
Read more by Cindy Foster:
Spiritual Abuse Survivor Blogs Network member, Cindy Foster blogs at Finding Fundamental
Cindy Foster is "Mom" to eight gorgeous, talented, temperamental, noisy, opinionated, alike-but very different kids. She has been married to their daddy, Paul, for 36 years.
---
Stay in touch! Like No Longer Quivering on Facebook:
If this is your first time visiting NLQ please read our Welcome page and our Comment Policy!
Copyright notice: If you use any content from NLQ, including any of our research or Quoting Quiverfull quotes, please give us credit and a link back to this site. All original content is owned by No Longer Quivering and Patheos.com
Read our hate mail at Jerks 4 Jesus
Comments open below
NLQ Recommended Reading …