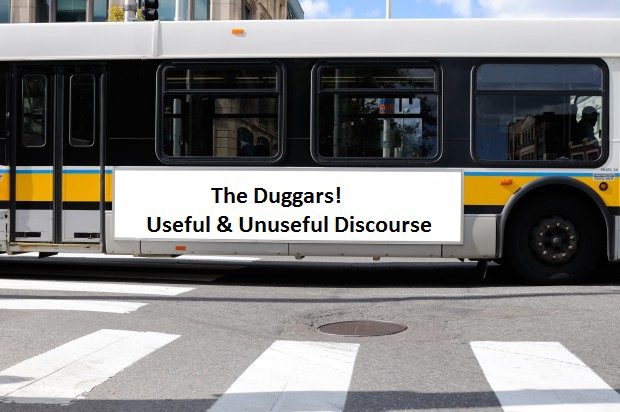 Welcome fans of the Duggar television show "19 Kids & Counting"
Likely you arrived at No Longer Quivering via Google or a long-outdated link to an NLQ posting on the Duggar family and you're getting ready to post on a article anywhere from six months to two or three years or more out of date.
Before you post in the comments please be aware…
1 – If the article is not at least a month or so current you'll be necroing a very old thread with the only reply being the moderator telling you that the article is out of date. Please use our search function in the right hand sidebar and seek out more current Duggar content to interact with others on. You will not be prevented from posting in an old Duggar thread, it's just that no one is likely to answer.
2 – Keep in mind we do not allow commenters to bash other commenters, readers, writers or administration. If you post something that has phrases such as "Get a life" or "You are just jealous" or, the kicker, "You're all going to hell" you'll be banned. We do not play here with threats or cray-cray cake language. Please consult our Comment Policy before posting at NLQ. Our moderator has no problem banning people who refuse to play nice with others or insult others or name call.
3 – No 'Ad Hominem' type comments. What do we consider 'Ad Hominem' here?
From Wikipedia's section on Ad Hominem
A – Abusive – Abusive ad hominem usually involves attacking the traits of an opponent as a means to invalidate their arguments. Equating someone's character with the soundness of their argument is a logical fallacy. Mere verbal abuse in the absence of an argument, however, is not ad hominem nor any kind of logical fallacy.[8]
i.e. Calling someone jealous or bitter or sinner because they've expressed a position you don't agree with without any logic or facts.
B – Circumstantial – Ad hominem circumstantial points out that someone is in circumstances such that they are disposed to take a particular position. Ad hominem circumstantial constitutes an attack on the bias of a source. This is fallacious because a disposition to make a certain argument does not make the argument false; this overlaps with the genetic fallacy (an argument that a claim is incorrect due to its source).[9]
i.e. Saying that you know someone is biased against the Duggars because they are atheists and only atheists could possibly object to the supposedly Godly Duggars.
C – Tu Quoque – Ad hominem tu quoque (literally: "You also") refers to a claim that the source making the argument has spoken or acted in a way inconsistent with the argument. In particular, if Source A criticizes the actions of Source B, a tu quoque response is that Source A has acted in the same way. This argument is fallacious because it does not disprove the argument; if the premise is true then Source A may be a hypocrite, but this does not make the statement less credible from a logical perspective. Indeed, Source A may be in a position to provide personal testimony to support the argument.
i.e. Calling everyone in the comments 'nasty' people and using foul language or behaving in the manner you are accusing others of.
If you still wish to post here you need to:
Read the Comment Policy page.
Follow the rules listed on the Comment Policy page
Use facts, logic and reason to make your assertions instead of ad hominem attacks
Educate you on what "Quiverfull" actually is instead of relying on what little you've seen in the television show.
Do not attack others. Attack ideas, not people.