It's probably past the point where a New Year's post is timely or relevant, but I've been gone a fair bit and it seems only appropriate to say where I've been, so here we are.
Physically, I've spent the holiday and the first few weeks of January home in Durham, mostly working. I've been really academically productive, which has been hard but encouraging. I've started the first round of edits for a paper I spent most of last semester collecting data for, and I can't wait to wrap this project up. I also coauthored a book chapter about moral conformity that I'm waiting to put the finishing touches on. It's for a collection of philosophical essays that the Oxford University Press is putting out on naturalizing moral epistemology (or using science to learn about morality, roughly and in so many words).
The intersection of psychology and philosophy has been somewhat of my wheelhouse lately. Last week, I started auditing a seminar on philosophical and empirical work on free will, and I submitted two abstracts for the upcoming Society for Philosophy and Psychology conference, which happens to be at Duke this year. The study I am lead author on (coauthored with one of my roommates, a philosophy grad student, as well as two Duke philosophers) wrapped up data collection earlier this month, and we're getting ready to start writing it up as a manuscript for a psychology journal (and we'll submit a separate manuscript to a philosophy journal, should all things go smoothly, where we can touch on the philosophical implications of our research). The second abstract is for a study I'm currently running some follow-ups on, which I am optimistic about.
This past weekend, I went on a short and extremely welcome vacation with my girlfriend to Asheville, NC which was mostly warm and very lovely. I didn't do much but eat vegan food, drink craft beer, buy hipster shit, and read a lot, which is to say it was a great time.
I also discovered that my asshole atheist side isn't quite dead, yet.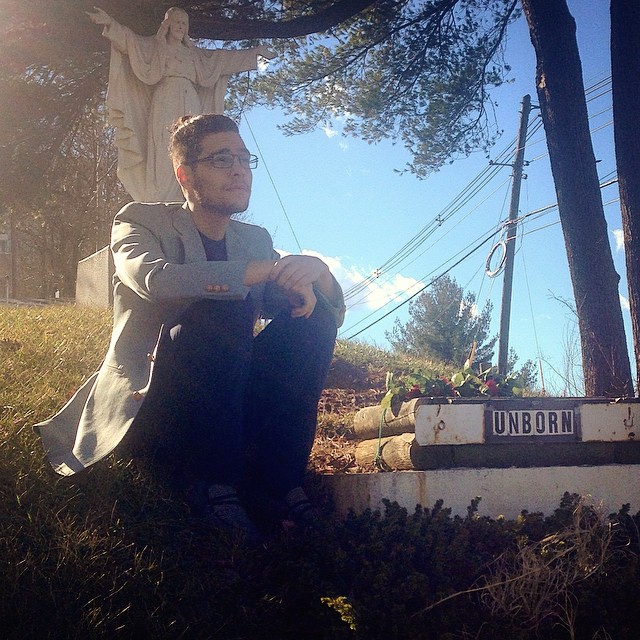 I've started thinking more carefully about how I spend my time, and I've made a conscious effort to focus more on important things. I've been reading more—this year I've knocked off a book on mindfulness meditation by Dan Harris (which I preferred to Sam Harris's Waking Up), a fantastic book on writing and life by Ann Lamott, and a nice little book about tidying.
It's this last book, weirdly enough, that I've been thinking about the most. The rough gist is that we have too much in our lives—we're cluttered by stuff we don't need and that doesn't make us happy. The book suggests going through every possession and getting rid of anything that doesn't "spark joy," and I've come around really strongly to the idea. It's liberating, in a way, and it cultivates a sort of minimal and purposeful kind of living that I find really attractive.
I've started to take this attitude more broadly to my life, and I've started to focus my time more on the things that make me happy and give me meaning—reading, writing, baking bread, squeezing my dog, doing research, eating with my friends—rather than the things that make me anxious and stressed—arguing on the internet, drinking too much, most blogs and comment sections, etc. The going isn't quite as fast as I might otherwise like, but I'm happy with where I'm headed and it's leaving room for traits and habits I want to cultivate—gratitude, mindfulness, simplicity, charity. I've been drinking more tea and less PBR. I've been reading more books and academic articles. I'm meditating again.
I've noticed what kind of writing I love, but also what kind of writing I don't, and this is probably why I haven't been blogging more. It's hard to look at the limited time I have to devote to writing and open up a new blog post. I like slower, more in depth, better researched pieces I can publish at The Daily Beast or write for a friend's magazine that's about to launch. I'm growing to writing that's more private, like letters, journaling, or maybe starting a novel that no one will read.
This isn't to say that I don't want to blog, but I can't shake the feeling that I'm blogging wrong, or at least going about it in a way that doesn't suit me.
I haven't settled this by any means, so I'm going to keep mulling this over and, in doing so, there'll be some more content popping up at NPS. Thanks for indulging some introspective ramblings.