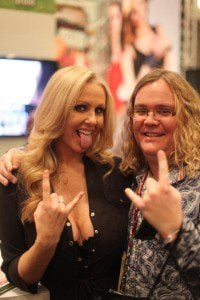 This past weekend was AVN's (that's short for Adult Video News) Adult Entertainment Expo, or AEE for short. The event took place in Las Vegas Nevada at the Hard Rock Hotel and Casino. Since I had plans to be in Vegas that weekend, I decided to check it out. All the pictures in this article are work safe, but if you have a problem with half nude women turn away now. I almost included some links, but some of them aren't really work-safe, besides I'm sure you all know how to use Google by this point in your life. We'll return to my usual Pagan musings and articles about holidays and rock and roll later this week. Picture information is at the bottom of the page. -jason

I went into this year's Adult Entertainment Expo with what were probably unrealistic expectations. Before going my brain had visualized morning cups of coffee and interviews at Starbucks with various adult performers. I had this amazing list of questions all mapped out, and I was going to get to the bottom of the spiritual lives of porn stars. It was a nice day-dream, but just a day-dream. In reality I failed to set up any real interviews, and despite my press credentials I felt more like just another guy in line than someone with access to anything.
On those few occasions when I was lucky enough to spot a crucifix on the tattooed flesh of a performer and then ask about it, I was told to keep the responses entirely off the record. Telling people you write for a religious website at a Porn Fan Fest doesn't go over all that well. Mentioning the "Pagan thing" didn't help much either, because nobody had any idea what that meant. I emailed a few agents and then asked for a few interviews while on the convention room floor, but it was not to be. I think porn is definitely more mainstream than it was even ten years ago, but finding the intersection of porn and spirit was beyond my abilities.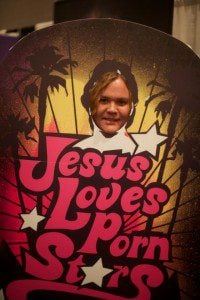 Things started off well though. Upon entering the overly crowded main floor of the expo I noticed two things: Lisa Ann's boobs (she of the Naylin Paylin parody series) and the booth of the XXX Church. Since I was there as a journalist first and a perv second I managed to block out Lisa Ann's breasts (at least for the moment) and headed over to the XXX Church booth. They were extremely gracious folks, and were all smiles as they passed out stickers and let people take pictures with their head-less "Jesus Loves Pornstars" cutout. According to their website the XXX Church is all about serving as a resource "to fight porn addiction," but that was hard to catch at their AEE booth. During the few minutes I spent talking with them their message seemed to simply be "Jesus loves you" even if you watch porn or perform in adult films (and I assume have sex outside the confines of marriage). I felt that they were terribly out of place, but getting a free souvenir Gospel of John with a dude who looks like a 70's porn star on the cover was ok with me.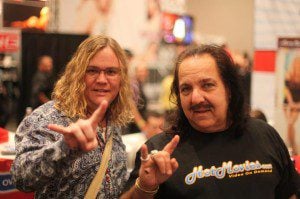 Before heading to AEE the thing I heard the most was "are you going to get a picture with Ron Jeremy?" Forget meeting porn hall of famers like Amber Lynn or Alexandra Silk (yes on both counts) it was all about the man affectionately known as The Hedgehog. Ron was the first picture I got of the day, and probably the best, though Ron himself was a bit of a disappointment. On TV shows like VH-1's "The Surreal Life" he comes across as a very engaging guy. At AEE he was dressed in sweatpants and a pair of crocs and just seemed exhausted by the whole experience. Even if his heart didn't seem into things, my picture with him still turned out pretty well.
I probably got more out of waiting in line to see Ron than the actual experience its self. Since the wait to see The Hedgehog was longer than most it allowed me to take a good look around the convention floor. What I saw reminded me more of a Science Fiction/Comic Book Convention than anything related to adult entertainment. Take away the pole dancing ladies (who were covering themselves up, there was no nudity on the AEE floor) and it wasn't much different than your average geek gathering. When I went in to pick up my press credentials one of the girls at the counter asked "You're from Sunnyvale? Isn't that where Buffy the Vampire Slayer took place?" There were less people in costume, but the lines were nearly identical.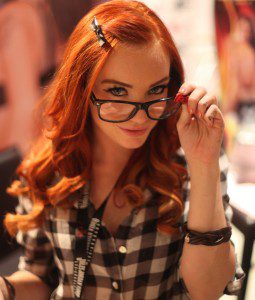 In the era I was brought up in porn was nearly taboo. It wasn't something anyone really talked about, and if you owned porn you kept it hidden. The internet has really changed things the last fifteen years. Saying porn is "main stream" might not be right, but most everyone at AEE looked exceedingly normal. No one was creeping around in a trenchcoat. While there wasn't a high percentage of women attendees, they were still probably 30% of the crowd, and very few people seemed to be attending alone. People waited in line for autographs with their spouses and with friends. It was an extremely comfortable space.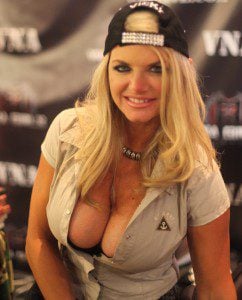 Part of that comfort was the result of giving up on my quest to engage in any meaningful dialogue and resolving to just enjoy the experience. I was surrounded by porn stars and several bars which offered up (for a steep fee) an endless supply of whiskey. I write a blog called "Raise the Horns" with a drinking horn on the marquee, hopefully no one is expecting me to reinvent the wheel. It would have been great to find a trace of sacred sexuality at the AEE but that just wasn't going to happen. Porn is not really sex, it's just fantasy. Porn is an idealized (and sometimes fetishized) version of what many people want sex to look like. I want to live in a glorious sex positive society, and porn can sometimes aid in that conversation, but it's not going to take us down the homestretch. Once I took off my rose colored glasses the whole experience became a lot of fun.
A lot of the experience was fun because many of the adult starlets I met were super-nice human beings. I have no idea what they are like in real life, but with only a few exceptions, most of them were completely engaging. They came across as mostly normal people, and maybe that's because a lot of them are. Porn stars make good money, but they aren't rolling around in swimming pools full of cash (most of them anyways). Having watched a few episodes of "Porn Star Cribs" (yes, that's a real thing) I know that the majority of them live in houses (and apartments) very similar to mine.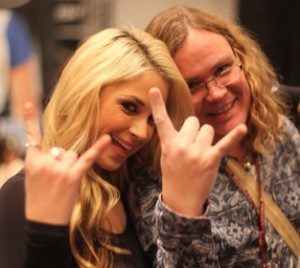 There were a few starlets who really went above and beyond the call of duty. I know what it's like to sign autographs and pose for pictures (it sometimes happens at festivals), but the most that's ever lasted for me is thirty minutes. Some of these ladies signed and posed eight hours at a time. That so many of them were extremely nice and gracious borders on the miraculous. Of course you sometimes find out more about them than you want to. Sarah Vandella was incredibly sweet to me, but she's also a New York Yankees fan. Sorry Sarah, the San Francisco Giants have won two of the last three World Series. The baseball world tilts west.
Tori Black is one of the most beautiful women to ever grace the erotic cinema (see how classy I made porn sound there?) and I was lucky enough to not only get her to raise the horns, but she also answered a few questions for me. Tori has a very pentacle like symbol near her waist, so I asked her about it.

She didn't admit to the ink being Pagan, but she did admit to studying Paganism and told me that the symbol to her represented "female empowerment." She also confessed that some people have accused her of devil worship for having it. Definitely one of my favorite moments of the day, and about the only time I felt like I accomplished anything other than having some fun.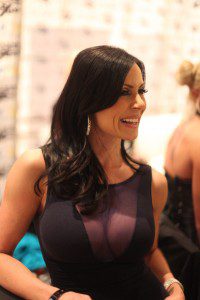 One of the problems with having multiple bars close in hand at AEE was that by the end of the day I had partaken in probably one too many glasses of whiskey. The place was crowded, sometimes uncomfortably so, and sitting down with three-fingers of Jameson every two hours or so helped take the edge off. I apparently made enough of an impression on Kendra Lust that she started following me on Twitter. I remember her being one of my favorites and having a lovely conversation, but I don't recall being particularly charming. Both she and nearby booth-mate Leya Falcon (who apparently I don't have any pictures of) were highlights. Kendra mentioned an interview so maybe I will end up with a porn star interview sometime before March.
Going on side by side with AEE was the Adult Novelty Convention. Unfortunately for most people you had to pay extra to get into ANC, but my press pass allowed me access. Sadly, this part of the Hard Rock was one of the most empty and depressing. Perhaps I arrived a little too close to closing time, but the ANC floor was mostly bare by the time I walked in. Many of the exhibitors were already in the process of closing up shop. This is where I would have bought the Mrs. a souvenir of sorts, but it wasn't to be.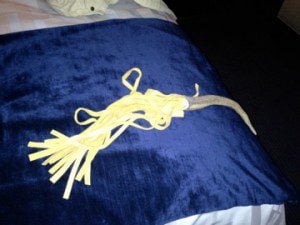 I did pick up a toy at "The Dungeon" back at AEE. The Dungeon was advertised as an interactive BDSM/Fetish area. I didn't run into any action, or find much to interact with. It was just a collection of ball gags, fetish wear, leashes, collars, and some lovely floggers. One of those floggers was so lovely that I had to take it home with me. When a Horned Guy sees a flogger with an elk horn handle what do you expect him to do? That's one toy I'm happy to display on the altar.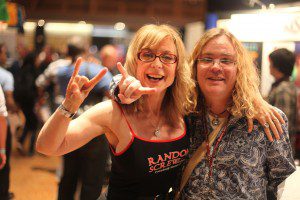 When I began posting AEE pictures to my Facebook page the name that I got asked about the most was Nina Hartley. Nina has been in the adult business since the 1980's, and most definitely qualifies as a "living legend." She was one of the last stars I got to meet (literally I think the line was stopped one person after me) and after a long day still greeted me (and everyone else in line) with a genuine hug and a little bit of affection. If there's a porn star I'd like to sit down and chat with a few hours it's certainly Nina. She's been involved in making America more sex positive outside of the adult world too. So many men are enamored with her that I got special instructions from a girlfriend to "get my husband Larry a signed picture with Nina."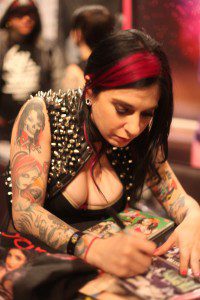 Speaking of signed pictures, what does one do with a signed nude picture of a porn star? I've got a whole giant stack of them, and they certainly aren't going up in the living room or on the refrigerator next to the picture of my god-daughters. Making them even harder to display are some of the captions. It's certainly nice to see my name next to Joanna Angel's signature, but the caption about me having her for dinner isn't exactly truthful. I would have been happy with "hugs, Joanna" or "punk for life, Joanna" (she's a punk rocker). Fantasy is one thing, delusion is another thing completely.
Speaking of delusion, after seven hours of AEE (and you can sort of see how I appear to wear down in the above pictures) I was done. I picked up some nice goodies, got some great photos for the blog, and was happy to have the experience. I'm not sure AEE is anything I'm going to rush back to, but it was mostly a fun afternoon/evening. It certainly didn't turn into anything resembling a spiritual quest, but as "all acts of love and pleasure are my rituals" I was happy to have made the visit.
PHOTOS: Adding captions to pictures on blogger sometimes distorts the text so if you were wondering who everyone is the answers are below.
Photo One: Julia Ann and Me, definitely my favorite picture of the day.
Photo Two: 70's porn star Jesus and Me.
Photo Three: Jason and Ron Jeremy, he was a lot shorter than I thought he would be.
Photo Four: Dani Jensen, stupidly I got no photos with her, something I now totally regret.
Photo Five: Vicky Vette, I didn't get to write about her, but she was also one of my favorites on the day.
Photo Six: Yankee Fan Sarah Vandella, her top was basically see through so that photo was cropped within an inch of its life.
Photo Seven: Raising the Horns with Tori Black.
Photo Eight: Close up of Tori's tat. No, I didn't get to take it.
Photo Nine: Kendra Lust, she's far too pretty to have my ugly mug ruining the effect.
Photo Ten: The elk horn flogger.
Photo Eleven: Nina Hartley was an exceptionally good sport.

Photo Twelve:
Joanna Angel
, I don't think she's writing poetry either.