Christmas Panic: Fox News warns readers that the new holiday cups from Starbucks are promoting an anti-Christian, gay agenda.
A new report from Fox News suggests the new holiday cups from Starbucks actually feature a lesbian couple holding hands. Citing a BuzzFeed article, Fox reports:
The cups feature a busy print of holiday favorites like mittens, presents and Christmas trees, and above the logo, two unseen people are holding hands.

Since the cups launched in October, however, people have taken to Twitter with hypotheses that the androgynous hands may belong to a pair of lesbians.
A pair of Lesbians? The horror!
Jumping on the "gay agenda" band wagon, Glenn Beck's socially conservative website The Blaze reports:
People are theorizing that the holiday design for Starbucks' cups contain a hidden pro-gay message, and their official Twitter account appeared to confirm it.
As one might expect, some conservative Christians are expressing their alarm concerning the supposed gay agenda of Starbucks via social media. For example:
The new Starbucks cup has lesbian couple on it. Rom 1:26 "because of this,God gave them over to shameful lust"…

— Jimmy H Peralez (@h_peralez) November 2, 2017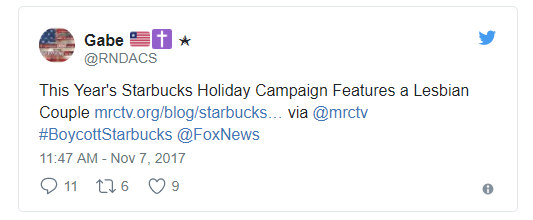 However, while some conservative Christians may lament the possibility that the new cups from Starbucks features lesbians holding hands, others on social media are celebrating:
Great new #christmas campaign from @Starbucks featuring #lesbian couple on the Holiday Cup. pic.twitter.com/GJ6YGG0fGQ

— Rufus Dowling (@rufusdowling) November 13, 2017
This is not the first time conservative Christians have panicked over holiday cups from Starbucks. In 2015 many conservative Christians complained that Starbucks' holiday cups were disrespecting Jesus.
At that time, Joshua Feuerstein, an obnoxious Internet evangelist, released a Facebook video claiming that Starbucks had removed "Christmas from their cups because they hate Jesus." The post went viral, with over 13 million views.
As for the new 2017 cups, responding to BuzzFeed, Starbucks did not confirm or deny that the hands belonged to a same-sex couple. Instead, they issued the following statement:
Each year during the holidays we aim to bring our customers an experience that inspires the spirit of the season, and we will continue to embrace and welcome customers from all backgrounds and religions in our stores around the world.
In short, the new holiday cups from Starbucks are coming under fire "for possibly depicting the hands of a lesbian couple."
Bottom line: It wouldn't be Christmas without conservative Christians complaining about holiday cups from Starbucks, and the so-called "gay agenda" is always a good target for the folks at Fox News.