Endorsing white supremacy, Fox News host Laura Ingraham goes on a racist rant lamenting changing demographics in the U.S.
In a deplorable display of Trumpian white nationalism Ingraham let loose a long and loud racist dog whistle Wednesday night where she whined about demographics and immigration while lamenting the changing demographics of the nation and implying that immigrants are destroying the country. At one point the Fox host declared:  
In some parts of the country, it does seem like the America that we know and love doesn't exist anymore. Massive demographic changes have been foisted upon the American people, and they are changes that none of us ever voted for, and most of us don't like. From Virginia to California, we see stark examples of how radically, in some ways, the country has changed. Now, much of this is related to both illegal, and in some cases legal immigration that, of course, progressives love.
Ingraham's remarks set off a media firestorm. Trumpian white nationalists loved Ingraham's racist dog whistle. For example, David Duke, the former leader of the Ku Klux Klan, loved Ingraham's open and defiant racism, and tweeted praise for the Fox News host: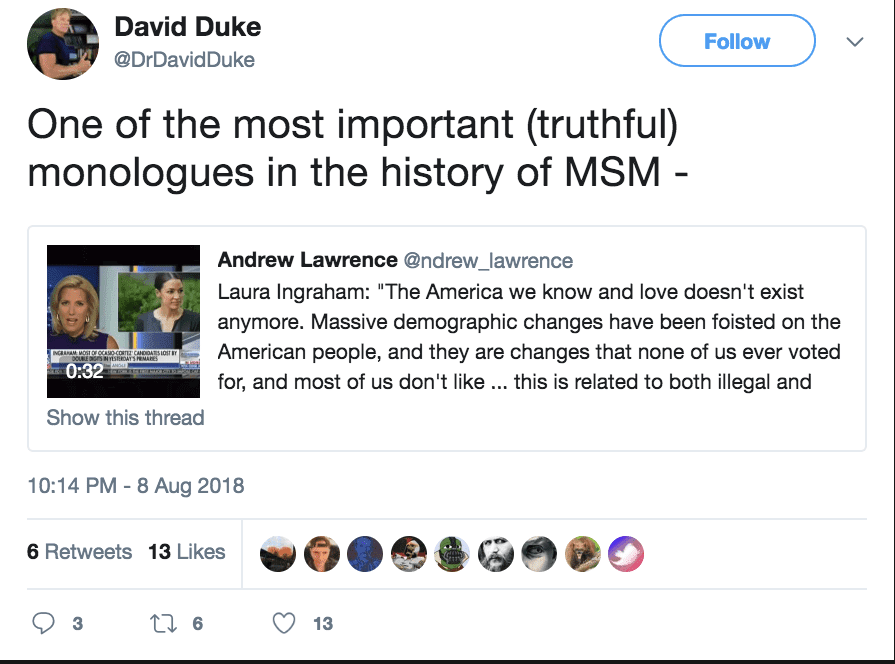 One of the most important (truthful) monologues in the history of MSM –
(Duke later deleted the tweet.)
However, while white supremacists cheered the Fox News host's dog whistle, most decent human beings were appalled at the naked racism being espoused by Ingraham.
For example:
Dear Laura Ingraham: I served on active duty to defend your right to make racist statements.

America is not a race or demographic. It's a beautiful & bold idea, based on life, liberty & the pursuit of happiness. You @IngrahamAngle are no more American than I am or others are. https://t.co/Op7rnjak5o

— Ted Lieu (@tedlieu) August 9, 2018
Glory! Laura Ingraham finally comes out of the closet!

(No, not about being a total lesbian. She's still in the closet about that!) But about being a full-on white supremacist. pic.twitter.com/Hzc2MtucPs

— Mrs. Betty Bowers (@BettyBowers) August 9, 2018
Watch that Laura Ingraham video when you're feeling a bit wobbly about being involved in politics. Look into the face of absolute evil to remind you of where you stand and the America you're fighting for. https://t.co/WsPSZiXhiu

— Oliver Willis (@owillis) August 9, 2018
EXCLUSIVE: Laura Ingraham's anti-immigrant rant is so racist, it was endorsed by ex-KKK leader David Duke https://t.co/XmR69WDlBk

— The Daily Beast (@thedailybeast) August 9, 2018
She's not even trying to hide it anymore. https://t.co/LwxsGxzDVB

— George Takei (@GeorgeTakei) August 9, 2018

Bottom line: Fox News host Laura Ingraham goes on a racist rant lamenting changing demographics in the U.S., tacitly endorsing white supremacy, and giving voice to the desires of Trumpian white nationalists to "Make America White Again."