Deplorable: Conservative Christians are using the Bible to defend Supreme Court nominee Brett Kavanaugh and discredit victims of sexual assault.
On social media conservative Christians are sharing a meme taken from the Book of Genesis and involving Joseph and Potiphar's wife. The meme is being used as a vehicle to try and discredit survivors of sexual assault in general, and Kavanaugh's victims in particular.
For those unfamiliar, the story depicts Joseph as a victim, falsely accused of  sexual assault by Potiphar's wife.
The story involving Joseph and Potiphar's wife appears in Genesis 39:10-15:
10 And though she spoke to Joseph day after day, he refused to go to bed with her or even be with her.

11 One day he went into the house to attend to his duties, and none of the household servants was inside. 12 She caught him by his cloak and said, "Come to bed with me!" But he left his cloak in her hand and ran out of the house.

13 When she saw that he had left his cloak in her hand and had run out of the house, 14 she called her household servants. "Look," she said to them, "this Hebrew has been brought to us to make sport of us! He came in here to sleep with me, but I screamed. 15 When he heard me scream for help, he left his cloak beside me and ran out of the house."
After the false accusation, the story goes, Joseph was sent to prison. The story is currently being used as a rallying cry for conservative Christians trying to defend the actions of Kavanaugh. For example, the following reactions via Twitter:
#ThouShallNotPresentFalseWitnessAgainstThyNeighbor

My late father use to say those that don't study history are doomed to repeating it. Is it possible that some groups who shall remain anonymous are stealing Potiphar's wife's "play book" right from the pages of the Bible? pic.twitter.com/rmTIBOylMS

— RL (@MCFideMaster) October 3, 2018
Potiphar's wife claimed Joseph tried to rape her. We all know who was the liar in that story too.

— RachelRayburn (@rachelrenee_rr) October 3, 2018
@BrettKavanaugh it occurred to me that you've been counted worthy to suffer as Joseph did in Genesis. After betrayal by his own brothers he was falsely accused by Potiphar's wife. In the end he triumphed by God's sovereign hand. I know you shall share in his final outcome.

— Jack Vaught (@JackVaught3) October 3, 2018
The #BelieveWomen movement has been around for a very long time. Joseph was a victim of Potiphar's wife.

— Pastor Greg Locke (@pastorlocke) September 26, 2018
However, others are pushing back on the attempt to use the story of Potiphar's wife to discredit sexual assault survivors:
If you name-drop Dr. Christine Blasey Ford and Potiphar's Wife in the same sentence, I have zero time for you. #alloftheswears #IBelieveDrChristineBlaseyFord #StopKanavaugh

— Kendra Spring Klasek (@KendraSpring) October 3, 2018
#BrettKavanuagh DOES NOT EQUAL Joseph. Potiphar's wife DOES NOT EQUAL #ChristineBlaseyFord or #DeborahRamirez or #JulieSwetnick. This assertion by many evangelical male pastors over last week lacks an essential piece of the Joseph story—a power analysis. #CalltoPause 1/ pic.twitter.com/YowUBaRpao

— Lisa Sharon Harper (@lisasharper) October 2, 2018
Stop Using Potiphar's Wife to Discredit Survivors https://t.co/oCM0jJnUTW via @sojourners

— Cheryl Bridges Johns (@cb_johns) October 2, 2018
Grew up in TN. For some reason I have moms of highschool friends on FB, and they're posting "Potiphar's Wife" memes. I knew they were conservatives, but, wow.

— Unindicted co-conspirator (@fiyin) October 3, 2018
Bottom line: Deplorable conservative Christians are using a Bible verse dealing with Joseph and Potiphar's wife to discredit sexual assault survivors in general, and the victims of Supreme Court nominee Brett Kavanaugh in particular.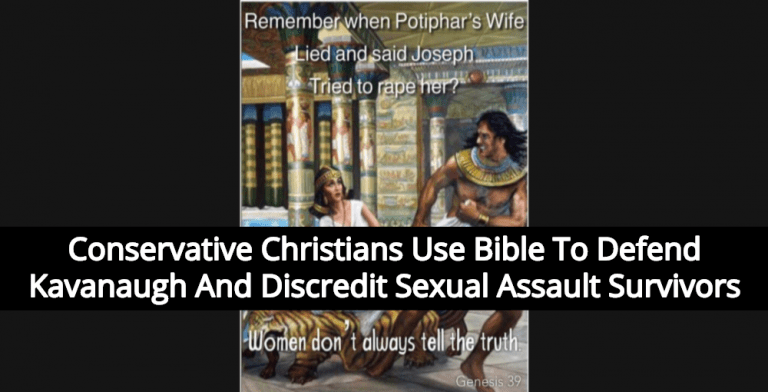 We want to know what you think about the upcoming midterm elections. Vote in our poll below!