Friends,
You saw (here) that Francis allowed St. Peter's to be used to raise awareness of our contribution to the destruction of the planet and the threat to all life, human and organic. Clearly, the words of Pope Francis are scary, political, ideological, inconsistent with the prudence of his predecessors, especially John Paul II (who embraced the GOP with his words).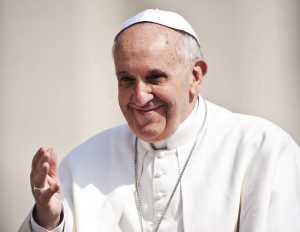 Tell me John Paul II wouldn't be upset to find these words written by Pope Francis:
1. He begins with this ridiculous embrace of bad science for the sake of prudence:
The gradual depletion of the ozone layer and the related "greenhouse effect"has now reached crisis proportions as a consequence of industrial growth, massive urban concentrations and vastly increased energy needs. Industrial waste, the burning of fossil fuels, unrestricted deforestation, the use of certain types of herbicides, coolants and propellants: all of these are known to harm the atmosphere and environment. The resulting meteorological and atmospheric changes range from damage to health to the possible future submersion of low-lying lands.
2. Then Francis goes on to embrace, not just individual action, but action on the part of States and international bodies! What is this? Where is subsidiarity?!
While in some cases the damage already done may well be irreversible, in many other cases it can still be halted. It is necessary, however, that the entire human community – individuals, States and international bodies – take seriously the responsibility that is theirs.
3. There he goes, reciting the same old Laudato si' rhetoric on the moral character of the ecological crisis.
Certain elements of today's ecological crisis reveal its moral character. First among these is the indiscriminate application of advances in science and technology. Many recent discoveries have brought undeniable benefits to humanity. Indeed, they demonstrate the nobility of the human vocation to participate responsibly in God's creative action in the world. Unfortunately, it is now clear that the application of these discoveries in the fields of industry and agriculture have produced harmful long-term effects. This has led to the painful realization that we cannot interfere in one area of the ecosystem without paying due attention both to the consequences of such interference in other areas and to the well-being of future generations.
4. Oh, my, goodness. Watch this guy basically form this all as a "pro-life" issue.
The most profound and serious indication of the moral implications underlying the ecological problem is the lack of respect for life evident in many of the patterns of environmental pollution. Often, the interests of production prevail over concern for the dignity of workers, while economic interests take priority over the good of individuals and even entire peoples. In these cases, pollution or environmental destruction is the result of an unnatural and reductionist vision which at times leads to a genuine contempt for man.
5. Then he thinks that God can't fix everything, that it's our fault, and that technological progress can hurt us all. What a lefty anti-capitalist Marxist:
On another level, delicate ecological balances are upset by the uncontrolled destruction of animal and plant life or by a reckless exploitation of natural resources. It should be pointed out that all of this, even if carried out in the name of progress and well-being, is ultimately to mankind's disadvantage.
6. Again, Francis bothers us with his connection of life, not just human life, but all life, to the economy, industry, and science:
Respect for life, and above all for the dignity of the human person, is the ultimate guiding norm for any sound economic, industrial or scientific progress.
7. Francis pretends that these principles have been around for some time – like how long, Francis? I bet John Paul II wouldn't have said this a quarter of a century ago:
The complexity of the ecological question is evident to all. There are, however, certain underlying principles, which, while respecting the legitimate autonomy and the specific competence of those involved, can direct research towards adequate and lasting solutions. These principles are essential to the building of a peaceful society; no peaceful society can afford to neglect either respect for life or the fact that there is an integrity to creation.
8. Again, what is this guy talking about? International action, State action, international standards, changing the "American" life-style?
The need for joint action on the international level does not lessen the responsibility of each individual State. Not only should each State join with others in implementing internationally accepted standards, but it should also make or facilitate necessary socio-economic adjustments within its own borders, giving special attention to the most vulnerable sectors of society.
9. Who does this guy think he is, St. Bonaventure? St. Bonaventure's Journey of the Mind to God is super compatible with this stuff, but JP II wouldn't say: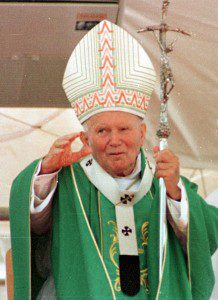 Finally, the aesthetic value of creation cannot be overlooked. Our very contact with nature has a deep restorative power; contemplation of its magnificence imparts peace and serenity.
10. Caring for creation, duty towards nature – essential part of my faith? John Paul II would have a fit!
Christians, in particular, realize that their responsibility within creation and their duty towards nature and the Creator are an essential part of their faith.
11. Again, brings up his namesake, Francis (Saint Francis of Assisi). John Paul II wouldn't have this, using Saint Francis for some environmentalist bologna:
He offers Christians an example of genuine and deep respect for the integrity of creation. As a friend of the poor who was loved by God's creatures, Saint Francis invited all of creation – animals, plants, natural forces, even Brother Sun and Sister Moon – to give honour and praise to the Lord. The poor man of Assisi gives us striking witness that when we are at peace with God we are better able to devote ourselves to building up that peace with all creation which is inseparable from peace among all peoples.
The nerve!
To think that the beginning of this document calls us to be at "peace with all of creation", and that we lack "due respect for nature".
What would John Paul the Great say?
He would say the exact same thing.
Literally. Word for word.
Well, really, the thing is … every quote from above is from John Paul II.
The document can be found here.
I guess Francis was following John Paul II's lead all along – so should we.
Until next time,
If you have found the content on Keith Michael Estrada's "Proper Nomenclature" to be useful, kindly consider supporting the cause with a donation.
Use the button below to donate through PayPal:

Thank you!