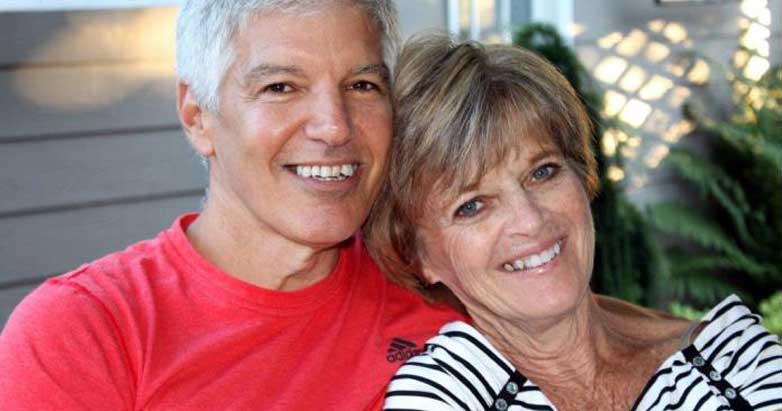 Six years ago, a neurologist gave Debbie Echternach, then age 56, a diagnosis no one wants to hear: "Your brain has atrophied. You have early onset dementia." Since that time, her husband Jay, a good friend and an EPM board member, has written eloquently about their experience. Each time he sends an update about Debbie, I've deeply appreciated his heartfelt insights, and faithful love for his precious wife.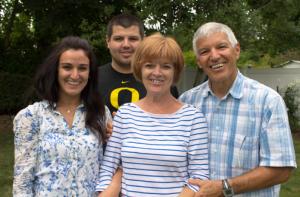 Nanci and I have known Jay and Debbie many years. They were in a Bible study at our home in 1979, when Jay was in the process of turning toward Jesus. They've been part of our home church since not long after we started 40 years ago. The Echternachs have two grown children, Jennifer and Jayson, and four granddaughters.
For three years, Jay was Debbie's primary caregiver in their home—feeding, dressing, and bathing his wife, and trying to patiently help when her frustration and confusion took over. This was extremely challenging at times. Jay wrote, "I seek solace when she asks me to help find her shoes or help get her hoodie on (85-degree days and sometimes two sweatshirts on with hoods up over her head!) and zipped up and then smiles and says  'I could not do it without you!'"
"I love Debbie and know that she still loves and needs me, she just has lost the ability to say it most days. I have to remind myself it is not really her anymore and even though that placates my fear of the loss of our love, it deepens the fear and angst over losing her; the person. But through some mystical, spiritual, emotional bond that ties us, her rare moments of comfort and signs of affection are the purest form of medicine for my soul."
Three years after her diagnosis it was clear Debbie could no longer safely stay at home, so Jay and their kids found the right care facility where she could live. "The loss I most regret is our personal relationship," Jay wrote. "I lean into [God's] shoulder more than ever these days, asking Him for grace and patience and the ability to still love my wife through these hard days. …I grieve deeply that our twilight years will not be filled with treasured and happy times, but God has maybe given us a better gift: the gift of knowing that in our darkest moments, He is still there and cares and loves us."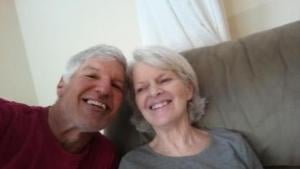 Jay recounted this visit with Debbie shortly after she arrived at the facility: "The nurse walked her down the hallway to me… She heard my voice but her dazed look and stare could not quite capture my face. She reached out with her arms as she got closer and squeezed and hugged me hard and long and kissed my cheek and whispered 'I love you!' In the midst of three or four nurses and lost in her embrace, I did not have the air in my lungs to answer her."
Debbie has increasingly lost more abilities. "Confined to a wheel chair, she cannot walk or get around. As dementia grips her mind ever more, her words are less and less and conversations are almost non-existent," Jay wrote. "She cannot eat or bath herself as all dignity of a normal life escapes her. My heart breaks each time I go as I track her eyes and wonder if she can actually see or know that I'm there. Then there are the graceful moments God gifts us as she eventually turns her head, eyes locking on mine, and the sweetest smile you have ever seen crosses her face. She reaches her hand out toward me and wraps it around mine and our connection that we've shared for over 42 years is complete once again."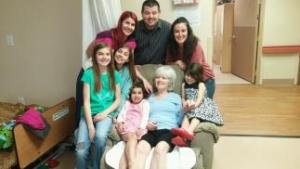 Reflecting on the abilities Debbie has lost, Jay wrote, "We all know life is not fair, distributing both pain and joy in unbalanced measures. It is a mystery at best to understand and appreciate fully. But we all know, it is the ONE life we have been given here on earth, so we have a choice to embrace it or not."
Recently Jay sat down with Good Shepherd's new lead pastor, Bob Bryant, and shared some of his and Deb's story. He's candid about his regrets and struggles, and I think you'll really appreciate 
hearing Jay firsthand.
One of the lines Jay wrote about Debbie that touched me the most was this one:
Even in her diminished reality, the part of her brain responsible for character, kindness, smiling and laughter has not been quelled and she still shines a bright light amongst the most frail and unlovable people you have ever set eyes on.
I forwarded that particular post of Jay's to my wife Nanci, and our daughters Karina and Angie. I wrote this to them:
This touching update from Jay makes me think of our own family and how much I love and respect all three of you, beyond all words. If the day comes when I, or your mom, are in Debbie's position or Jay's, remember that it will be temporary. Our Lord and our true home and the resurrected minds and bodies that will never fail us are eternal. "The sufferings of this present time are not worth comparing with the glory that is to be revealed to us" (Romans 8:18). "For our light and momentary troubles are achieving for us an eternal glory that far outweighs them all" (2 Corinthians 4:17).

When the day of mental illness or death comes, please remember and remind our beloved grandchildren of this—resurrection and reunion await us, by the grace and nail-scarred hands of Jesus. Because of Him, all will be well—forever.

We really will live happily ever after. This is the blood-bought promise of Jesus.
Jay, my brother, thank you so much for sharing your journey. It's been so painful, yet so powerful…and ultimately hopeful, for that day is coming when all that is wrong will be made right. Debbie is not past her peak. Like all of us, she will be far stronger physically and more clear-minded than she ever was in this life. May you continue to experience God's grace and treasure those small moments. Like all your friends, Nanci and I think the world of you and Deb. Thanks for loving your precious bride as Christ loves His.
"Can a mother forget her nursing child? Can she feel no love for the child she has borne? But even if that were possible, I would not forget you! Behold, I have engraved you on the palms of my hands" (Isaiah 49:15-16).
For more on Heaven and the resurrection, see Randy's articles Heaven: Our Certain Hope, The Spiritual Body: A Real Body and The Hope of Heaven: A Conversation with John Piper and Scott Swain, as well as his books Heaven, Picturing Heaven, and We Shall See God.

For more on suffering, see his articles Trusting God When the Pain Seems Pointless and The Hands of God, as well as his books 90 Days of God's Goodness and The Goodness of God.