Last Thursday afternoon in mid-town Manhattan was a very exciting day – for me, Dan Dennett and the assembled guests and actors.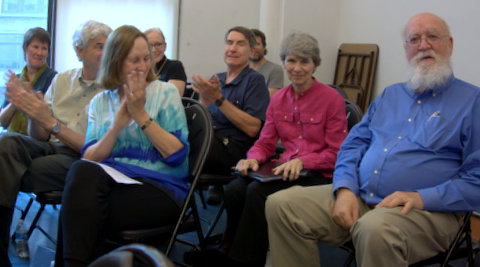 It was the first reading of a new play-in-development based on interviews from the study we conducted with non-believing clergy. Regular readers of this blog will be familiar with the working title, Caught in the Pulpit, which is the same as the book we wrote on the same subject.
Dan got the play idea back in 2009 then he was reading transcripts, thinking that the dialogue between me and the clergy would make great drama. It came to fruition when we found a writer, Marin Gazzaniga,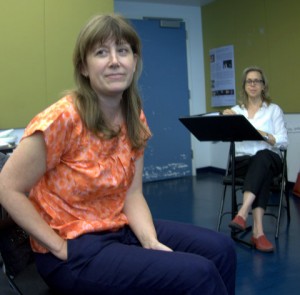 who has both theatre and TV experience. We also found a funder. The Richard Dawkins Foundation has generously provided a grant to develop the play. To gain access to the material, Marin went through the same Tufts University Institutional Review Board process that Dan and I did. Seventeen of the study participants gave her permission to read their transcripts. The only control over the project Dan and I have is regarding confidentiality issues. Marin is the playwright. It is her play.
In addition to the excitement of seeing our research literally come to life, I've been learning a whole new vocabulary about a whole new field I knew nothing about. "In development" describes the initial stages, which the play is in now. We have a script, based on Marin's extensive reading of the transcripts, which could change a lot before its finalized to the point it can be shown to potential producers. Last Thursday's "first reading" was to a small invited group of about 35 friends and colleagues and was done by real actors. They were really good! One of them cried real tears and another was so much like the real clergy person that I felt like I had been transported back to the interviews. I was impressed with all the actors, who included Donnaldson Brown, Keith Nobbs, Welker White, John Ellison Conlee, Robert Stanton, Peggy J. Scott, Glenn Fitzgerald, Kevin Hogan, Zeljko Ivanek, Luzer Twersky and Austin Jones.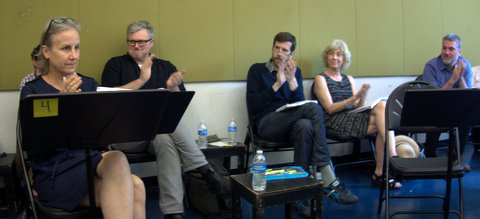 Google and you will see what impressive credits they have.
[If you wonder why all the photos show people clapping, it's because the reading has ended. No photos are allowed during the reading.]
I was also impressed with the audience. It was in rapt attention. I spent more time checking out the audience than the actors. I already knew the script and wanted to gauge audience reaction. There were quite a few laughs too. This surprised me, because the subject matter is not exactly humorous. There were at least two laughs per character (yes, I was counting) and in some cases many more. I'm told laughter varies a lot depending on the actors and the audience. What plays in New York might not play so well in Peoria.
The next step is script revision. We figured it was too long, but the point of the first reading is to see what works and what doesn't. We're getting feedback from everyone who was there – the actors, theatre people, my market research colleagues, etc. – and it's pretty clear that there are too many characters. Eleven. Some dialogue, scenes and characters will have to go. I'm glad I'm not making that decision because I love all of them. Also, I'm not qualified to decide something like that. First of all, I'm way too close to the material and secondly, I'm not a theatre professional. There are all kinds of elements to consider that I'm not aware of.
So people who have read the book or were in the study are probably wondering "Who is in the play right now?" and my frustrating answer is, "Sorry, I can't say." Anything can happen at this point. Some will go; others may be added. Not my decision. I will say that there is one character named "Linda" who I think is a keeper, but you never know.
One thing I do know for sure is that it has been an exciting and very weird process – the kind of thing you never expect to happen. Now I'm eager to see what will happen next. I know there will be another reading. I don't know when it will be, but I will definitely keep you posted.
============================
>>>>>>>>>>>Photo Credits: All photos by Judy Langer, New York, NY