Editor's Note: Our resident former Catholic couldn't restrain herself from writing one more Papal Post, given her additional thoughts on conscientious objectors and the additional news about the Kim Davis meeting with the Pope.
=====================
"Conscientious objector" – hmmm – what does that mean? According to Merriam Webster, it's
"a person who refuses to serve in the armed forces or bear arms on moral or religious grounds."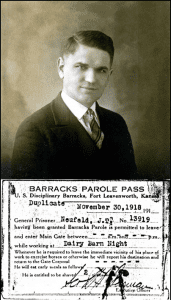 Historically it has been used to mean forced conscription during military conflict, for instance, the Quakers in World War I who were drafted, but whose religion did not allow them to fight. They served in non-combat roles.
The way I see it, Kim Davis is not a conscript because she was not forced against her will to take her job. I would say she is more like a volunteer. If we look at volunteers in the military, we see that conscientious objections are not applicable, for the simple fact that the person enlisted himself or herself. Kim Davis actively sought her position by launching a political campaign and winning the post of Rowan County Clerk.
Adapting a reference from the popular film The Princess Bride: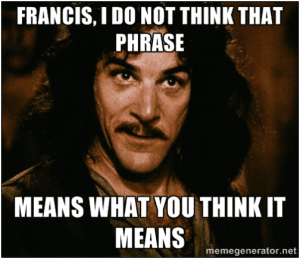 The word "Inconceivable" was misused there in much the same way "Conscientious Objector" is misused here.
Patheos contributor Greg Popcak, of "Faith on the Couch" wrote a recent post on the topic, "Kim Davis is a Mess. So What?
Popcak supports Davis in her "conscientious objections." One particular sentence of his resonated with me:
"Shame on anyone who would attempt to dismiss or minimize another person's basic human rights because those rights were not to their political liking."
Well put. Yes — it is shame. Popcak makes a striking point. However, I'm not sure if he realizes that it doesn't absolve Davis, as this statement could easily have been made by any of the same-sex couples whose requests for a marriage license were refused by the Rowan County Clerk. Their rights, as promised by a ruling of the Supreme Court, were being denied by the County Clerk who had been elected to assure those rights.
Update: The Vatican has issued an additional statement about the Pope's meeting with Kim Davis:
The brief meeting between Mrs. Kim Davis and Pope Francis at the Apostolic Nunciature in Washington, DC has continued to provoke comments and discussion. In order to contribute to an objective understanding of what transpired I am able to clarify the following points:

Pope Francis met with several dozen persons who had been invited by the Nunciature to greet him as he prepared to leave Washington for New York City. Such brief greetings occur on all papal visits and are due to the Pope's characteristic kindness and availability. The only real audience granted by the Pope at the Nunciature was with one of his former students and his family.

The Pope did not enter into the details of the situation of Mrs. Davis and his meeting with her should not be considered a form of support of her position in all of its particular and complex aspects.
Great – So the Pope is backing off. There will be more details to come, I'm sure. Meanwhile, here are two follow-up questions I hope reporters ask the Vatican:
Who are the other "several dozen" people he met with privately? Surely some of them would inform public about this special privilege.
Where are the promised photos of Kim and the Pope? Her lawyer said they would be published.
The Davises snapped selfies inside the Vatican Embassy. However, he [lawyer Mathew D. Staver] said, "out of deference and respect they didn't want to pull out a cellphone with the pope. The Vatican had their own photographers there and we're told the pictures will be released later."
Will the Vatican release the photos? If not, how about the selfies? They are the property of Kim and her husband, right?
**Editor's Update** 2PM 10/2/15 We have a partial answer to question #1. A CNN exclusive report reveals that one of the private meetings at the papal embassy was with a same sex couple – old friends of the Pope from Argentina. Francis sure keeps us on our toes!
========================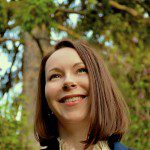 Bio: Catherine Dunphy – A humanist, atheist and former Roman Catholic chaplain, Catherine is a member of the Clergy Project and former Executive Director, she is author of From Apostle to Apostate – the Story of the Clergy Project, published by Pitchstone Press in July, 2015.