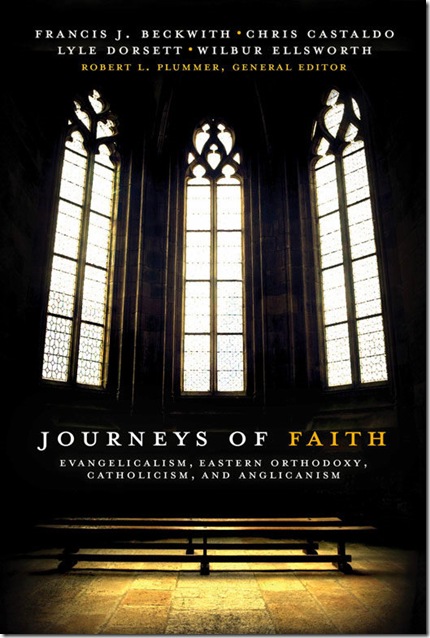 I recently came across this blog post at the site, Thoughts of Francis Turretin: "Another Beckwith-like Apostasy to Rome." The author writes:
You may recall that some time ago, Francis Beckwith made waves by secretly rejoining the Roman communion, while continuing in his role as president of Evangelical Theological Society. Sadly, we can add to that another similar tale. Mr. Jason Stewart was an OPC pastor. According to a letter provided by his (now former) presbytery:

Whereas the date Mr. Stewart entered into full communion with the Roman Catholic Church (January 10, 2011) evidences a studied commitment to that church's doctrine and practices while he remained a minister of the Orthodox Presbyterian Church, and

Whereas, in contravention of his ordination vows (FOG XXIII.8. (1-4)), Mr. Stewart did not disclose his change of convictions to his Presbytery until March 10, 2011, thus deceiving both the Presbytery, and the congregation of Trinity, Easton, and

Whereas Mr. Stewart has refused to be dissuaded from his course,

Therefore, in accordance with Book of Discipline V.2.b (1), Presbytery erased his name from its rolls, recorded the circumstances in its minutes, and communicated this action as a form of discipline (BOD V.2) to the congregation of Trinity, Easton with exhortation and encouragement toward a godly response to these events and to Mr. Stewart.

One wonders whether his new-found comrades at the Roman blog, Called to Communion, are aware of the facts of his conversion experience. In his account, he characterizes the events as: "Our decision to leave Presbyterianism for the Catholic Church surprised many." I'll say!

We will pray for repentance and restoration of Mr. Stewart (the erasure by Presbytery is de facto deposition and excommunication). Until that time, however, he ought to consider himself outside the visible and catholic church, and under threat of eternal judgment.

The reason for posting this point publicly, of course, is to draw attention to the issue of deception alleged by his former presbytery. I don't expect that this will matter to the Called to Communion team, but it ought to matter to seekers of truth. It helps to demonstrate the principle announced by the apostle, that they went out from us, because they were not of us. It also helps to qualify the credentials that are being used to promote his "conversion story" ("OPC Pastor …") – yes, he managed to infiltrate the presbytery – but his manner of departure shows the sort of person he was.

-TurretinFan
I can't speak to the facts surrounding the case of Mr. Stewart, but it is not analogous to mine at all. First, days before I was received into the Catholic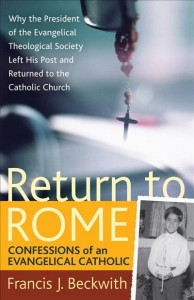 Church, I resigned my ordination with the United Evangelical Churches. (I relate this on page 63 of my book Return to Rome: Confessions of An Evangelical Catholic [Brazos Press, 2009]; oddly, the UEC's "tenets of faith" are not inconsistent with Catholicism). So, I was not an ordained Protestant minister upon my reception into the Church. Second, upon being both received into the Catholic Church through the sacrament of reconciliation on April 28, 2007 and publicly during Mass the next day (April 29, 2007), I informed by mail the executive committee of the Evangelical Theological Society (ETS) of my decision.  In that letter I told the committee that I thought I could as a Catholic remain as President of ETS.
Because the ETS is an academic society and not an ecclesial communion, it has no ordained leadership. In fact, it's
doctrinal basis
("The Bible alone, and the Bible in its entirety, is the Word of God written and is therefore inerrant in the autographs. God is a Trinity, Father, Son, and Holy Spirit, each an uncreated person, one in essence, equal in power and glory") is so minimal that it allows for a wide range of Christians as members who could not in good conscience be ministers in the churches of other members. So, for example, an ordained Presbyterian elder, an ordained Anglican priest, and an ordained Mennonite minister may all be members of ETS, but none can be clergy in the other's church. Although TurretinFan is clearly correct in implying that no Catholic can in good conscience be an ordained Presbyterian minister, it is not clear that a Catholic can not in good conscience be a member of ETS. For this reason–
given the ETS' bare-bones doctrinal basis
–I thought a reasonable argument could made for Catholic membership. But, as I note in 
Return to Rome
as well as in my blog posts at the time (see
here
and
here
), I resigned both my presidency (on
May 5, 2007
, seven days after I was received into the Church) and my membership (on
May 7, 2007
) for prudential reasons. There is, of course, a strong argument to be made that Catholics can not to be members of ETS.  Nevertheless, it is an argument to which I respond in both
Return to Rome
(chapter 5)
as well as an article I published in 2009 in the
Josephinum Journal of Theology
, "Evangelical and Catholic
."
I have no aversion to reading criticisms of my journey and arguments as to why I am wrong about ETS and Catholicism. But I will not let stand misleading depictions of my reversion and the issues that were at play at the time.
Update: Jason Stewart responds in the combox:
As we entered the Catholic Church, we were concerned not to disturb the Presbyterian identity of Trinity OPC, nor upset the stability and peace of the members, nor proselytize as we exited, and, therefore, we did not make our decision public. We did not want our personal decision to instigate an ecclesiastical donnybrook as we departed the OPC. On a personal level, we were certainly willing to make public our reception into the Catholic Church, but not at the expense of the congregation of Trinity OPC. We tried to find the most charitable and peaceable balance we could between the welfare of the congregation and the spiritual welfare of our family. It is unfortunate that the presbytery has chosen to place the worst possible interpretation on our decision, labeling it deception. Such was not our intention in following the path we did. Until last night, I was unaware of the presbytery's ruling as the presbytery had not formally communicated this information to me. All I knew was that they had honored my request for erasure as I happened to see the erasure published in the November issue of the New Horizons magazine (2011). I'll end by stating that our eagerness to be received into the Church was owing to our not wanting to remain any longer in schism from the Church Jesus founded.
Just as I suspected, though I did not want to speculate in my original post. So, I am delighted that Jason has written this. It turns out that Jason, just like me, assessed his situation in light of a variety of factors, wanting both to enter the Church as soon as possible while not needlessly offending his Protestant friends. This is the behavior of a Christian and a gentleman.  This makes TurretinFan's judgment of Jason all the more egregious and unChristian. It is, of course, not surprising that those who most vigorously deny that charity must accompany faith work tirelessly to ensure that their public lives do not betray that conviction.