I'm sure you've seen the original.
Even many religious people identify with it. The sentiment "don't you dare tell my kids about your god(s)" is pretty much universal.
It's funny, but one of our more sarcastic skeptics, Len, had an issue with it on Facebook. Religion appears to more closely resemble another body part instead.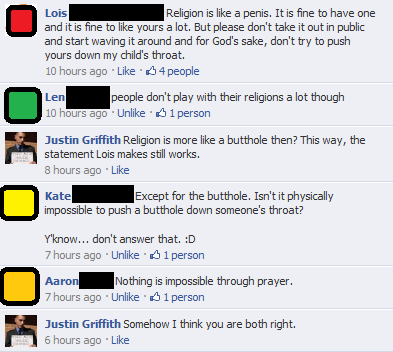 Obviously, that sentiment is one of the major inspirations behind the Rock Beyond Belief festival coming up at Fort Bragg, NC (March 31st 2012). Which is more than just a counter to the evangelical Christian membership drive a year ago. We're taking the high road by emphatically not attempting to 'de-convert' or 'de-baptize' the audience.
Many more details will be put out soon. We're in the endgame of negotiations and have been fully approved. You should come. It's a rare opportunity to see greats like Dan Barker, Baba Brinkman, and Richard Dawkins in a pretty damned unique setting for free! Support the Foxhole Atheists as we slam the closet doors shut behind us.