Earlier this week, I highlighted an incredibly easy way to send a care package to a deployed military member, completely free of charge.
It was a combined effort between Revision Military, who makes SawFly battle-ready eye wear among other things, and also the AnySoldier charity who helps match military members with individual donors.
This started getting a lot of traction on Facebook, Reddit, and Twitter almost immediately. So I called them to ask a few basic questions. Namely, were they able to handle all the traffic? And, could some people do multiple submissions (like, one for each branch: Air Force, Army, Navy, Marine Corps, Coast Guard)?
The good folks at Revision Military played phone tag with me yesterday, but eventually sent me this message:
We can't tell you how much we appreciate your support of our campaign.  When we were reviewing the messages, it was clear that we received a significant amount of traffic from your site.  That being said, the overwhelming support we have experienced thus far has exceed our expectations, and in a very short amount of time we have fully fulfilled our care package allotment.  We will be closing our campaign first thing tomorrow morning.

I understand that you had hoped to encourage your readers to donate for each of the branches, but I wanted to ensure you that the distribution is quite equal, and we appreciate the acknowledgement of each branch equally.  The program was designed for one package per person, but we did not program any blockades to multiple messages & care packages for our troops.

We'll make sure to keep you in the loop for our campaign next year, thank you so much for your support!

All the best-

Kelly C. Goudy

Marketing Events Specialist

Revision Military Ltd.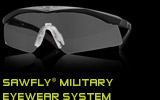 Each care package sent included a free pair of SawFly glasses (AWESOME!), magazines, premium beef jerky, and some other goodies. These glasses are not cheap either.
Anyway, the internet atheist community should be extremely proud! You broke the campaign with your overwhelming numbers. Take a bow.
The RevisionGives website now has this message instead of a submission form:
THANK YOU

FOR SUPPORTING

OUR TROOPS

There are now more deployed soldiers, airmen, sailors and marines being protected by Revision's eyewear during their missions. And hopefully their days are a little brighter thanks to your heartfelt messages.

Happy Holidays,

The Revision Team