Unfortunately… I was right.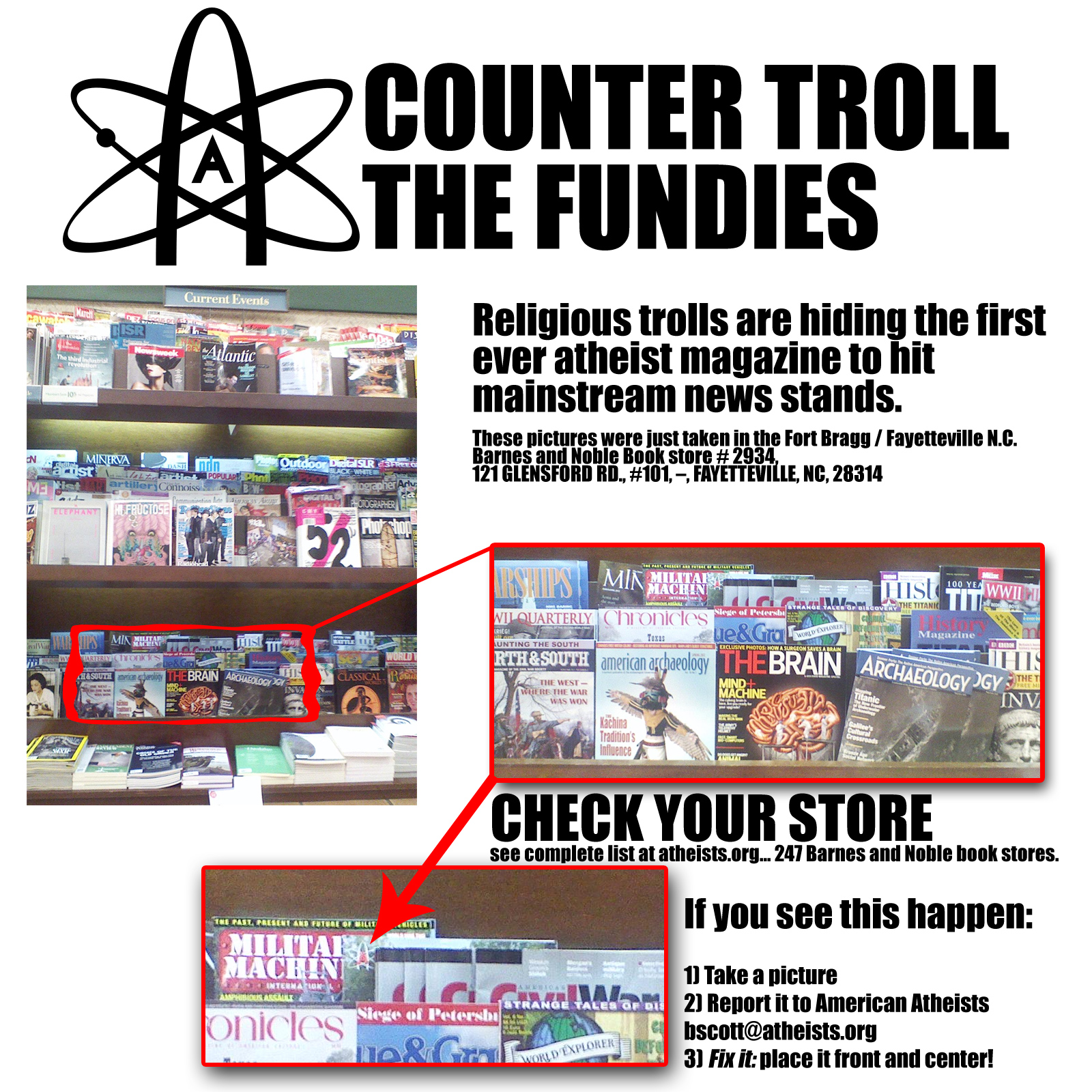 My wife checked the Fort Bragg area Barnes and Noble around 3 PM. The clerk couldn't find any of the three copies they had in their inventory. My wife left empty handed.
Later that night (7PM), the new acting president of the Military Atheists & Secular Humanists at Fort Bragg (MASH Fort Bragg), Mildred, had the same experience. So the magazines were still 'somewhere'. I asked Mildred to check thoroughly. She didn't see it anywhere. She got a clerk to search about, and rummage through the computer system. She checked in the back, and discovered some sort of mystery box that was unopened. The clerk then stated that we should check back tomorrow, after the mystery box of magazines was put on the shelves.
The clerk said "It's against company policy to hold magazines for people… but don't worry, I don't expect this magazine to be jumping off the shelf."
Just as Mildred was walking away, placated by this 'explanation', she noticed the American Atheists 'atomic A' logo peaking out of some magazines. It was the bottom row of the last rack on the aisle, hidden between a civil war magazine, and some other military oriented magazine. The other two copies were not discovered, but computer records indicate they are still 'somewhere' in the store.
Religious zealots and/or trolls are trying to manipulate the shelves in order to silence us.
Please check to see if there is a Barnes and Noble near you on the list below (click 'read more'). Please take pictures, then take action. FIX IT. Don't freak out, just help counter-troll. Place it prominently, and then just relax.
Many of us struggled with shedding our religious upbringings, only to discover that we were cut off from the community. The blacksheep culture of shame and fear fooled many of us into thinking we were 'the only one' for miles. It's time we all finally slammed that 'atheist closet' door very hard behind us.
Stomp out their attempts at marginalizing us. It's a culture war. Let's fucking win it.
**Complete list of stores below the fold.**
…
BARNES & NOBLE 1106, 50 MASSACHUSETTS AVE NE, UNION STATION #112, WASHINGTON, DC, 20002
BARNES & NOBLE 1857, 18711 BISCAYNE BLVD, LOEHMANNS PLAZA, MIAMI, FL, 33180
BARNES & NOBLE 1897, 470 UNIVERSAL DRIVE N, –, NORTH HAVEN, CT, 6473
BARNES & NOBLE 1898, 360 CONNECTICUT AVE, –, NORWALK, CT, 6854
BARNES & NOBLE 1944, 3600 STEVENS CREEK BLVD, –, SAN JOSE, CA, 95117
BARNES & NOBLE 1979, 2289 BROADWAY, –, NEW YORK, NY, 10024
BARNES & NOBLE 1984, 17490 COLIMA ROAD, –, ROWLAND HEIGHTS, CA, 91748
BARNES & NOBLE 1989, 150 GRANITE STREET, –, BRAINTREE, MA, 2184
BARNES & NOBLE 1996, 1725 ARDEN WAY, ARDEN FAIR, SACRAMENTO, CA, 95815
BARNES & NOBLE 2040, 555 12TH ST NW, –, WASHINGTON, DC, 20004
BARNES & NOBLE 2046, 106 CAMP HILL MALL, –, CAMP HILL, PA, 17011
BARNES & NOBLE 2049, 6600 MENAUL BLVD NE, #M – 10, ALBUQUERQUE, NM, 87110
BARNES & NOBLE 2065, 9850 BROOK RD, –, GLEN ALLEN, VA, 23059
BARNES & NOBLE 2067, 110 CONSTON AVE, –, CHRISTIANSBURG, VA, 24073
BARNES & NOBLE 2069, 5701 BECKLEY RD., –, BATTLE CREEK, MI, 49015
BARNES & NOBLE 2083, 3485 TYLER STREET, –, RIVERSIDE, CA, 92503
BARNES & NOBLE 2085, 2498 ONEIDA STREET, –, GREEN BAY, WI, 54304
BARNES & NOBLE 2087, 6 N RIO GRANDE ST, –, SALT LAKE CITY, UT, 84101
BARNES & NOBLE 2094, 500 S. MAIN STREET, –, ROYAL OAK, MI, 48067
BARNES & NOBLE 2106, 102 COMMONS DRIVE, –, GENEVA, IL, 60134
BARNES & NOBLE 2107, 3235 WASHTENAW AVE, –, ANN ARBOR, MI, 48104
BARNES & NOBLE 2111, 21500 HAWTHORNE BLVD, –, TORRANCE, CA, 90503
BARNES & NOBLE 2115, 800 BOYLSTON STREET, SUITE 179, BOSTON, MA, 2199
BARNES & NOBLE 2117, 2825 W. MAIN STREET, –, BOZEMAN, MT, 59718
BARNES & NOBLE 2122, 614 S MEADOW ST, –, ITHACA, NY, 14850
BARNES & NOBLE 2128, 8915 W CHARLESTON BL, –, LAS VEGAS, NV, 89117
BARNES & NOBLE 2132, 25 HAZARD AVENUE, –, ENFIELD, CT, 6082
BARNES & NOBLE 2141, 81 FORTUNE DRIVE, SUITE 123, IRVINE, CA, 92618
BARNES & NOBLE 2144, 700 S TELSHOR BLVD, SUITE 1390, LAS CRUCES, NM, 88001
BARNES & NOBLE 2151, 176-60 UNION TURNPIKE, –, FRESH MEADOWS, NY, 11366
BARNES & NOBLE 2152, 20131 HIGHWAY 59 N, DEERBROOK MALL, HUMBLE, TX, 77338
BARNES & NOBLE 2190, 13131 RIDGEDALE DRIVE, –, MINNETONKA, MN, 55305
BARNES & NOBLE 2207, 4801 OVERTON RIDGE BLVD, SUITE, –, FT WORTH, TX, 76126
BARNES & NOBLE 2224, 4610 MERCHANTS PARK CIRCLE, SUITE 52, COLLIERVILLE, TN, 38017
BARNES & NOBLE 2248, 3800 STATE ROAD 16, –, LA CROSSE, WI, 54601
BARNES & NOBLE 2255, 97 WARREN ST, –, NEW YORK, NY, 10007
BARNES & NOBLE 2275, 131 COLONIE CENTER, SUITE 355, ALBANY, NY, 12205
BARNES & NOBLE 2280, 301 NE NORTHGATE WAY, 1100, SEATTLE, WA, 98125
BARNES & NOBLE 2301, 4401 TRANSIT ROAD, SUITE 800, CLARENCE, NY, 14221
BARNES & NOBLE 2314, 11500 MIDLOTHIAN TURNPIKE, SPACE 890, RICHMOND, VA, 23235
BARNES & NOBLE 2315, 14572 SW 5TH ST, SUITE 10140, PEMBROKE PINES, FL, 33027
BARNES & NOBLE 2317, 4020 SHARON RD., –, CHARLOTTE, NC, 28211
BARNES & NOBLE 2319, 1800 N ROCK RD, SUITE 120, WICHITA, KS, 67206
BARNES & NOBLE 2325, 600 SMITH HAVEN MALL, –, LAKE GROVE, NY, 11755
BARNES & NOBLE 2333, 2999 PEARL ST, –, BOULDER, CO, 80301
BARNES & NOBLE 2337, 2100 HAMILTON PLACE BOULEVARD, –, CHATTANOOGA, TN, 37421
BARNES & NOBLE 2351, 300 NESHAMINY MALL, –, BENSALEM, PA, 19020
BARNES & NOBLE 2352, 11271 WEST 95TH ST, –, OVERLAND PARK, KS, 66214
BARNES & NOBLE 2354, 1560 POLARIS PARKWAY, –, COLUMBUS, OH, 43240
BARNES & NOBLE 2358, 6501 GRAPE RD, –, MISHAWAKA, IN, 46545
BARNES & NOBLE 2508, 590 E GOLF RD, –, SCHAUMBURG, IL, 60173
BARNES & NOBLE 2514, 3225 WEST 69TH STREET, –, EDINA, MN, 55435
BARNES & NOBLE 2532, 3748 E 82ND STREET, –, INDIANAPOLIS, IN, 46240
BARNES & NOBLE 2536, 10000 RESEARCH BLVD, –, AUSTIN, TX, 78759
BARNES & NOBLE 2550, 213 N DALE MABRY BLVD, –, TAMPA, FL, 33609
BARNES & NOBLE 2552, 5405 TOUHY, –, SKOKIE, IL, 60077
BARNES & NOBLE 2559, 1035A EMMET STREET, BARRACKS ROAD S.C., CHARLOTTESVILLE, VA, 22903
BARNES & NOBLE 2560, 10235 N METRO PRKWY, METRO CENTER, PHOENIX, AZ, 85051
BARNES & NOBLE 2565, 3111 S. VETERANS PKWY, –, SPRINGFIELD, IL, 62704
BARNES & NOBLE 2566, 2201 PRESTON RD., STE.E, –, PLANO, TX, 75093
BARNES & NOBLE 2574, 420 W 47TH STREET, COUNTRY CLUB PLAZA, KANSAS CITY, MO, 64112
BARNES & NOBLE 2582, 3003 W HOLCOMB BLVD, –, HOUSTON, TX, 77025
BARNES & NOBLE 2588, 6134 S WEST NEDGE AVE, –, PORTAGE, MI, 49002
BARNES & NOBLE 2591, 4940 MONROE STREET, –, TOLEDO, OH, 43623
BARNES & NOBLE 2597, 765 ROUTE 17 SOUTH, –, PARAMUS, NJ, 7652
BARNES & NOBLE 2603, 700 4TH STREET, –, SANTA ROSA, CA, 95404
BARNES & NOBLE 2605, 125 S BROADWAY, –, SALEM, NH, 3079
BARNES & NOBLE 2607, 300 ANDOVER PARK W #200, –, SEATTLE, WA, 98188
BARNES & NOBLE 2611, 4045 S COLLEGE AVENUE, –, FORT COLLINS, CO, 80525
BARNES & NOBLE 2614, 2100 N. SNELLING AVE, –, ROSEVILLE, MN, 55113
BARNES & NOBLE 2615, 7800 MONTGOMERY RD, –, CINCINNATI, OH, 45236
BARNES & NOBLE 2618, 160 E 54TH STREET, –, NEW YORK, NY, 10022
BARNES & NOBLE 2622, 55 OLD ORCHARD SHOPPING CTR, –, SKOKIE, IL, 60077
BARNES & NOBLE 2623, 2080 FORD PARKWAY, –, ST PAUL, MN, 55116
BARNES & NOBLE 2624, 4916 S BROADWAY AVE, TYLER BROADWAY PAVILION, TYLER, TX, 75703
BARNES & NOBLE 2627, 2800 S. ROCHESTER RD, –, ROCHESTER HILLS, MI, 48307
BARNES & NOBLE 2629, 6800 ORCHARD LAKE RD, –, WEST BLOOMFIELD, MI, 48322
BARNES & NOBLE 2632, 5377 TAMIAMI TRAIL, –, NAPLES, FL, 34108
BARNES & NOBLE 2635, 7626 WESTHEIMER, –, HOUSTON, TX, 77063
BARNES & NOBLE 2637, 4485 VIRGINIA BEACH BLVD, –, VIRGINIA BEACH, VA, 23462
BARNES & NOBLE 2639, 7119 SOUTH 1300 EAST, –, MIDVALE, UT, 84047
BARNES & NOBLE 2643, 12850 MEMORIAL DR, SUITE 1600, HOUSTON, TX, 77024
BARNES & NOBLE 2647, 760 SE MAYNARD, –, CARY, NC, 27511
BARNES & NOBLE 2648, 17111 HAGGERTY RD, –, NORTHVILLE, MI, 48167
BARNES & NOBLE 2654, 7663 MALL RD, STE 23, –, FLORENCE, KY, 41042
BARNES & NOBLE 2656, 50 BARRETT PKWY #1100, –, MARIETTA, GA, 30066
BARNES & NOBLE 2658, 11500 FINANCIAL CTR PKY, –, LITTLE ROCK, AR, 72211
BARNES & NOBLE 2661, 555 HUBBARD AVENUE, –, PITTSFIELD, MA, 1201
BARNES & NOBLE 2668, 4751 W 117TH STREET, –, LEAWOOD, KS, 66211
BARNES & NOBLE 2675, 33 EAST 17TH STREET, –, NEW YORK, NY, 10003
BARNES & NOBLE 2683, 11112 SAN JOSE BLVD, MANDARIN SHOPPING CTR, JACKSONVILLE, FL, 32223
BARNES & NOBLE 2687, 1612 S UNIVERSITY #401, –, FORT WORTH, TX, 76107
BARNES & NOBLE 2692, 624 S GREEN RIVER RD, –, EVANSVILLE, IN, 47715
BARNES & NOBLE 2697, 210 COMMERCE BLVD, –, FAIRLESS HILLS, PA, 19030
BARNES & NOBLE 2701, 1701 MALLORY LANE, –, BRENTWOOD, TN, 37027
BARNES & NOBLE 2703, 1851 FOUNTAIN DRIVE, RESTON TOWN CTR, RESTON, VA, 20190
BARNES & NOBLE 2712, 6260 SEVEN CORNERS CTR., –, FALLS CHURCH, VA, 22044
BARNES & NOBLE 2714, 65 EAST MARKET VIEW DR, –, CHAMPAIGN, IL, 61820
BARNES & NOBLE 2720, 7433 MINERAL PT RD, –, MADISON, WI, 53717
BARNES & NOBLE 2724, 381 BOARDDMAN/POLAND RD, –, YOUNGSTOWN, OH, 44512
BARNES & NOBLE 2725, 13800 N MAY AVE, –, OKLAHOMA CITY, OK, 73134
BARNES & NOBLE 2730, 5705 JOHNSON ST, –, LAFAYETTE, LA, 70503
BARNES & NOBLE 2735, 1212 GREENBRIAR PKWY, –, CHESAPEAKE, VA, 23320
BARNES & NOBLE 2740, 1315 N MILWAUKEE, –, BOISE, ID, 83704
BARNES & NOBLE 2741, 2813 EAST THIRD STREET, –, BLOOMINGTON, IN, 47408
BARNES & NOBLE 2744, 9521 VISCOUNT, –, EL PASO, TX, 79925
BARNES & NOBLE 2745, 567 N STEPHANIE, –, HENDERSON, NV, 89014
BARNES & NOBLE 2747, 7 HOLYOKE #D, –, HOLYOKE, MA, 1040
BARNES & NOBLE 2750, 4801 BETHESDA AVE, –, BETHESDA, MD, 20814
BARNES & NOBLE 2755, 8374 SOUTH WILLOW ST, –, LITTLETON, CO, 80124
BARNES & NOBLE 2764, 12089 ROCKVILLE PIKE, –, ROCKVILLE, MD, 20852
BARNES & NOBLE 2768, 3721 VETERAN'S BOULEVARD, –, METAIRIE, LA, 70002
BARNES & NOBLE 2774, 901 B SOUTH COAST DR, SUITE 150 A, COSTA MESA, CA, 92626
BARNES & NOBLE 2776, 102 DORSET STREET, BURLINGTON II, SOUTH BURLINGTON, VT, 5403
BARNES & NOBLE 2777, 2619 MIAMISBURG CENTERVILLE RD, –, DAYTON, OH, 45459-3727
BARNES & NOBLE 2782, 102 PARK AVE, –, WILLOW GROVE, PA, 19090
BARNES & NOBLE 2784, 200 E NORTHERN LIGHTS B, –, ANCHORAGE, AK, 99503
BARNES & NOBLE 2790, 3349 MONROE AVE, –, ROCHESTER, NY, 14618
BARNES & NOBLE 2793, 2790 UNIVERSITY DR., –, CORAL SPRINGS, FL, 33065
BARNES & NOBLE 2795, 3102 NORTH LINE AVE, –, GREENSBORO, NC, 27408
BARNES & NOBLE 2798, 444 A. BROADWAY, –, SAUGUS, MA, 1906
BARNES & NOBLE 2802, 321 NW LOOP 410 #104, –, SAN ANTONIO, TX, 78216
BARNES & NOBLE 2803, 44 BRICK PLAZA, –, BRICK, NJ, 8723
BARNES & NOBLE 2804, 7325 N. LA CHOLLA BLVD, –, TUCSON, AZ, 85741
BARNES & NOBLE 2809, 9891 WATERSTONE BLVD, –, CINCINNATI, OH, 45249
BARNES & NOBLE 2810, 2323 SAGAMORE PKWY S., –, LAFAYETTE, IN, 47905
BARNES & NOBLE 2811, 10180 S STATE STREET, –, SANDY, UT, 84070
BARNES & NOBLE 2812, 3327 PINEVILLE-MATTHEWS, –, CHARLOTTE, NC, 28226
BARNES & NOBLE 2815, 2031 DR. MARTIN LUTHER KING JR, –, CHICO, CA, 95928
BARNES & NOBLE 2816, 3001 NW FEDERAL WAY HWY, –, JENSEN BEACH, FL, 34957
BARNES & NOBLE 2817, 620 MARKET PLACE DRIVE, –, BEL AIR, MD, 21014
BARNES & NOBLE 2822, 2774 N.GERMANTOWN PK, –, MEMPHIS, TN, 38133
BARNES & NOBLE 2825, 821 COUNTY ROAD 64, –, ELMIRA, NY, 14903
BARNES & NOBLE 2826, 365 BENNER PIKE, –, STATE COLLEGE, PA, 16801
BARNES & NOBLE 2830, 14165 HALL ROAD, –, SHELBY TOWNSHIP, MI, 48315
BARNES & NOBLE 2831, 4300 MONTGOMERY, LONG GATE SHOPPING CTR, ELLICOTT CITY, MD, 21043
BARNES & NOBLE 2832, 5711 MAIN ST SW, –, LAKEWOOD, WA, 98499
BARNES & NOBLE 2837, 2590 CITIPLACE COURT, –, BATON ROUGE, LA, 70808
BARNES & NOBLE 2838, 8027 KINGSTON PIKE, –, KNOXVILLE, TN, 37919
BARNES & NOBLE 2841, 3311 TITABAWASSEE RD, –, SAGINAW, MI, 48604
BARNES & NOBLE 2844, 780 E MERRITT ISLAND CSWY, –, MERRITT ISLAND, FL, 32952
BARNES & NOBLE 2845, 5231 E. 41ST STREET, –, TULSA, OK, 74135
BARNES & NOBLE 2850, 1805 WALNUT STREET, –, PHILADELPHIA, PA, 19103
BARNES & NOBLE 2851, 4001 CALIFORNIA, –, BAKERSFIELD, CA, 93309
BARNES & NOBLE 2852, 2451 PATTERSON RD, –, GRAND JUNCTION, CO, 81505
BARNES & NOBLE 2854, 500 16TH STREET, –, DENVER, CO, 80202
BARNES & NOBLE 2857, 565 SOUTH 7TH STREET, –, BISMARCK, ND, 58504
BARNES & NOBLE 2859, 23654 US HWY 19 N, –, CLEARWATER, FL, 33765
BARNES & NOBLE 2860, 1739 OLENTANGY RIVER RD, –, COLUMBUS, OH, 43212
BARNES & NOBLE 2862, 175 GLASTONBURY BLVD, –, GLASTONBURY, CT, 6033
BARNES & NOBLE 2868, 3400 FOREST DRIVE, –, COLUMBIA, SC, 29204
BARNES & NOBLE 2870, 4478 ELECTRIC ROAD SW, –, ROANOKE, VA, 24014
BARNES & NOBLE 2880, 1099 E OITTSBURGH ST, –, GREENSBURG, PA, 15601
BARNES & NOBLE 2886, 2518 SOUTH ROAD, –, POUGHKEEPSIE, NY, 12601
BARNES & NOBLE 2888, 19401 ALDERWOOD MALL, –, LYNNWOOD, WA, 98036
BARNES & NOBLE 2890, 8123 HONEYGO BLVD, STE E, BALTIMORE, MD, 21236
BARNES & NOBLE 2892, 5130 E BROADWAY, –, TUCSON, AZ, 85711
BARNES & NOBLE 2893, 235 UNION ST, –, WATERBURY, CT, 6701
BARNES & NOBLE 2898, 926 FREEPORT RD, –, PITTSBURGH, PA, 15238
BARNES & NOBLE 2903, 289 NORTH MAIN STREET, –, LEOMINSTER, MA, 1453
BARNES & NOBLE 2907, 1780 N.WOODLAND PARK DR, –, LAYTON, UT, 84041
BARNES & NOBLE 2908, 3454 ERIE BLVD EAST, –, SYRACUSE, NY, 13214
BARNES & NOBLE 2910, 18025 GARDEN WAY N.E., –, WOODINVILLE, WA, 98072
BARNES & NOBLE 2911, 7651 CARSON BLVD., –, LONG BEACH, CA, 90808
BARNES & NOBLE 2916, 1700 FRUITVILLE PIKE, –, LANCASTER, PA, 17601
BARNES & NOBLE 2917, 1451 CORAL RIDGE #11, –, CORALVILLE, IA, 52241
BARNES & NOBLE 2921, 4550 UNIVERSITY AVE, –, WEST DES MOINES, IA, 50266
BARNES & NOBLE 2928, 5601 BRODIE LN #300, –, AUSTIN, TX, 78745
BARNES & NOBLE 2931, 3055 S. GLENSTONE, –, SPRINGFIELD, MO, 65804
BARNES & NOBLE 2932, 385 ROUTE 3 EAST, –, CLIFTON, NJ, 7014
BARNES & NOBLE 2934, 121 GLENSFORD RD., #101, –, FAYETTEVILLE, NC, 28314
BARNES & NOBLE 2936, 11 W. HILLSDALE BLVD, HILLSDALE MALL, SAN MATEO, CA, 94403
BARNES & NOBLE 2938, 5555 S. VIRGINIA ST., –, RENO, NV, 89502
BARNES & NOBLE 2940, 1 E. JOPPA ROAD, –, TOWSON, MD, 21286
BARNES & NOBLE 2941, 1104 EAST 2100 SOUTH, –, SALT LAKE CITY, UT, 84106
BARNES & NOBLE 2947, 2405 HWY 70 SE, –, HICKORY, NC, 28602
BARNES & NOBLE 2948, 8117 SUDLEY ROAD, –, MANASSAS, VA, 20109
BARNES & NOBLE 2949, 4801 CONCORD PIKE, –, WILMINGTON, DE, 19803
BARNES & NOBLE 2951, 15310 INDIANA AVENUE, –, SPOKANE, WA, 99216
BARNES & NOBLE 2957, 600 PINE STREET, –, SEATTLE, WA, 98101
BARNES & NOBLE 2958, 1565 NIAGRA FALLS BLVD, –, AMHERST, NY, 14228
BARNES & NOBLE 2964, 160 ORLAND PARK PLACE, –, ORLAND PARK, IL, 60462
BARNES & NOBLE 2967, 3940 DIVISION ST, –, ST CLOUD, MN, 56301
BARNES & NOBLE 2972, 3333 BUFORD DR STE VA01, –, BUFORD, GA, 30519
BARNES & NOBLE 2976, 1271 KNAPP ROAD, –, NORTH WALES, PA, 19454
BARNES & NOBLE 2978, 1163 VALLEY RIVER CTR, –, EUGENE, OR, 97401
BARNES & NOBLE 2981, 2443 VESTAL PKWY EAST, –, VESTAL, NY, 13850
BARNES & NOBLE 2990, 3860 S. MARYLAND PKWY, SUITE A-2, LAS VEGAS, NV, 89119
BARNES & NOBLE 2994, 39228 10TH ST, –, PALMDALE, CA, 93550
BARNES & NOBLE 2995, 5501 W. BROAD ST, –, RICHMOND, VA, 23230
BARNES & NOBLE 2996, 421 ARENA HUB PLAZA, –, WILKES-BARRE, PA, 18702
BARNES & NOBLE 2998, 481 N. ALAFAYA TRAIL, –, ORLANDO, FL, 32828
BOOKWORLD-SHEBOYGAN, 3347 KOHLER MEMORIAL DR, SUITE 40, SHEBOYGAN, WI, 53081
BOOKWORLD NEW LONDON, 211 W. NORTH WATER ST., –, NEW LONDON, WI, 54961
BOOKWORLD MANITOWOC, 907 S. EIGHTH, –, MANITOWOC, WI, 54220
BOOKWORLD PAPER TIGER, 408 N MAIN STREET, –, OSHKOSH, WI, 54901
BOOKWORLD MARSHFIELD, 414 S. CENTRAL AVE, –, MARSHFIELD, WI, 54449
BOOKWORLD BEAVER DAM, 116 FRONT ST., –, BEAVER DAM, WI, 53916
BOOKWORLD EAGLE RIVER, 114 E. WALL ST., –, EAGLE RIVER, WI, 54521
BOOKWORLD WI RAPIDS, 253 W. GRAND, –, WISCONSIN RAPIDS, WI, 54495
BOOKWORLD WISCONSIN DELLS, 317 BROADWAY ST., –, WISCONSIN DELLS, WI, 53965
BOOKWORLD BARABOO, 135 THIRD ST., –, BARABOO, WI, 53913
BOOKWORLD ASHLAND, 301 W. MAIN ST., –, ASHLAND, WI, 54806
BOOKWORLD IRON MOUNTAIN, 1102 S. STEPHENSON HWY., MIDTOWN MALL – BAY 28, IRON MOUNTAIN, MI, 49801
BOOKWORLD SISTER BAY, 10580 COUNTRY WALK DRIVE, UNIT #11, SISTER BAY, WI, 54234
BOOKWORLD IRONWOOD, 112 E. AURORA ST., –, IRONWOOD, MI, 49938
BOOKWORLD SHAWANO, 134 S. MAIN ST., –, SHAWANO, WI, 54166
BOOKWORLD HAYWARD, 10553 MAIN ST, –, HAYWARD, WI, 54843
BOOKWORLD DETROIT LAKES, 815 WASHINGTON AVE, –, DETROIT LAKES, MN, 56501
BOOKWORLD GALENA, 300 S MAIN ST, –, GALENA, IL, 61036
BOOKWORLD JERRY'S P&P, 322 W. COLLEGE AVE, –, APPLETON, WI, 54911
BOOKWORLD PAGES & PIPES, 748 W. NORTHLAND AVE., –, APPLETON, WI, 54914
BOOKWORLD BOOKLAND, 224 W. WISCONSIN, –, NEENAH, WI, 54956
BOOKWORLD WAUPACA, 121 N. MAIN ST., –, WAUPACA, WI, 54981
BOOKWORLD FOND DU LAC, 85 S. MAIN ST., –, FOND DU LAC, WI, 54935
BOOKWORLD RIPON, 320 WATSON ST., –, RIPON, WI, 54971
BOOKWORLD ANTIGO, 725 FIFTH AVE., –, ANTIGO, WI, 54409
BOOKWORLD RICE LAKE, 105 N. MAIN ST., –, RICE LAKE, WI, 54868
BOOKWORLD STURGEON BAY, 30 N. THIRD AVE., –, STURGEON BAY, WI, 54235
BOOKWORLD MARINETTE, 1723 MAIN STREET, –, MARINETTE, WI, 54143
BOOKWORLD HOUGHTON, 515 SHELDEN, –, HOUGHTON, MI, 49931
BOOKWORLD MERRILL, 921 E. MAIN ST., –, MERRILL, WI, 54452
BOOKWORLD SAULT STE MARIE, 404 ASHMUM STREET, –, SAULT SAINTE MARIE, MI, 49783
BOOKWORLD ST. IGNACE, 52 N. STATE STREET, –, ST IGNACE, MI, 49781
BOOKWORLD WATERTOWN, 300 E. MAIN ST, –, WATERTOWN, WI, 53094
BOOKWORLD PARK RAPIDS, 211 S. MAIN ST, –, PARK RAPIDS, MN, 56470
BOOKWORLD ALBERT LEA, 2510 N. BRIDGE AVE., –, ALBERT LEA, MN, 56007
BOOKWORLD CHARLEVOIX, 407 BRIDGE STREET, –, CHARLEVOIX, MI, 49720
BOOKWORLD STEVENS POINT, 1136 MAIN, –, STEVENS POINT, WI, 54481
BOOKWORLD RHINELANDER, 58 N. BROWN, –, RHINELANDER, WI, 54501
BOOKWORLD MINOCQUA, 522 ONEIDA, –, MINOCQUA, WI, 54548
BOOKWORLD MARQUETTE, 136 W WASHINGTON STREET, –, MARQUETTE, MI, 49855
BOOKWORLD ESCANABA, 301 NORTH LINCOLN SUITE #29, DELTA PLAZA MALL, ESCANABA, MI, 49829
BOOKWORLD WILLMAR, KANDI MALL, 1605 FIRST STREET UNIT A-10, WILLMAR, MN, 56201
BOOKWORLD ALEXANDRIA, 3015 HWY 29 SOUTH, (VIKING PLAZA), ALEXANDRIA, MN, 56308
BOOKWORLD BEMIDJI, 316 BELTRAMI AVE. NW, –, BEMIDJI, MN, 56601
BOOKWORLD BAXTER, 15528 EDGEWOOD DR., –, BAXTER, MN, 56425
BOOKWORLD- MASON CITY, 100 S FEDERAL WAY, 303 SOUTH BRIDGE MALL, MASON CITY, IA, 50401
BOOKWORLD-STERLING, 2900 EAST LINCOLN WAY, NORTHLAND MALL, STERLING, IL, 61081
BOOKWORLD-FREEPORT, 1848 S WEST AVE, –, FREEPORT, IL, 61032
BOOKWORLD-FORT DODGE, 217 S 25TH STREET, CROSSROADS MALL, FORT DODGE, IA, 50501