This flyer just went up on the Facebook page for the 2nd Battalion, 508th Parachute Infantry Regiment, 4th Brigade Combat Team, 82nd Airborne… (or simply 2-508 PIR). They are stationed at Fort Bragg, N.C.
—-
EDIT:
***IMPORTANT UPDATE 2 – They 'fixed' it and reposted it… with a wall of text rant aimed at me. Can't respond their because I'm banned. ***
—-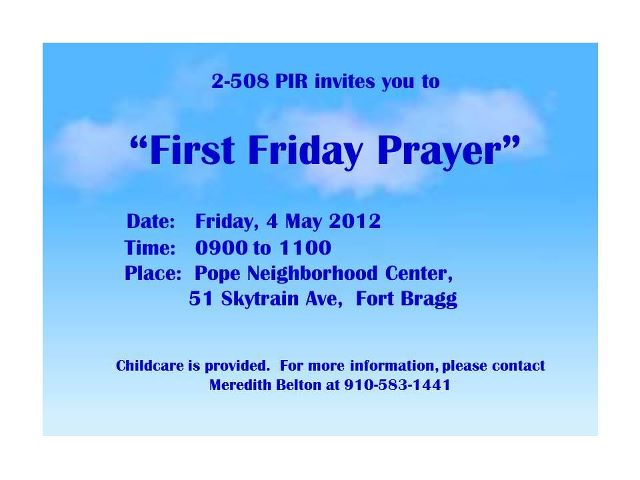 After I asked around, it seems that there is no 'time away from work' opportunity for the non-religious soldiers. Fort Leonardwood had a similar issue in 2008, but they stopped doing this. A story that appeared in over 900 news outlets sums it up:
Americans United for Separation of Church and State sent a letter to the Department of Defense's inspector general, asking for an investigation into the Sunday evening event, whose name was recently changed from "Free Day Away" to "Tabernacle Baptist Church Retreat Program." The Tabernacle Baptist Church in Lebanon, Mo., has hosted the event for soldiers from the Missouri post since 1971.

A Fort Leonard Wood spokesman said the program is voluntary, and the church's pastor said it has taken steps to ensure that soldiers know they will hear a religious message if they attend.

But Americans United's executive director, the Rev. Barry Lynn, said soldiers at Fort Leonard Wood must either attend the program or stay on post.

"That's not the kind of choice that ought be to be given to soldiers," said Lynn, who described the practice as "coercive evangelism."
They seem to have three options:
schedule this during non-duty hours,
excuse people from work who also don't want to attend  this – or any – religious function,
force another 'limited public forum' where every one of the hundreds of religious preferences in Fort Bragg's demographics get their own event (with child care…)
The first two options would be easiest to implement. I suppose a fourth option of simply not doing this stuff goes without screaming.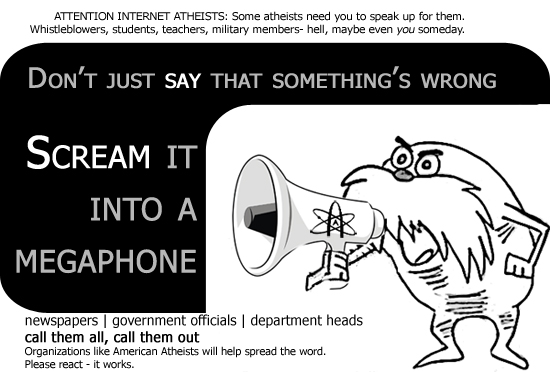 Okay, internet atheists – this is one of those times where people need you to speak out for them. Be like the Lorax with a megaphone. If you choose to participate in the conversation, do so with respect. Do not engage in flame wars, and do not attack religious people (and this is not the time to attack their beliefs). We are aiming for equality.
Please (respectfully!) leave your opinion on the 2-508 PIR Facebook page.
This one of my comments:
Yes, but it's during the duty day. Are there equal 'time away from work' opportunities for non-religious soldiers?

I'm all for religious soldiers getting their needs fulfilled (free exercise clause of the US Constitution is important). However, if you do not provide the same 'time off work' opportunity to non-religious soldiers (with free child care), they are effectively being punished for not being religious. Do they not deserve a break to contemplate, have fun with their families, and growth in their community?

Perhaps most importantly, it sets up non-religious soldiers with their religious peers' workload.
Do it like that.