We need quality control, and that's what Martin Wagner's blog post was all about. I just disagree with him for his sloppy aim, misdirecting his valid criticism. He praised an American Atheists billboard (that he didn't realize was from AA) (EDIT: Michael from the Mid-Ohio atheists explains how we were both wrong about this in his excellent post – the message of this sign is more complicated than we realized), as an example of what AA billboards should look like (instead of 'fail' and 'embarrassing all of us').
You'll notice from my initial response to Martin Wagner that I didn't even see that this next billboard may sound illogical to people. I pointed to this one because it had AA logo on it, and was part of the same campaign that Martin praised.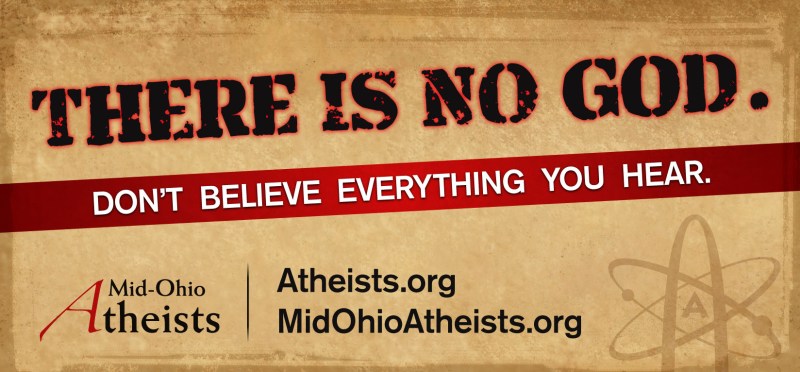 But then people left comments, rationally explaining how they interpreted it. Now, that illogical statement is staring me right in the face. "There is no god" immediately followed with "Don't believe the thing you just heard".
I mean, I still think it's pedantic. If you take things this far, why not go one step further: you don't 'hear' billboards. However, it's plain that a lot of people instantly thought this, therefore it's not as effective as it could be. This is far from a disaster, but I personally would have conceded the point and voted against this one. I do like the visual appearance of it, but I'd change the wording (or scrap it). [UPDATE: There is a really interesting back story to this particular billboard. I am now in the 'voting for it' camp…]
See? Criticism worked, instantly! However, nobody said it at the real life meeting about this billboard. I always try to surround myself with people who tell me I'm wrong (and are logical and reasonable about it). Many local leaders haven't learned this lesson just yet – but they will.
Now for the titular photograph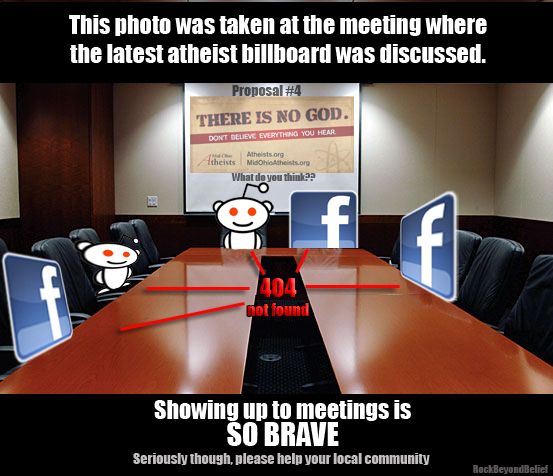 I'm sincerely grateful that the online community gives enough of a shit to be fearlessly critical. There is room at the table for that criticism in real life. That table has a lot of empty seats with your names on them – in every city. Maybe take some of the burden off the heavy lifters, write some clever billboard campaign slogans, or reuse and re-purpose existing ones that you thought were successful. Give these suggestions to your local group's leadership at the meetings. Those well-versed in the internet atheist subcultures on blogs, reddit and Facebook have a familiarity with the subject that translates very well to real life activism.
Turn the highway into reddit
Wouldn't r/atheism addicts love to see that clever image plastered 20′ x 60′ on the side a fucking highway? Well, make it happen! The internet is hording all this goddamn talent. I'm a reddit junkie too, but real life atheist activists are So brave. (for those not familiar with the 'So brave' meme)
Perhaps even try to be willing to be the 'billboard guy / girl'. Take on the logistics of the task all by yourself – sniffing out funding, researching the law, contacting the local billboard companies… you could do this in a single day if you were part of a meaningful community. You'd already largely know the ropes and how to make it happen. The learning curve is not that steep, and there is ample opportunity for creative input / output.
Even if you don't want to take charge – there is a spot for you in your local community. Vote on issues, tactics, policies. Show up to goofy little protests, movie nights, speaker meetings, pub crawls – it's all there. You will 'level up' if you become active in your local atheist community. I wouldn't have believed it until I tried it.
You have a booger on your face
At the very least, help us with quality control (more than [valid] criticism after the fact on the internet). I want to know if I have a booger on my face… don't let me walk around all day with that shit dangling there. Be helpful, let your local group know if they've got boogies too. Show up to the meeting!
We are even trying to take the conversation to the internet. American Atheists are funding 30 billboards soon. We got 8 submissions last time we asked and most were unusable. Dig through your saved images, or some other source. Read the rules I explained at the end of this post. Send us something!
Why are we even still doing billboards?
The first billboard campaign was revolutionary. New ones aren't. They are actually still very important, because they actually work! They are not really designed to 'de-convert' religious people or 'de-stigmatize' the atheist community – though some may do this. The real power behind them is their demonstrable effect on the local atheist community.
Billboards are a recruitment tool, aimed at uncommitted or otherwise inhibited atheists. Even a failed billboard message still shows others that there are indeed more people like them. A better message would accomplish this better but the lesser message still reaches some. Every single city that runs them reports the same drastic effect on their local group's membership (UP!)
So what! Who cares about growing a local atheist community?
You care. Or at least I happen to think that you should care.
The rapid uptick in community-building breeds a whole new front in the greater conversation. Activism, litigation, social interaction, visibility (beyond billboards) – all of this is exponentially more likely to happen with a solid base.
It's arguable that right now the tangible front of the movement in this nation is resting on the shoulders of a hundred or so local leaders. They aren't perfect at everything, and they have a fierce support system of other people who aren't perfect at everything.On top of all of that, they are overwhelmingly outnumbered, outfunded, and often out-maneuvered by their more experienced and more ruthless theist rivals. Local leadership is spread so thin, and wins so rarely, sniped at from all angles (even within)… some don't last very long.
The leaders who stick around long enough to put up a billboard deserve some fucking medals. That being said, if you are reading this right now – join and/or start a group.