The shocking mandatory 'spiritual fitness' and candlelight prayer at 264th Medical Battalion has received national media attention. Public Affairs for Fort Sam Houston released a statement to the press indicating that an official investigation has been launched.
The right way to do damage control
"The entire AMEDD Center and School was undergoing Suicide Prevention Awareness, Education and Training. This is  critically important training being conducted Army-wide. We take this training seriously. We are working hard to reduce suicides in our ranks.

There have been allegations of a violation of religious freedoms from one particular suicide prevention training session. All the facts are unknown at this time. One or more Soldiers complained that this violated their religious rights. We take these allegations seriously. We respect religious freedoms of all those on our team.

We are investigating in order to gather the facts, details and sort through what had happened, why and if any violations had occurred.

We will not speculate as to the details of what happened nor attribute any blame until we know the facts."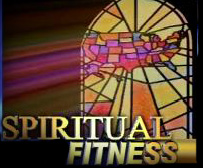 They calmly announced that they are taking it seriously, and explained that an investigation has been launched.
Note that this happened at one single training session. Many more suicide prevention training sessions were held at Fort Sam Houston that day. Countless more were also conducted at other Army bases (including my unit, which did a fantastic job). Not a single other base thought it was a good idea to trap nearly a thousand soldiers at a candlelight prayer in order to prevent suicide.
It's comforting that this was indeed an isolated incident of abuse. However, the abuse is clear as day, and several regulations were most certainly violated. I look forward to reading the final outcome. I believe the commanders Fort Sam Houston Garrison and the 32nd Medical Brigade are indeed taking this seriously.
But not everyone got the 'give a shit' memo…
The wrong way to do damage control
Another comforting fact is that this public statement directly contrasts what appeared days earlier in the story by Andrea Stone at the Huffington Post:
Maj. S. Justin Platt, an Army spokesman, said in a written statement provided to HuffPost:
"[The Army] provided candles as a symbol of unity among all the Soldiers of the command and metaphorically to indicate coming out of darkness when one feels helpless or hopeless."The Battalion Chaplain spoke to the companies gathered in the theater and he encouraged the young Soldiers to lean on a higher power in their journey through life.

"The chaplain's prayer had no reference to any specific deity, and ended with the words, 'through your holy name.' This is the same ending offered during each training course graduation ceremony, or other military-sponsored event.

"The Army is cognizant of our Soldiers' religious freedoms, and would never violate their free exercise of religion or choice not to profess a religious faith."
"Candle as a symbol of unity"
The Christian chaplain provided candles as a symbol of unity among all the Soldiers? Or was it because the candle is a Christian symbol that the chaplain is inappropriately applying to everyone?
Hypothetically, let's say that I'm in a unit that was struggling with low morale for some reason. Perhaps we just found out we had to perform some mindless physical labor in a surprise 'area beautification detail' all week long. If somebody started passing out 'unity candles', I'm pretty sure that somebody would get his ass kicked. This is just stupid outside of the context of religious expression, and everybody sees right through this shoddy attempt at damage control.
The myth of non-sectarian prayer
Omitting 'Jesus' from the end of an otherwise Christian prayer does not mean the prayer somehow transforms into a universal and non-sectarian prayer. It's still Christian. No Muslim soldiers were allowed time to pull out a smart phone and orient themselves towards Mecca. Buddhists don't even pray. Pagan and Hindu soldiers worship many deities, so the monotheistic bent is not appropriate (singular 'through your holy name'). All prayer needs to be opt-in.
Smokescreen
This also does a good job at changing the subject. We're now focusing on the 'prayer' which was only a small part of the troubling session. It included lengthy 'Spiritual Fitness' training, led by a chaplain.
A Chaplain's guide to Spiritual Fitness
This is what 'Spiritual Fitness' looks like in the hands of a chaplain… This is from my unit. I received dozens of these over the years. Often they were left on my desk by anonymous soldiers, other times they were handed to me directly by chaplains and chaplain's assistants.
Basically the only page in the whole pamphlet that didn't have Jesus on it was the first page, and it said "This page intentionally left blank." It was all downhill from there.
These weren't mandatory, and don't break any regulations – so I redacted identifying features. But put your thinking caps on. This is precisely the type of crap that the 800 soldiers at Fort Sam Houston (including over 20% non-Christians) were forced to sit through while wielding battery-powered plastic candles.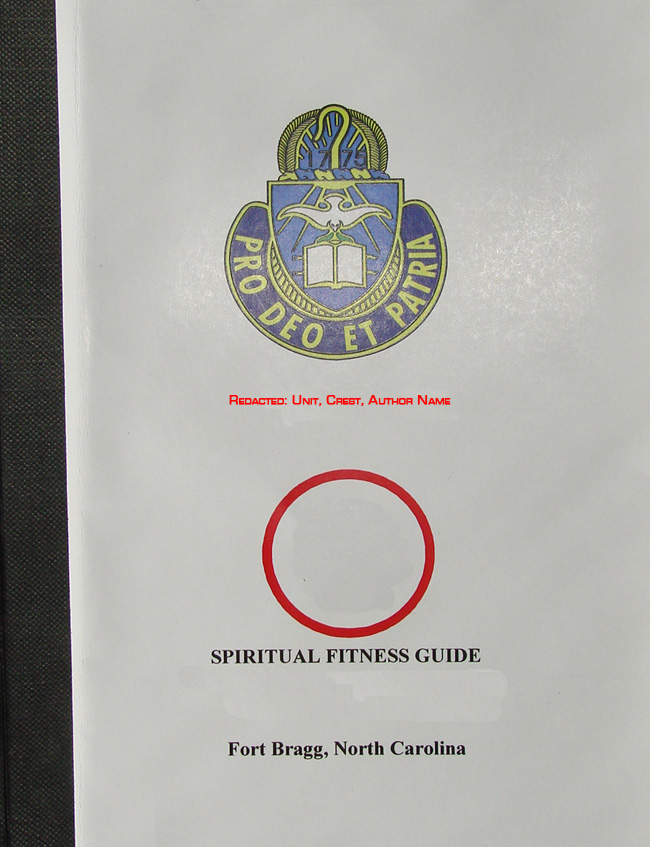 -This thing is nuts, but it's a bit long so I hid it below the fold. Definitely worth reading, and there is awesome stuff down there after the 'skimmable' 67 page Spiritual Fitness Guide.-
That's what you can expect from chaplains in charge of the 'Spiritual Fitness' concept.
I handed out my copies of the Spiritual Fitness Guide to reporters. Most of those reporters still went with a 'two sides to every story' angle, and quoted Army spokespeople saying that Spiritual Fitness had 'nothing to do with religion… it's about team spirit and human spirit'.
This line of bullshit that the media kept repeating inspired me to blog in the first place. It's almost as if they were *daring me* to start blogging about spiritual fitness…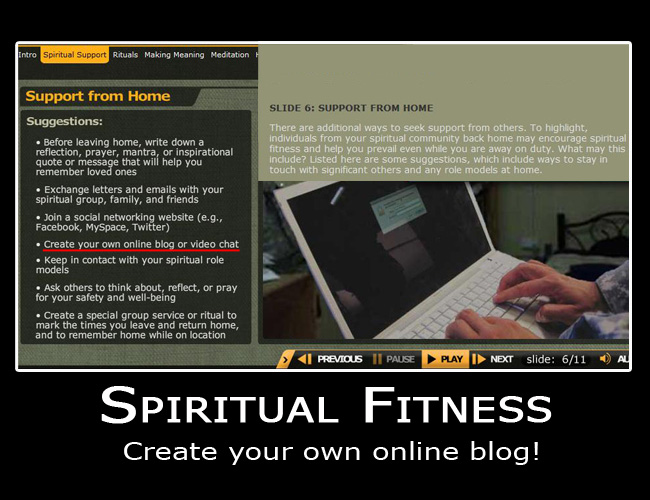 This is a small portion of the online Spiritual Fitness training, resembling much of the standard 'live training'. It's representative of the whole, and there is very little non-religious content.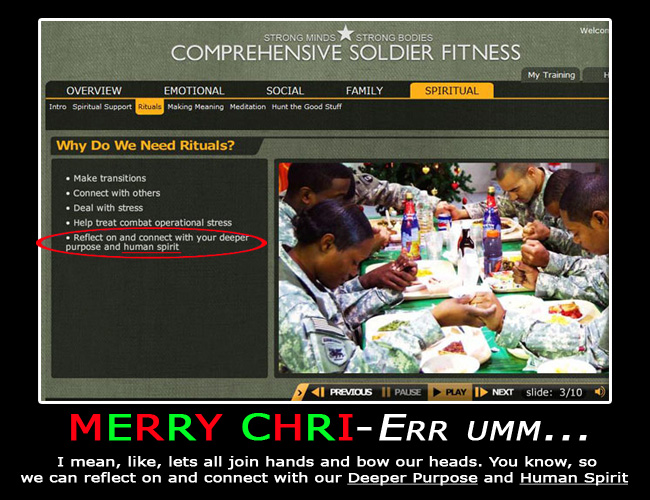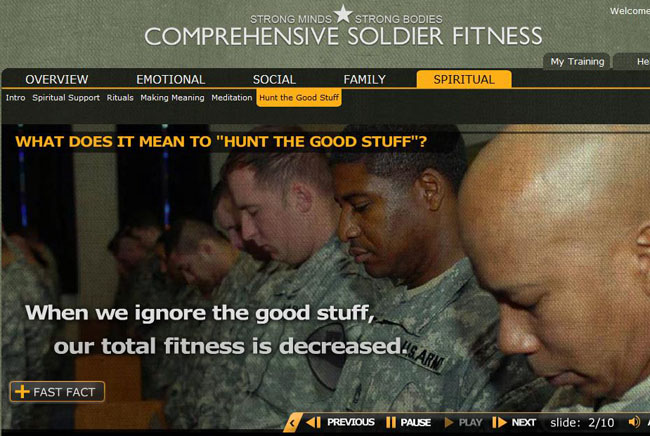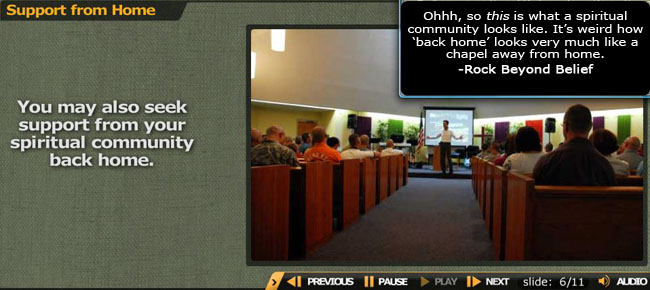 Soldiers who complain are 'whiners'
That story has received a dizzying 2700+ comments since it hit the HuffPo. There are many trolls accusing the complaining soldiers, including whistle-blower Staff Sgt. Victoria Gettman, of being 'whiners'. They don't have a clue.
Spiritual Fitness directly fucks over Christians too!
A colleague of Staff Sgt. Gettman who identified as an agnostic thought the training was great. He is what many of us call a 'nagnostic'. While he did leave a lengthy, coherent comment on my blog (and I believe arguing in good faith), he was way off. He argued along the MRT-training slides, about 'spirituality' as a medical concept. I suppose he figures that the battery-powered candles were medical devices…?
Since I started speaking up about this to the national press, the US Army released an 'All Army Activities' (ALARACT) message declaring the online Spiritual Fitness training can no longer be mandatory. It's time to have the same situation for offline Spiritual Fitness. Opt-in ONLY. Not mandatory, and not opt-out. Even opt-out situations would force fearful closeted non-believers into publicly identifying themselves, and a whole host of other issues.
Now, thanks to the brave actions of a single foxhole atheist, at least we have an official investigation. It's also clear that the public is beginning to get it. For every troll on that HuffPo article, there were many more people swatting them away – including plenty of Christians. Somebody buy Staff Sergeant Gettman a beer immediately!