I'm not talking about the polarizing EvoPsych related to gender, sexism, shopping, or even humans. I'm talking about dogs!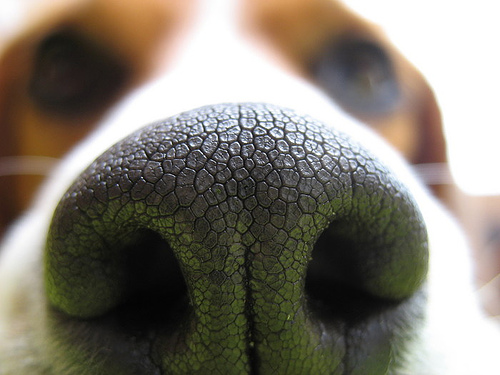 National Geographic filmed 'The Science of Dogs' a few years back. I found a particular segment to be relevant to recent blog posts regarding EvoPsych.
The psychology of a dog's degree of 'human suggestibility' is tested against a similar group of wolves.
www.youtube.com/embed/iDt0ZygNUNQ#t=2314
That's pretty cool. At the 41:00 mark, the dogs are tested and unsurprisingly – are highly suggestible. The real cool stuff happens at 41:36 when the wolves are clearly uninterested in the humans in the same situation.
This post is not intended to suggest that 5 minutes on Nat Geo should count as a rigorous defense of the field. In fact, I'd like to recommend this critique in PLOS Biology (thanks, jose!) It's got some well-laid out problems with the field of EP. Curiously, it frames much of the criticism as a past tense problem ('traditional EP') and suggests some quality control measures already are (or should be more rigorously) applied by present day scientists ('modern EP').
I'm quoting from sections that aren't particularly critical, for what it's worth.
Towards a New Science of the Evolution of the Mind

We have reviewed how developments in a number of scientific fields have called into question the key tenets of EP. Fortunately, these developments do not just create problems for EP, but also suggest potential solutions. We argue that the key factor will be the methodological and conceptual integration of EP with adjacent fields.

Traditionally, EP has tested hypotheses using the conventional tools of psychology (questionnaires, computer-based experiments, etc.). Generally these hypotheses have a functional perspective—that is, EP proposes that a particular mechanism functioned to enhance reproductive success in our ancestors.

However, Nobel laureate Niko Tinbergen famously proposed that understanding behavior requires comprehension not only of its function and evolution, but also of its causation and development, and he argued that a complete understanding of behavior involves addressing all four of these questions. These distinctions are relevant because accounts of the evolution of brain and cognition cannot in themselves explain the brain's underlying working mechanisms, since these are logically distinct questions. While evolutionary analyses may generate clues as to the mechanisms of human cognition, these are best regarded as hypotheses, not established explanations, that need to be tested empirically, and there are instances where such evolutionary hypotheses about mechanisms have had to be rejected. Here, we ask which of Tinbergen's questions is currently addressed in the field of EP and describe how EP could expand its focus to provide a broader and richer understanding of human behaviour.

…
I suggest that the experiment in the video does seem to satisfy the four questions as proposed by Niko Tinbergen. The trickiest seem to be the two associated with the deep past. Fortunately, the dog's journey away from its grey wolf ancestors is recent by evolutionary standards. It must be a lot easier to do direct observational science than to attempt extremely clever alternate methods (still perfectly reasonable).
…

Similarly, EP has engaged in a longstanding debate with advocates of cultural evolution over whether human social learning is governed by evolved content biases (e.g., choose the sugar-rich food) or by domain-general context biases (e.g., conform to the local norm). There is sufficient empirical evidence for the deployment of context biases, such as conformity or prestige bias, to render the casual dismissal of transmitted culture counterproductive. A broader EP could actively pursue these questions, by testing experimentally whether human social learning is dominated by content or context biases, and by investigating the factors that affect reliance on each. The finding that innovation, social learning, and other aspects of development are capable of introducing novelty into phenotype design space, thereby establishing new selective scenarios, opens up new opportunities for investigating evolutionary novelty to which social scientists can actively participate.
This experiment with wolves and dogs seems to be an example of content-biased evolution, to my untrained eye. They familiarized a pack of wolves with humans, but didn't get the same results. The trait wasn't example of  conforming to the local norm, because wolves didn't socially acquire it despite the opportunity. Instead, the trait appears better explained by ancestral dogs' increasing reliance on human-controlled resources. Interesting, as it seems to buck the trend (if my understanding is close enough).
One more apparent instance of evopsych in dogs
(below the fold) 
Genes that tend to give rise to Obsessive-Compulsive Disorder (or the doggie equivalent) seem to plague this breed:
www.youtube.com/embed/iDt0ZygNUNQ#t=1854
It's kind of depressing. I have no idea how well the science behind this diagnosis was formed, and don't accept it as irrefutable fact. The expert said so, and I can't trump that as a layman. Other potential EP-related factors might cause similar symptoms. We've created breeds of herding dogs, and they often exhibit obsessive circling behavior. In what are probably too tight of spaces for the breeds, they've may even aggressively 'herd' toys, and children.
Neat stuff. Once again, I'm a layman. Perhaps these are terrible examples of EP, though I think they're strong 'proof of concept' if nothing else. I'd love to see Chris Hallquist or Ed Clint weigh in on these examples. I'm also looking forward to more calm rational dialog from the (mostly) excellent commentariat I've seen over the last few posts about EP.