For some reason, Lousy Canuck defends lies about me while he talks about*  a man who was kicked off this blogging network for the exact type of harassment that we all rail against.He argues that we're all living in different parallel universes. I think he's right.
*(holiday edit)
And then there's when Greg Laden says he wants to kick Justin Griffith's ass for defending the serial harassers, and that's a breach of protocol worthy of condemnation and drumming out of the movement and exorcism and blood-letting and possibly chemical castration (and all of this despite the apology(ies?) from Greg to Justin and the begging-for-forgiveness from Justin to Greg and the hour-long Skype conversation they apparently had; and all BEFORE Justin decided to go ahead and post the first letter in the email exchange without any of the rest of the context).

But Justin is okay with Mykeru spending a month denigrating both Stephanie and Greg, and challenging Greg to MMA fights, and kicking Greg's ass (and cunt); et cetera, ad nauseum, for a month. That's all perfectly okay and just civil disagreement. They're just rivals.

Can you please grow a set of principles? Just try being consistent for once. For fucking once. Please. I beg of you.
I'll have to break this down into segments because you've managed to get so much wrong.
Lousy Canuck:

And then there's when Greg Laden says he wants to kick Justin Griffith's ass for defending the serial harassers
"kick Justin Griffith's ass"
That's not even close to everything that he said. Here's what he wrote to me that got him booted from FtB.
Justin,
What I said in a public comment (that you should grow up) is the ultra mild version. What I said on the mailing list is still the mild version. Here's the real version and it is the last thing you are ever going to hear from me until you have issued a fully adequate and very public apology to everyone you've offended. I say that fully knowing that you do not have to issue such an apology. All you get if you do is that I recognize that you exist. You certainly don't need me thinking of you as a human being.
Justin, have you ever killed anyone? By that, I mean, in your tours of duty, did you ever have someone you know die and that happened because you failed to do something, or worse, because you DID do something? I'm thinking not. I'm thinking you probably are a good soldier. You probably didn't do that.
But, Justin, if you were me, and Abbie Smith's slimepit was after you like they've been after me, that is what it would say on the internet, dude. It would say that you were responsible for the death of fellow soldiers. It would say that all over Abbies blog. Why? Because that is how they could hurt you, both personally and professionally.
I have to live with the fact that when my son gets old enough to surf the web he is going to see horrific things, terrible accusations and horrible insults, about his daddy. It does not matter if they are accurate or not. (They're not, in case you were wondering).
Think about that. You fucking shit.
Now, get forever out of my life. Do not turn back. You do not deserve to even know the people you've insulted in that idiotic post you wrote. Don't ever, ever find yourself in my presence or think you deserve to breath the air that I, and Jen, and Stephanie, and Gret and Ophelia and PZ and the rest of us breath, because you do not.
If you do make that apology it better be from laying face down in the mud.
Have a nice day and kiss my ass.
Greg
PS, don't you dare ask, ever again, for an upvote or any other support from your colleagues. I'll kick your fucking ass if you do. You will regret it. (Unless that apology is forthcoming.)
That was not even the last time he'd say your oversimplified: 'he wanted to kick my ass.' He repeated this several months later.
I can't believe I'm even having this discussion. How is the above defensible at all?
"for defending the serial harassers"
I never defended the serial harassers. I specifically condemned harassment in every post. It was a nuanced but consistent attack AGAINST the use of gendered slurs on other people's blogs and such.
My high-crime was writing this sentence: "I support Abbie Smith, I don't support everything she says or does…" as a part of foolish plea for peace. I don't think somebody's career should be threatened just because they've called a woman a 'bitch'. I think they all deserve a chance to learn not to use gendered slurs.
Likewise, going to just about any comedy club, listening to George Carlin comedy albums, watching South Park, listening to Sonic Youth, or otherwise consuming, referencing, or discussing art is a different and important context. [NOT a justification for harassment, don't quote mine me. I'm explaining what my 'high crime' post was about.] 
Lousy Canuck:

"and that's a breach of protocol worthy of condemnation and drumming out of the movement"
That wasn't my wish at first, though it certainly is now. Right before I made Laden's threats public, I called Ed Brayton and asked him not to boot Laden. My thinking was naive and even bureaucratic: 'FtB didn't have a policy in place, therefore Laden broke no rules.'
Ed made the right call.
Lousy Canuck:

(and all of this despite the apology(ies?) from Greg to Justin
Greg did not apologize. He did the opposite. Are you calling his "Sometimes the bad guys win" post an apology? Or perhaps this notpology?
Surely you're not referring to the days and days of dog-piling he encouraged from all of you? Look back through the archives, though I think you remember what's there. Look at the first three days.That's not apologizing. Then look at his exit. That red-faced embarrassed flounce, he knew what he did.
That flounce reminded me of my sister. One day, I didn't see her on the bus home from school. She showed up ten minutes after me, pounding on the door. I opened it quickly and she said "Are happy now?!? I peed my pants!!!" As if it was my fault, or as if to suggest that she just peed her pants and wouldn't have, if only I hadn't 'locked the door' like an evil brother. It was clear that she peed her pants much earlier.
Greg Laden did much worse than pee his pants and blame somebody else. He threatened, harassed, bullied, and encouraged all of my peers to join in. Then he got booted. Then he wrote about how awful I am a few times. Then months later, he repeated the 'kick his ass' line.
So I ask you, where's this supposedly meaningful apology?
Lousy Canuck:

and the begging-for-forgiveness from Justin to Greg
Are you referring to my reply to his threatening letter? I replied an hour after he wrote what I would normally have forwarded to the FBI. I'm an activist who deals with many threats from religious people, often military veterans – (read: good with guns, increased chance of ownership, increased chance of mental health issues, etc.)
I never begged for forgiveness from Greg Laden. An hour or so after he sent me that threatening email, I replied with this. This is what he describes as incoherent drunken babbling.
Please, this is hurtful man. Let's talk on the phone tomorrow. I am apologizing, and I think you should realize that I am making rookie mistakes. I didn't read the backchannel yet, though I assumed that it was okay to be stupid sometimes and then learn from mistakes.
You ask if I ever killed anyone or if my actions ever lead anyone to their deaths. The answer is YES. Several people have died at my hands. I have almost killed myself from the guilt several times. I feel like a goddamned serial killer. And the blood on my hands is from well before my entry into the military.
I was a heroin addict for several years. I introduced many people to heroin, people that are dead now. I was with people the day they died, I've shared needles with people that died. I joined the military to get away from this. "I'd be safer in Afghanistan," I figured. I even gave a soldier their first hit when I relapsed during training (AIT). The last real friend I ever made was a soldier in 2008 that I unknowingly gave his first stamp of heroin. He's now a junkie on the streets. He will die or go to jail that way, and I did that to him – a fellow soldier. All my friends are art-damaged punk rock junkies and I'm the one who fought back. I feel like a fucking serial killer with the clarity of sobriety. I refuse to make friends with people anymore.
How about you help me with the apology. Start compiling names, and I'll do it. Those slimers fucked it up worse than anything you could lob at me could. They are retarded. I was naïve.
By the way, my infant daughter has been threatened by Christians. I get death threats quite regularly. I'm in the news more than most of you, and I open myself up to this stuff. I got a message saying "YOU LOST YOUR SOUL IT WILL BE PAINFUL!!! GOD BLESS YOUR FAMILY IN SPITE OF WHAT I'LL DO!!!"
Lets talk tomorrow, brother. Please call me.
Very respectfully,
Justin Griffith
You know what he wrote back? Nothing. He just continued to bully and harass and get my co-bloggers to join in for days.
Lousy Canuck:

the hour-long Skype conversation they apparently had
Greg Laden heard I was hours away from publishing his threats, so he finally called me. This was a week after the threats and in the middle of a vicious bullying campaign that went on and on, and continued only hours after we hung up.
People are variously described this call incorrectly as:
"Greg apologizing to Justin"
"Justin begging for Greg's forgiveness"
Is that what actually happened? No.
What you find here is a man attempting to shamelessly guilt me into not publishing. He then said, "Ok, well are you planning on criticizing PZ Myers too? He was mean too!" and then kept referring to all the mean things people say to him on the internet… It was very insincere and often coercive with moments of self-serving groveling, that would only wrap around to repeat insults.
Seriously, I'm in the news a LOT. Christians have sent me death threats and even threatened my whole family. I regularly (and wisely) go to the FBI when people issue threats of violence like Laden's *illegal* threatening letter. I get enough of these threats that law enforcement and other activists informed me about phone-recording apps. I did not go to the authorities in Laden's case, a decision I now regret. How many more people is he going to harass?
This was our phone call:
Part two:
Sorry about the times when Laden is difficult to understand. When I don't turn on speaker-phone mode, the app kinda sucks. I didn't expect Laden's last minute hail mary, so he battles the air conditioning and the wrong recording mode. It comes and goes.
Lousy Canuck:

and all BEFORE Justin decided to go ahead and post the first letter in the email exchange without any of the rest of the context.
Now that we've got all the context out there, and corrected your many errors. What was your point?
This man has repeatedly broken the law. Please tell me you're not going to blame the victim…
Lousy Canuck:

But Justin is okay with
Where did you buy that magic mind reader hat? Canada must be fucking awesome.
I have absolutely no opinion on Mykeru. Maybe he's a fucker of the highest caliber. IF HE IS, GIVE ME HIS HOME ADDRESS QUICK!!!! If he is, then it is still irrelevant to Greg Laden's attempt to give out his home address.
Lousy Canuck:

Mykeru spending a month denigrating both Stephanie and Greg, and challenging Greg to MMA fights, and kicking Greg's ass (and cunt); et cetera, ad nauseum, for a month. That's all perfectly okay and just civil disagreement. They're just rivals.
I had not seen that, nor did I ever imply that Mykeru is nice, or should be defended. People told me Greg Laden was at it again, bullying and demanding home addresses of other people.
Seriously what the fuck is the point of learning somebody's home address? Even if Mykeru threatened to kick Greg's ass (and cunt) [<— how is that even possible?] nothing should make Greg write back with demands for a home address. Nothing should make him release the home address to the public. And nothing should make you attempt to mitigate the fallout from his pattern of bullying.
Let me take a cue from PZ Myers.
www.youtube.com/embed/gqH_0LPVoho
For those with no irony-detection: PZ famously referred to Al Stefanelli with a similar song, because Al was friends with a person who is allegedly sexist (though the song was about racism). If we're allowed to do guilt by association and change the intent of a song, then Lousy Canuck is racist is friends with a known bully / harasser / person who issues violent threats and gets kicked off FtB.
Days after the initial threats came out and Laden was booted, a few of my pals / cobloggers even raised a toast in his honor!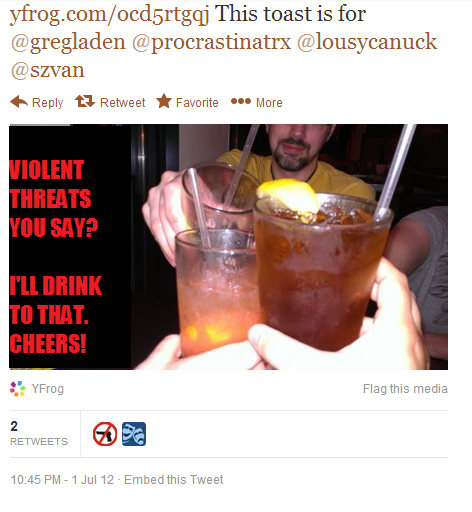 By your logic, I should be sharing a beer with you toasting Mykeru, you know because of the high price he paid. Challenging someone to an MMA match seems like a proposal to meet on even terms. As long as both parties agree, I really don't have a problem with it. Especially when Greg Laden repeatedly demands to know where Mykeru lives.
Whatever, keep your friend, LC. I won't participate in guilt by association. It goes beyond association when you praise someone.
Conclusion
I'm going to compile a list of people who could potentially legitimately need the home address of somebody you disagree with on the internet (no matter how strongly, or how badly they acted).
1) Police or similar authority.
2) the internet (seriously, never this.)
Let's just say Mykeru is the worst asshole on the planet. Worse than Greg Laden even. Just imagine more threats, cyber-stalking, and harassment than any one else. Are you thinking about David Mabus? I am.
Do we need to know the home address of David Mabus? Not really.
Would we publish the home address of David Mabus anywhere on the internet for any reason? No.
Who the fuck does Greg Laden think he is, Dexter? Seeking out this information is indicative of a bully who seeks to encourage violence (or instill the fear of violence) by proxy. It's indefensible, at least in my universe. What's the weather like in yours?