This isn't related to atheism or the military, except as it relates to abortion restrictions and the fact that most of those restrictions are put in place by religious people who think they are doing the work of their god.
When I first heard about North Carolina senate bill 353, I thought it was a joke right out of the Onion.  After all, who in their right minds would possibly think to link abortion restrictions to motorcycle safety?  Well, as it turns out, the North Carolina senate, that's who.  Here's the bill: 
AN ACT TO MODIFY CERTAIN LAWS PERTAINING TO ABORTION, TO LIMIT ABORTION COVERAGE UNDER HEALTH INSURANCE PLANS OFFERED UNDER A HEALTH BENEFIT EXCHANGE OPERATING IN NORTH CAROLINA OR OFFERED BY A COUNTY OR MUNICIPALITY, TO PROHIBIT A PERSON FROM PERFORMING OR ATTEMPTING TO PERFORM AN ABORTION WHEN THE SEX OF THE UNBORN CHILD IS A SIGNIFICANT FACTOR IN SEEKING THE ABORTION, TO DIRECT THE DEPARTMENT OF HEALTH AND HUMAN SERVICES TO AMEND RULES AND CONDUCT A STUDY PERTAINING TO CLINICS CERTIFIED BY THE DEPARTMENT OF HEALTH AND HUMAN SERVICES TO BE SUITABLE FACILITIES FOR THE PERFORMANCE OF ABORTIONS, TO AMEND THE WOMEN'S RIGHT TO KNOW ACT, AND TO INCREASE PENALTIES FOR UNSAFE MOVEMENTS BY DRIVERS THAT THREATEN THE PROPERTY AND SAFETY OF MOTORCYCLISTS.
In a sneaky, unethical, and abhorrent bit of political slight of hand, the abortion restrictions were quietly added to what was initially a perfectly reasonable motorcycle safety provision in such a way that no public debate was possible.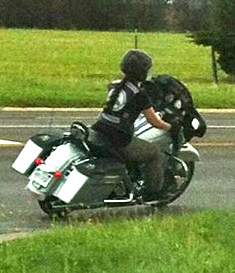 As a female biker, it is deeply OFFENSIVE to me that my rights would be sacrificed to my safety.
It's not too late to help, by going here:
https://www.aclu.org/secure/NC-abortion-SB353?ms=tw_acluaction_NCAbortion-SB353_130725