The man Walt Disney, a shrewd businessman behind his toothy grin, would no doubt be proud of his company's yearly profits in the multi-billions. But it's inarguable that his behemoth corporation is an originality killer.
Take Star Wars. It was already moribund, thanks to George Lucas' inert prequels, but Disney's choice to excrete one space saga a year put the nails in this franchise's creativity coffin.
Pixar is more of a mixed bag, its artful animation and storytelling frequently conquering the profit motive. Even here, however, Disney's greed has not been good to them. A scan of their first ten movies, all excellent, shows a lone instance of a sequel, 1999's Toy Story 2.
By contrast, four of their last five films have been sequels. Not surprisingly, the single holdout against sequelitis, Coco, was the finest of the five.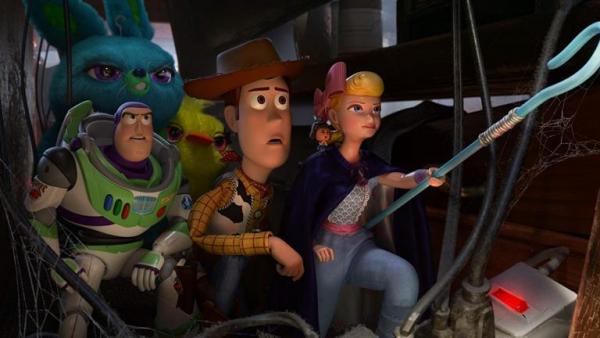 Toy Story 4, their latest, is quite enjoyable, though. And if Pixar and Disney can resist filthy lucre's siren call to make a fifth, it will be a satisfying conclusion to this franchise.
It sure as heck is an improvement over the third. Despite a 98% "fresh" count at Rotten Tomatoes, I found it cacophonous and overstimulating. Still worse, a major theme of Toy Story 3 was the enslaved status of its protagonists, to which the film's writers were completely tone-deaf and insensitive.
Toy Story 4 doesn't fully shake the disquieting implications of sentient anthropomorphic figures belonging to bigger anthropomorphic figures, complete with their owner's name inscribed on their sole (or is it soul?). But fortunately the film has much more to say about the force of love, rather than outdated notions of belonging to a loved one. And like one of Pixar's greatest films, Up, it contemplates the finding of meaning when a stage of life has ended, and another has begun.
Woody (voiced again by Tom Hanks) is the toy facing a late life existential crisis. Through a beautiful montage spanning nine years, it shows him twirling in the hands of first Andy, then Bonnie. Accompanied once more by the charming, folksy music of Randy Newman, Woody thrives and delights in his connection to these kids, despite offering a sad goodbye to Bo Peep (Annie Potts), boxed up and carted off to parts unknown.
But now, Woody finds that he's increasingly left in the closet, while other toys take a central place in Bonnie's heart. Stranger yet, Forky, created by Bonnie out of a spork, pipe cleaner, and glued-on googly eyes, has become the girl's security blanket as she prepares to enter kindergarten.
As Bonnie and her parents embark on a pre-K vacation, Woody exhausts himself with rescuing Forky. Unable to accept that he's a toy, not trash, Forky is ever hurling himself at every passing garbage receptacle. On one such rescue mission, Woody thinks he sees Bo Peep in the window of an Old West antique shop, sending him on a subplot that turns major.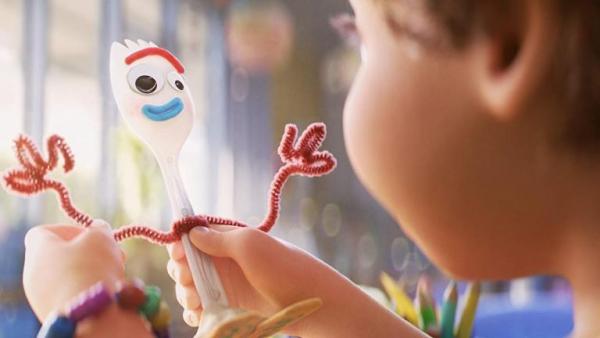 First-time feature director Josh Cooley does an excellent job juggling multiple stories and keeping the film's through-line coherent. The screenplay, by Pixar veteran Andrew Stanton and newcomer Stephany Folsom, wraps the story up nicely. Only one subplot, involving an antique doll named Gabby Gabby, feels too rushed in its resolution. Also on the bright side, this Toy Story doesn't fully yield to 2 and 3's used-up formula of a good toy/bad toy showdown.
All of the original voice talent is back, including Tim Allen as Buzz Lightyear and Joan Cusack as cowgirl Jessie. Even Don Rickles returns from the grave as Mr. Potato Head, thanks to archival recordings from the Pixar vault.
Some new voices add welcome comedy and high jinks. Tony Hale, of Arrested Development and Veep fame, is a hoot as Forky. Jordan Peele and Keegan-Michael Key play carnival stuffed animals Bunny and Ducky hilariously, if over the top at times. My favorite addition was Keanu Reeves as brave but not terribly bright Duke Caboom, Canada's answer to the similarly tempered Evel Knievel.
As always, the visuals in this Pixar film are top notch. From the beautifully rendered downpour of the opening scene, to the western U.S. vistas of the family road trip, Toy Story 4 again shows that Pixar is second only to Japan's Studio Ghibli for consistently gorgeous, detailed animation. Here's hoping they can say, "Get thee behind me, Disney!" to the sequel temptation.
_____
Image credit for star rating: Yasir72.multan CC BY-SA 3.0