As a semi-professional writer it's understandable that I'm pretty consistently making a list of writing goals and trying to figure out how to achieve them. I've been writing on Patheos for about 18 months now and in that time more than a few of my posts have gone viral. My writing has also begun to appear all over the Internet as I've gradually increased the number of topics I write about. This post is for anyone interested in what I want for my future as a writer, especially now that many of my posts are actually being read and shared online by people other than me.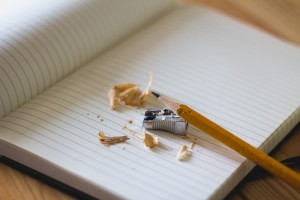 I Have Several Writing Goals:
My writing goals are tied to my favorite topics to cover. I have writing goals related to atheism, Latin America, history, and news. I want August to be a month where I seriously and aggressively write and get new readers almost everyday so my primary writing goals are to write almost everyday and (when it comes to Patheos) create at least 5 new Patheos posts a week, where one or two days a week are considered "part of the weekend" and thus days where I don't feel the need to write. Ultimately I want to use this blog as a general springboard wherein I talk about all of the issues I feel strongly about in a somewhat unorganized way, but so that readers who are interested in my writing can get a feel for it before contacting me or coming to my other more specialized blogs and platforms.
One of my other writing goals isn't just to write more but to begin devoting more time to the causes and issues I care a lot about. For instance: when it comes to the Honduras Report I also want to write at least 5 times a week and get back into covering and translating Honduran news, not least of all because the election is just a few months away. I also want to cover Honduran history and write a single long post a week so that any readers can learn more about Honduran history. As a contributor to various sites such as Latinodad, DLGmedia, Millennial Politics, as well as Vanza, Latism, and a few other sites, I want to begin making regular contributions to my networks and to my digital portfolio. I want to improve my voice by working and writing for these groups as well as increasing the seriousness with which newspapers, and magazines take me as a writer and put value to my voice and to the publications of which I am a contributor.
I know this sort of meta post isn't common and probably shouldn't count as a post but it does because I like letting my readers know what to expect. I also like creating new things for people who enjoy my work to read, particularly as I prepare longer and higher quality pieces that truly deserve to be shared. As I devote more time to writing and get used to being able to write more I hope to lessen the number of posts like this. Until that time comes feel free to let me know what you think of my writing goals and to share your own!