Welcome readers! Please subscribe through the buttons at the right if you enjoy this post.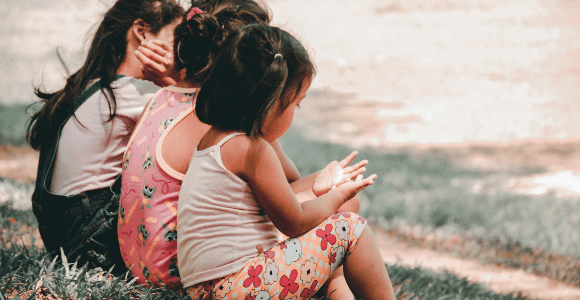 In Matthew's and Luke's gospels we read Jesus' affirmation of the lowest, most dispensable class of humans in that society—children."At that time Jesus said, 'I praise you, Father, Lord of heaven and earth, because you have hidden these things from the wise and learned, and revealed them to little children. Yes, Father, for this is what you were pleased to do.'" (Matthew 11:25-26, cf. Luke 10:21)
Children in the Jesus Story
The family structure in the communities of the Gospel authors was a hierarchical pyramid with the male patriarch at the top. On the bottom rung of the social ladder, below slaves, were children (see Galatians 4:1).
Social status is typically evaluated by the degree to which one has both power and resources. Those with large measures of control over power and resources operate in higher social positions, while those with very little access to power and resources live at the bottom.
Children have access to neither power nor resources. The typical avenues to power and control of resources are education, income, or work. In our societies, children have none of these, and they are vulnerable to abuse and neglect so child advocacy and children's rights are much needed. Discrimination on the basis of race, gender, sexual orientation, gender identity, national origin, religion, disability, color, or ethnicity is also compounded when it applies to children.
Those on the underside and fringes of our societies often see things that are hidden to the much more educated or those labeled as "sages." It's not the magic of being a child that's being highlighted in our saying this week. It's that children were at the bottom of the social pyramid and among the most vulnerable in Jesus' society.
Children were included in the vulnerable group repeatedly referred to throughout the synoptic Jesus stories as "little ones":
Mark 9:37: "Whoever welcomes one of these little children in my name welcomes me; and whoever welcomes me does not welcome me but the one who sent me."
Mark 9:42: "If anyone causes one of these little ones—those who believe in me—to stumble, it would be better for them if a large millstone were hung around their neck and they were thrown into the sea."
Matthew 10:42: "And if anyone gives even a cup of cold water to one of these little ones who is my disciple, truly I tell you, that person will certainly not lose their reward."
Matthew 18:6: "If anyone causes one of these little ones—those who believe in me—to stumble, it would be better for them to have a large millstone hung around their neck and to be drowned in the depths of the sea."
Matthew 18:10: "See that you do not despise one of these little ones. For I tell you that their angels in heaven always see the face of my Father in heaven."
Luke 9:48: "Then he said to them, 'Whoever welcomes this little child in my name welcomes me; and whoever welcomes me welcomes the one who sent me. For it is the one who is least among you all who is the greatest.'"
Luke 17:2: "It would be better for them to be thrown into the sea with a millstone tied around their neck than to cause one of these little ones to stumble."
The concern for children in our passages is quite astounding for the societal context in which they were written, and we should not just gloss over it. In any society where there are a top and a bottom, a subjugator and an oppressed, an insider and an outsider, the sayings of Jesus are for the bottom of the bottom, the destitute, the oppressed, and the outsider. Reading the Jesus story from within or alongside the perspectives and experiences of those on the fringes and underside of our societies opens to us interpretations of the Jesus story that point toward survival, resistance, liberation, and restoration. We can encounter a radically different Jesus from the Jesus shared by those in positions of power, an idea Gustavo Gutierrez hints at in the following observation:
"Black, Hispanic, and Amerindian theologies in the United States, theologies arising in the complex contexts of Africa, Asia, and the South Pacific, and the especially fruitful thinking of those who have adopted the feminist perspective—all these have meant that for the first time in many centuries theology is being done outside the customary European and North American centers. The result in the so-called First World has been a new kind of dialogue between traditional thinking and new thinking. In addition, outside the Christian sphere efforts are underway to develop liberation theologies from Jewish and Muslim perspectives." (Gustavo Gutierrez, A Theology of Liberation)
The societal position from which one reads the Jesus story makes all the difference in the world! And in the passage above, Jesus is thanking God for things that have been revealed to even the "lowest" sectors of the society he lived in.
Today, it's not much different. If a child belongs to an affluent home, they might be protected from what other children face. But an inner-city child has a much different experience. If that child is a child of color, their experience deteriorates even more. If that inner-city child is also female, it deteriorates even further. And if a child happens to identify as LGBTQ, the underage homeless statistics for LGBT youth are
disproportionally higher
than for any other demographic. For many, the cause is having parents who are Christian fundamentalists and rejecting. There is something wrong with any ethic or morality that causes one to reject one's own children in the name of faithfulness to a god. Christians especially should note that Jesus said the "kingdom" belonged to children.
Consider this passage from Matthew:
"He called a little child to him, and placed the child among them. And he said: 'Truly I tell you, unless you change and become like little children, you will never enter the kingdom of heaven. Therefore, whoever takes the lowest position of this child is the greatest in the kingdom of heaven. And whoever welcomes one such child in my name welcomes me.'" (Matthew 18:2, emphasis added.)
Ultimate, it does not matter how people justify discrimination. My eldest daughter is left-handed, and left-handedness still carries a moral stigma in some cultures. Imagine for a moment that it still did in the United States, and let's say that Christians had a list of Bible verses to ground their prejudice in. To the degree that left-handed members of the human family were treated in any way as less than fully human, even with religious support, they would be included with those that Jesus said the kingdom belongs to.
Catch this: It doesn't matter the reason for subjugation or marginalization in domination systems. It's not the reason for the exclusion that Jesus rejects, but the exclusion itself! Treating someone as less than a child of God, as somehow not fully made in the image of God, as less than human compared to others, subjugates them, and the Jesus of the gospel stories is opposed to that exclusion and marginalization. Jesus always states that the changes he was calling for were good news, or the "gospel," for this group.  Whoever was othered, regardless of why, was the group Jesus said would now be called "blessed!"
A few years ago I attended a gathering of LGBTQ Christians, and then wrote the following words on my website:
"Blessed are those who are gay, for theirs is the kingdom of heaven. Blessed are those who mourn as a result of how they are treated for identifying as lesbian, for they will be comforted. Blessed are the "erased" bisexuals, for they will inherit the earth. Blessed are those who identify as transgender, who hunger and thirst for justice, for they will be filled. Blessed are those who identify as intersex, yet show mercy to their oppressors, for they will be shown mercy. Blessed are the pure in heart, regardless of whether they are mostly straight or mostly queer, for they will see God. Blessed are the peacemakers, wherever they land on the spectrum, for they will be called children of God. And lastly, blessed are those, regardless of their sex/gender/orientation, who are persecuted because of their call for justice, equality and mercy, for theirs is the Kingdom." (2014 Kinship Kampmeeting by Herb Montgomery)
The pushback was astounding. So many of those who were then following the work of Renewed Heart Ministries, so many we lost count, questioned how we could possibly have the audacity to say such a thing. I hope that this week's saying from passage offers some explanation.
Look at our society. Who does our society push to the edges or place on the underside? Whom does society try to pretend doesn't exist? Who are the victims of the lies we tell ourselves to help us rest better at night? It doesn't matter why we choose to place those people there. The fact that they are there qualifies them for Jesus' specific blessing. They are the ones that Jesus' words in Matthew's Beatitudes or Luke's Sermon on the Plain were for. They are the ones for whom Jesus's teachings point to a path of survival, liberation, resistance, and hope for social transformation and restoration. Jesus did come announcing "salvation." And it was salvation that spoke of radical change for those placed in the position of being "last," today, here, now.
"There will be weeping there, and gnashing of teeth, when you see Abraham, Isaac and Jacob and all the prophets in the kingdom of God, but you yourselves thrown out. People will come from east and west and north and south, and will take their places at the feast in the kingdom of God. Indeed there are those who are last who will be first, and first who will be last." (Luke 13:28-30)
This week, let's take a moment to listen to the voices and experiences of those least privileged by our socio-economic and political structures. Consider what it means that the Jesus whose feet we sit at and learn from looked at the lowest sector of his own society and said things had been revealed to them that were hidden from those society deems "wise" and "learned."