The Lord bless you and keep you
The Lord make His face to shine upon you
And be gracious unto you
The Lord lift up His face to you
And give you peace (Numbers 6:25-26)
With those words the sons of Aaron were to bless Israel.
The blessing evokes the experience of Moses. Moses went up the mountain and into the presence of God. When he came back his face was shining because God's face had shown on him.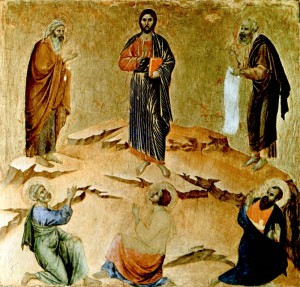 Later Jewish tradition would reflect on primal humanity as possessing this kind of divine glory: created in the image and likeness of God, when someone looked at us in our original created state they would have seen the shining glory of God.
The hope of this blessing is that the primal glory of humanity and the prophetic glory of Moses would radiate throughout the whole people. If God's face shines, then ours will shine in return.
This is the hope of Isaiah as he proclaims the return of YHWH to Zion: "Arise! Shine! For your light has come. And the glory of the Lord has risen upon you!" (Isaiah 60:1). When God's glory appears, it is not only God who is known by and seen in radiant light, it is also God's people.
This coming Sunday is Transfiguration Sunday on the calendars that many churches observe. The passages all build on this idea of God's renewed, covenant people bearing afresh the likeness and glory of God.
First, there is Moses in Exodus. Then there is Jesus on the mount of transfiguration. And then there is the strange and beautiful claim by Paul that we, too, bear this shining glory–if in surprisingly dull vessels of clay.
This week on LectioCast Aric Clark joins me to talk about the shining holiness of God that refuses to spurn humanity, a holiness and glory that leaves its divine and heavenly home to enlighten, illumine, and transform the world.
Check it out at LectioCast.com or subscribe on iTunes.